Web personalization campaigns enable you to create tailored promotions, product recommendations, messages, and notifications for your visitors. These custom experiences can be tested, optimized, personalized, and measured.
Each campaign type is designed to fit a different use case, and together they are powerful tools for personalizing experiences across your funnel.
Site personalization campaigns
| Campaign type | Use case | Example |
| --- | --- | --- |
| Notification | Trigger subtle messages at the edge of the screen. | Provide visitors who've added items to cart a notification of how close they are to reaching the 'free shipping' threshold. |
| Custom Code | Execute any Javascript codes on the page | Change the order of your navigation bar based on user preference. |
| Visual Edit | Edit any page with a simple point and click editor. | Edit text and style of your 'Request Demo' across the entire site. |
| Multi-Touch | Test a set of changes across multiple pages. | Test free shipping vs 15% off across your entire site. |
| Dynamic Content | Replace or add any in-page element with a dynamic one. | Change the image of your hero banner based on user's local weather. |
| Recommendations | Display products based on user activity and other algorithms. | Set your recommendations strategy to the user's affinity and offer each visitor a unique set of items based on his personal preference and current intent. |
| Overlay | Trigger a prominent pop up in the mid-screen | Prompt an exit-intent overlay for visitors who added items in their cart and are about to leave your site without making a purchase. |
Managing site personalization campaigns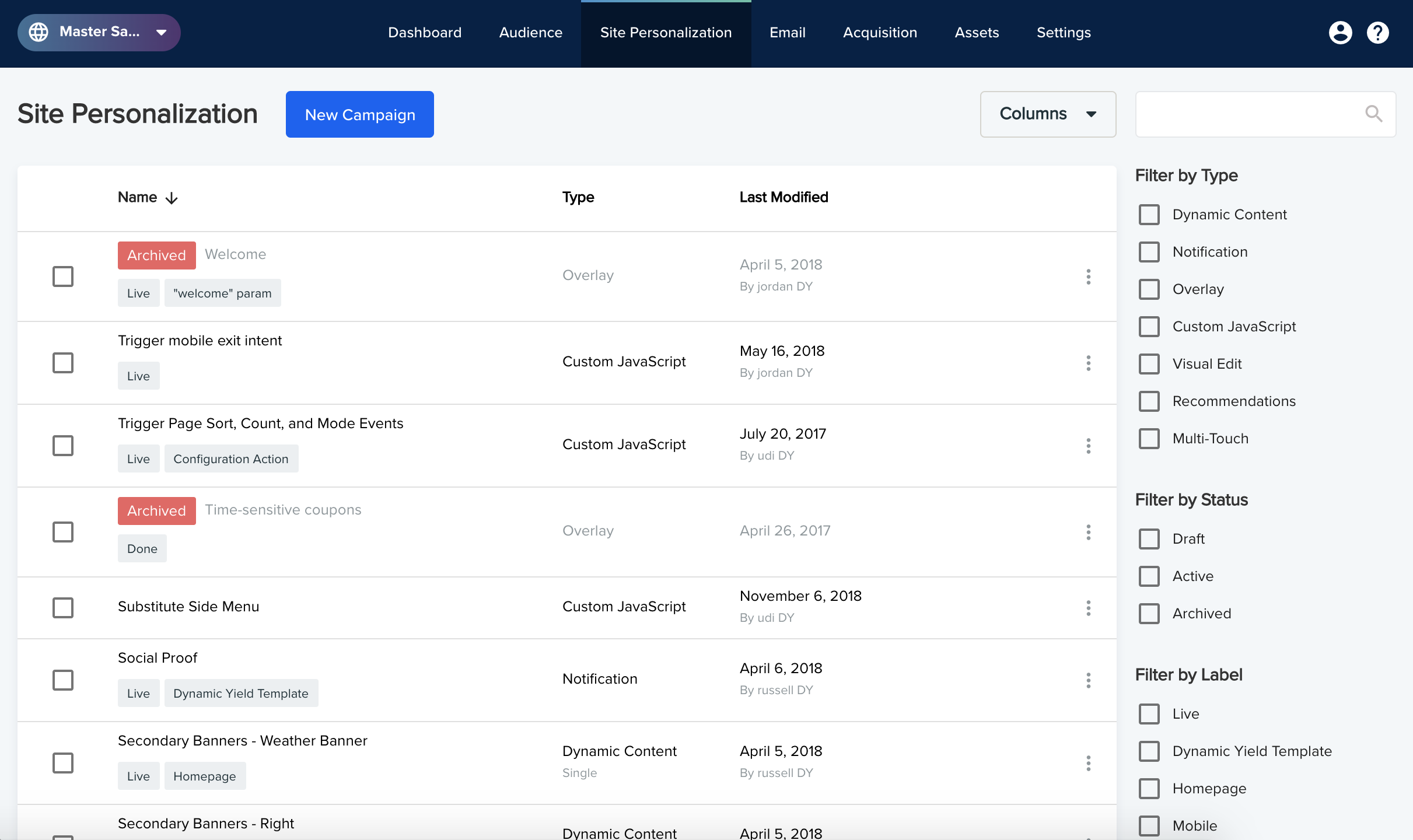 All site personalization campaigns are created and managed in a single screen. You can search and filter your campaigns by type, status, label and ID. Useful columns can be added by clicking the 'Columns' dropdown. Your last setting is always saved for future sessions.