The Contentsquare connector is an Experience OS extension that enables you to leverage Contensquare real-time visual insights to analyze and understand user interactions with experiences launched through Dynamic Yield. 
Contentsquare is a comprehensive analytics platform that provides deep insights into user behavior on websites, helping businesses optimize their digital experiences for better engagement and conversion. 
The Contentsquare connector provides additional understanding of visitor behavior on digital properties. By leveraging zone-based heatmaps, journey analysis, and conversion funnels, you can gain insights into the success of personalization campaigns and customer journey impact.
Turn on the connector
In the Experience OS store, go to Contensquare

and click

Learn More.
On the Contentsquare page, click Install.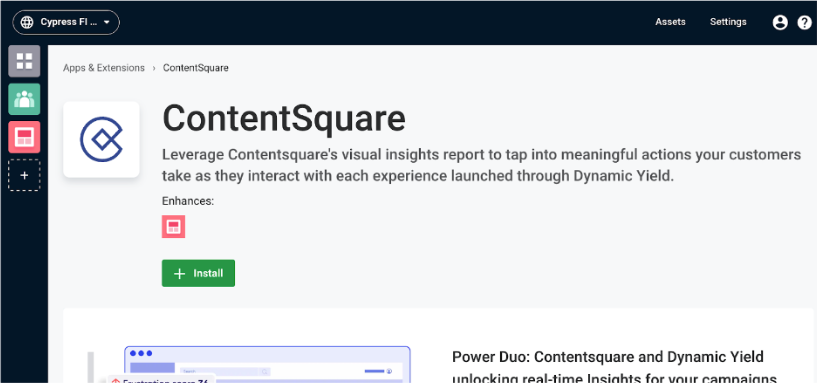 After you install the Contentsquare connector, it appears in your extension library in Web Personalization. In this view, you can disable and enable the connector as needed.
View Dynamic Yield campaigns in your Contentsquare account
In Contentsquare, use the Dynamic Variable condition to create a segment.

Select your segment's key. This is your Dynamic Yield campaign name_experience name.

Select your variable. This is your Dynamic Yield variation name. Variations auto-populate as your visitors are served the variation.
Disable Contensquare for individual campaigns
By default, the connector triggers Contensquare events for all of your campaigns. However, you can disable (and re-enable) it for individual campaigns using the Track campaign performance toggle in the Create Campaign screen. Note that if you have the Analytics Platform Integration connector installed, it will stop sending events to that extension as well.