Playbook Theme: Weather Based Personalization
Business Goal: Discovery
Effort: Low
______________________________________________
 Weather targeting is a great way to tap into the moods, needs and purchase intentions of shoppers. You can create banners & notifications promoting seasonal products and target users based on their local weather forecast (temperatures, wind speed, humidity level, etc.) to increase product discovery and conversions.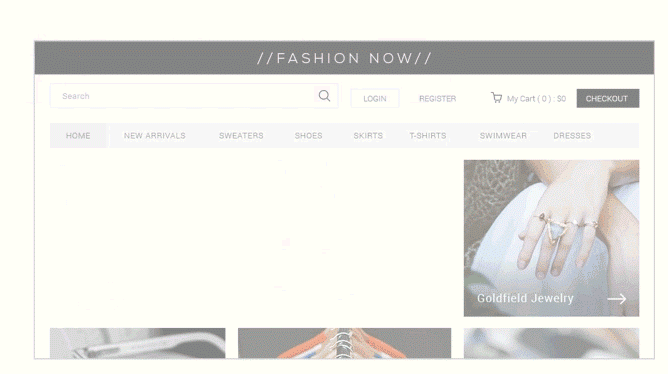 Before You Get Started
Dynamic yield uses a third party provider to identify the local weather of your visitors based on their IP address.  The full list of weather based conditions are available when selecting the weather targeting conditions.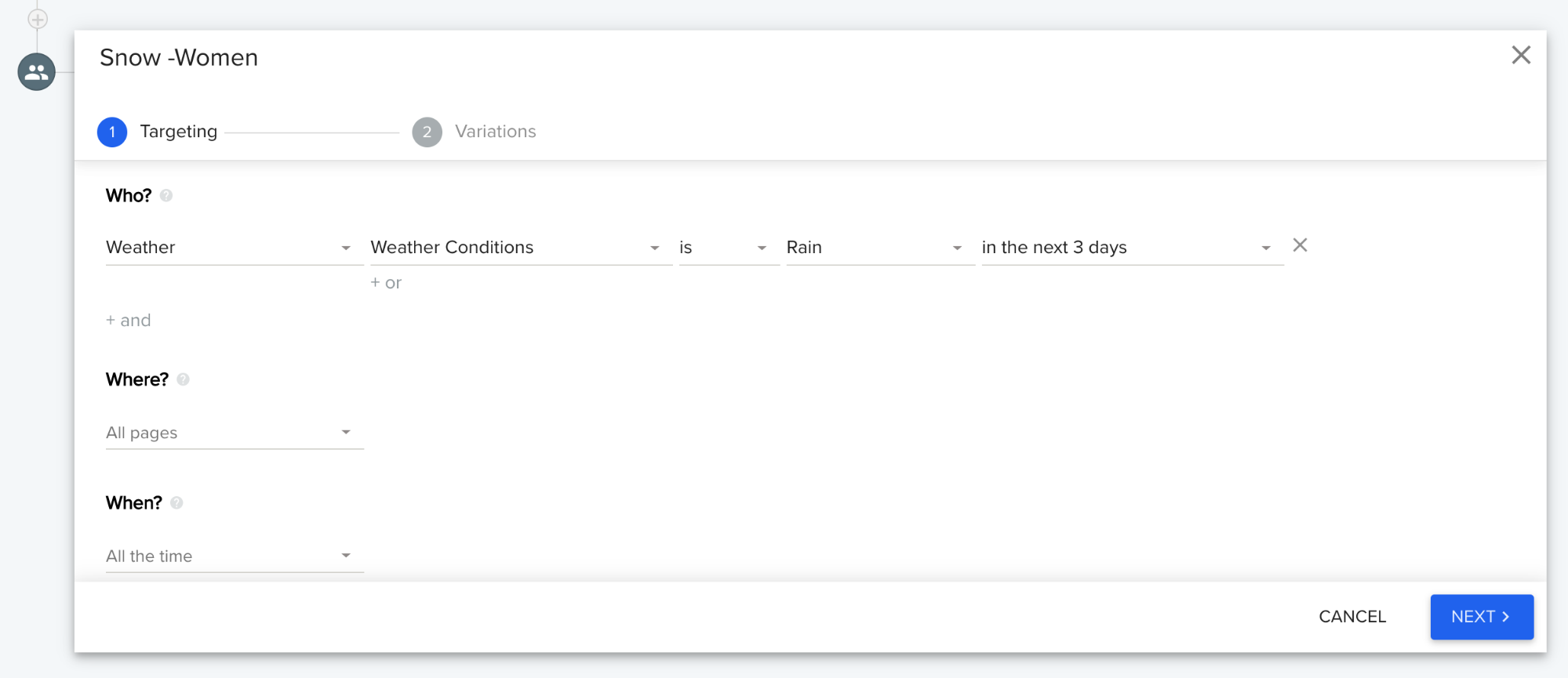 We recommend to review the available conditions and sync with your design, marketing and merchandising teams to create the visual content, as you will need text copy and images for each experience. For testing purposes, we also recommend the creation of multiple content variations for the same weather condition and audience groups. 


Step 1: Creating a Dynamic Content Campaign
There are different site campaign types to choose from when creating a personalized experience on your site. This particular use-case calls for a Dynamic Content Campaign, which is most suitable for replacing or adding any in-page element with a dynamic one. Begin by configuring the campaign's settings:
Go to

Site Personalization

›

New Campaign

and click

Dynamic Content

.

Assign a

Name

to the campaign. Use a name that clearly defines this campaign (e.g. 'HP Banner for Weather Targeting') 

Assign a

Label

to categorize the campaign and associate it with similar campaign types (e.g. Homepage Content).  You can later filter and search your entire campaign list based on

Notes and Labels

. 

Specify the banner's

Layout

. In this case we will be using a 'single' layout - where only

one variation out of all available variations will be chosen and displayed to the visitor. Learn about different

layout types

.

Select the Automatic

Insertion Method and click on . Plug in your homepage URL to get a preview of your webpage. Hover over the element you want to replace and click. This will pull the element's selector back into the platform.  Note, if you are adding an element (as opposed to replacing), point and click to an adjacent element and indicate whether the insertion is before/after your selection. 




Select for which page, category or page type you are inserting the campaign. This is particularly relevant when you have the same selector on multiple pages. By default, the platform will bring in the URL from the page preview. Being that in this case we are implementing the banner on the homepage, change the default value from 'Page URL' to page type is 'Homepage'.




Click Next.
Step 2: Adding a Targeted Experience
All campaigns are comprised of 1-n experiences. Each experience can target different visitor segments. In this case, each experience will represent a weather condition. 
Assign a

Name

to the experience. Use a name that clearly defines this experience (e.g. Clear Weather). 

Define the

targeting

conditions:




Who.

Select the Weather condition. Here we are using 'Clear Now' (but this will depend on the strategy you defined before launching the use case).

Where.  Typically you would indicate the page you would like the experience to render. However, in this case, we have already established the placement of the banner within the campaign settings. So you can leave this with its default settings 'All pages'.
When. Unless you want to limit the exposure of the banner to a particular date and time, you can leave this with its default value: 'All the time'.




Click on

Next

to add your content Variations. 

 
Step 3: Creating the Content (variation) Using A Template
A variation is what you will be serving your targeted visitors. You can create a single variation or multiple variations and test or optimize which variation most resonates with your audience. 
Click on

New Variation
Expand the Dynamic Yield template collection and select the Weather Forecast Template. 



Assign a

Name

to the Variation that describes the content (e.g. '5 day forecast). This name will be shown in the reports, and will allow you to quickly distinguish between the success of one variation against the other. 

The template is comprised of 

variables to allow you to quickly make changes without a developer's intervention. This particular template has 5 variable groups; Notice, General, Texts, Button, Background: 


NOTICE: Begin by hiding the template warning. This is an internal message describing how Dynamic Yield receives its weather data. 
GENERAL:  

Select the amount of forecasted days to display (1 or 5)

Select the banner height (short, tall or medium)

Select your text color to match your background image

Define your font family to match your brand. 

TEXTS: The template allows a main and secondary title. You can leave any one of these fields empty if your creative does not need it. 
BUTTON: assign a call to action (CTA) to the button and add a link. Select the color for the button and the CTA. 
BACKGROUND: upload or provide a URL for your desktop and mobile background images. You can set a filter on top of the image and change the opacity of the image. 
Click on
Save Variation.
Step 4: Adding Additional Content Variations
Creating multiple variations for a single experience allows you to either A/B test or dynamically optimize which content is best for your audience. In this particular use case follow Step 3, to add an additional variation. Learn more on the different ways of creating/adding variations.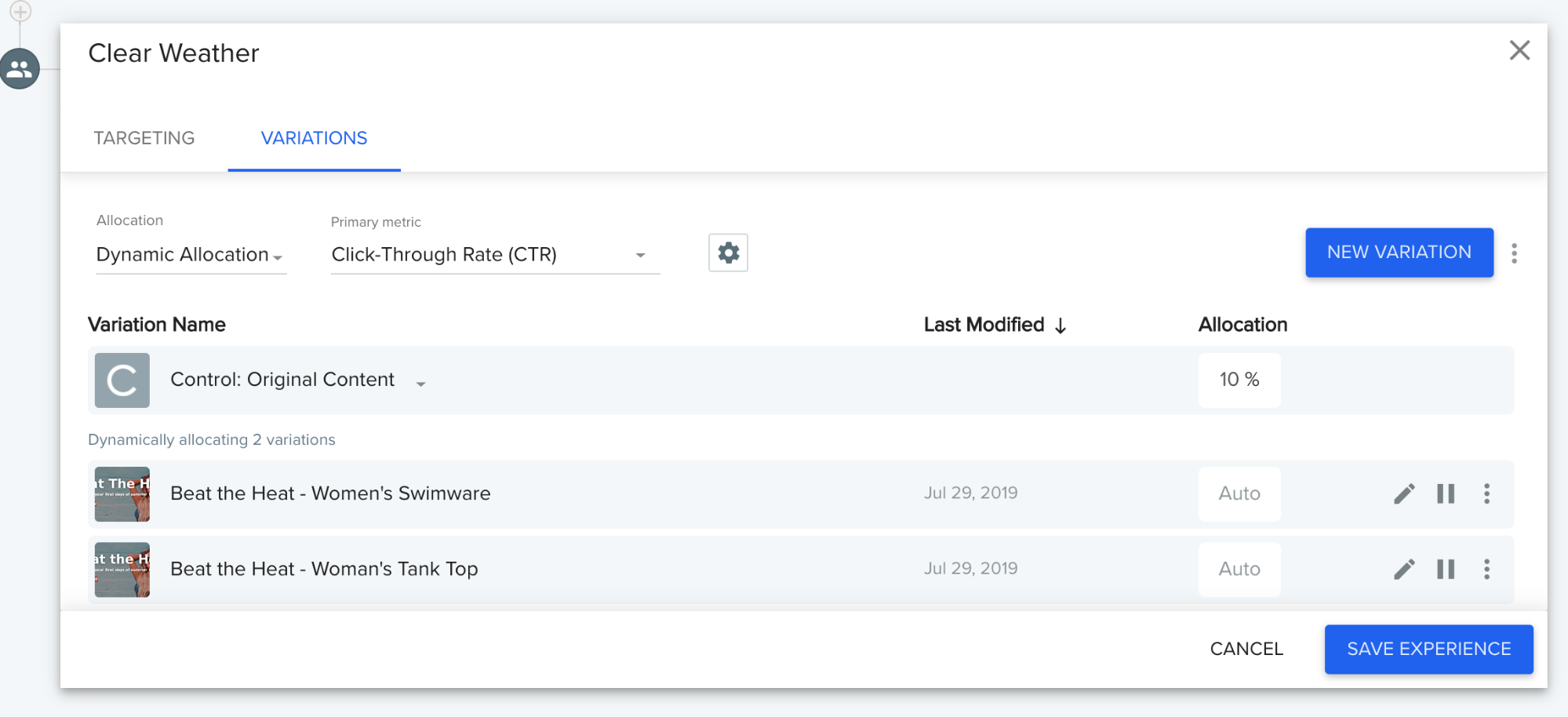 Click on New variations (or you can duplicate the variation by clicking on the additional options  icon 

)

Create a new variation for the 'Clear Weather' experience, either by modifying the 'weather forecast' template or leveraging a different one. 

Set a

Control Group

.This is essential for measuring uplift. You can set the control to show the original content or to randomly select a variation. We recommend setting the control group to 10%-15% of your traffic.
Step 5: Setting up the Allocation Method
The allocation method determines how the variations are served to your targeted audience and allow you to either A/B test or let the platform dynamically allocate traffic to the best performing variation. 

In this case, we maintain the platform's default selection of

Dynamic Allocation

. We do this since we do not expect to adopt the winning variation for the long run and prefer to expose as many visitors to the best performing variation in the limited time we have. 

Since our main KPI in this case is product discovery, maintain the platform's default 

Primary Metric

  - CTR Learn more about

selecting your primary metric.

The

Experience advanced settings  

allows you to fine tune the serving behavior, conversion attributions, and A/B test settings of all variations in each experience. We recommend you leave the default setting.

Learn more on the advanced setting options.
Step 6: Creating Additional Experiences 
Add as many Experience as the weather conditions you wish to target and repeat the above steps for each experience.

Save and publish your campaign.