Heap is a user analytics platform that enables businesses to track, analyze, and visualize user interactions on their websites and applications, helping them make data-driven decisions to improve user experience and drive growth.
The Heap connector enables Dynamic Yield variations events to be transferred to Heap analytics, enabling Heap to analyze and make data-driven decisions about visitor behavior.
Install the connector
In the Experience OS store, go to Heap and click Learn More.
On the Heap page, click Install.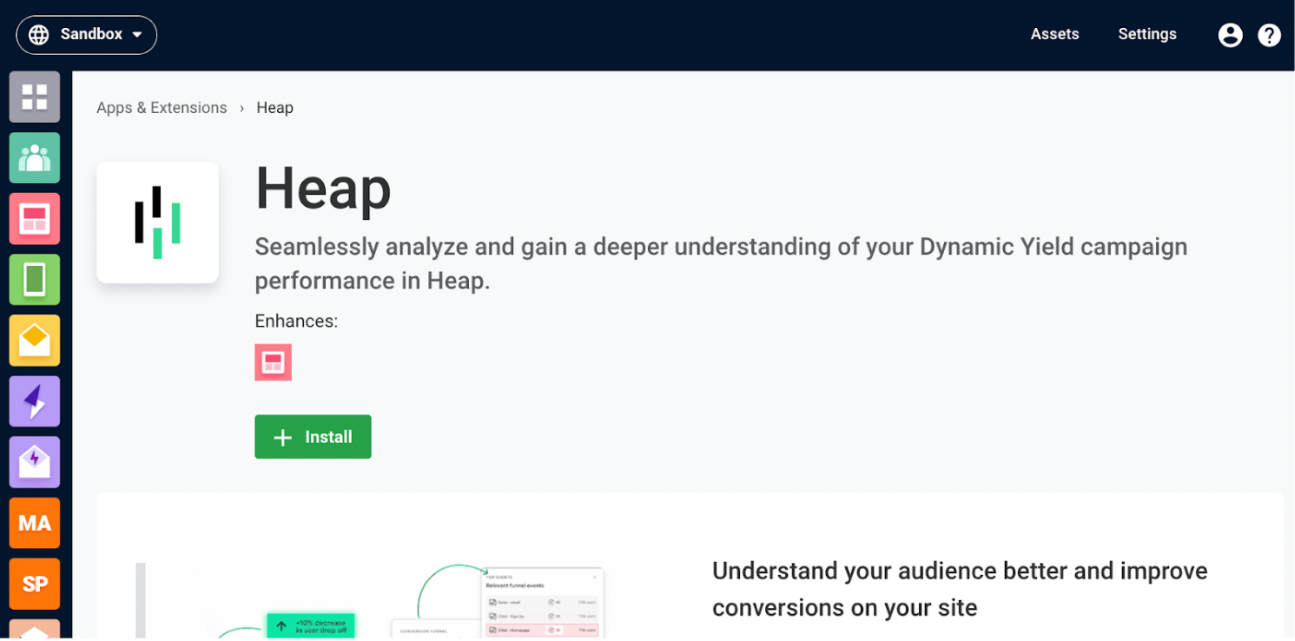 After you install the Heap connector, it appears in your extension library in Web Personalization. In this view, you can disable and enable the connector as needed.
View Dynamic Yield campaigns in your Heap account
Before you complete the following steps, make sure you have the Heap script on your website.
In Heap, go to Analyze and click Event. From the dropdown, select DY Variation Impression.
Click View Results and then Save Chart.

Go to Dashboards, and create a new dashboard. 
Click Add charts to dashboard, and then select DY Events.

Click Add & Preview. Now you can see DY events on the dashboard.
Disable Heap for individual campaigns
By default, the connector triggers Heap events for all of your campaigns. However, you can disable (and re-enable) it for individual campaigns using the Track campaign performance toggle in the Create Campaign screen. Note that if you have the Analytics Platform Integration connector installed, it will stop sending events to that extension as well.