Mixpanel is a leading analytics platform that helps businesses understand user behavior, optimize product experiences, and drive growth through data-driven insights. 
The Mixpanel connector enables the seamless flow of data from the Dynamic Yield campaign management system to Mixpanel's analytics platform, enabling the automatic transmission of custom events. These events provide customers with in-depth insights into served campaigns, empowering them to analyze and derive valuable insights within the Mixpanel environment.
Install the connector
In the Experience OS store, go to Mixpanel and click Learn More.
On the Mixpanel page, click Install.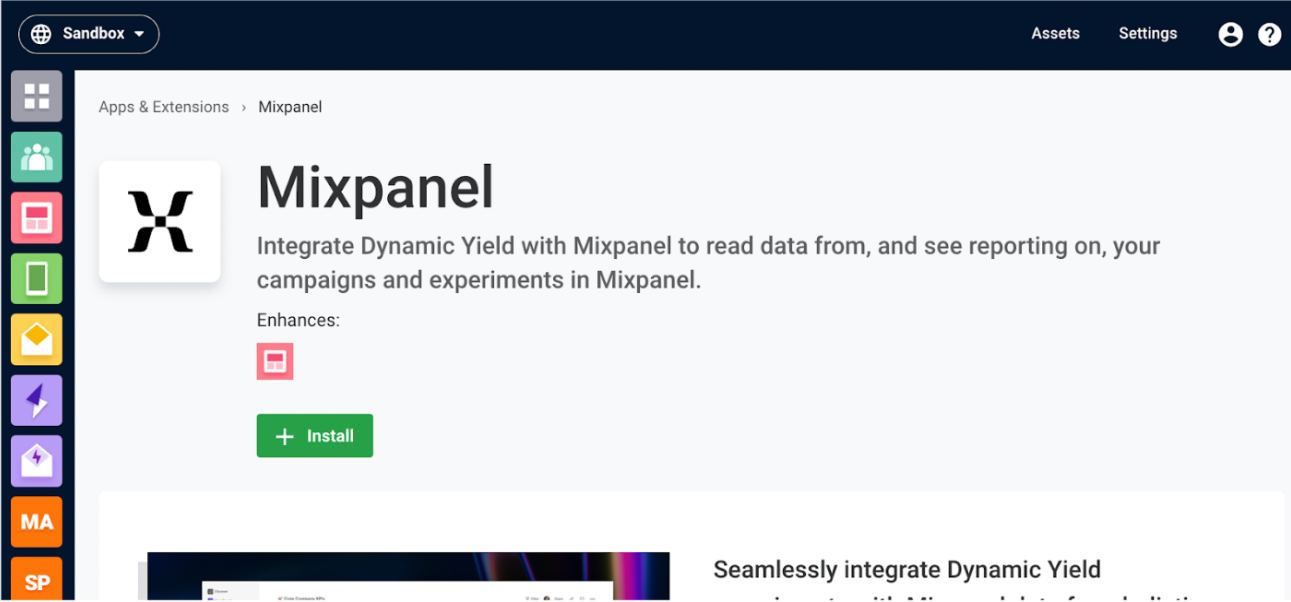 After you install the Mixpanel connector, it appears in your extension library in Web Personalization. In this view, you can disable and enable the connector as needed.
View Dynamic Yield campaigns in your Mixpanel account
Before you complete the following steps, make sure you have the Mixpanel script on your website.
In Mixpanel, add a new board and create an Insights Report.
Click Select Event and then select DY Variation Impression.
Click Save.
Disable Mixpanel for individual campaigns
By default, the connector triggers Mixpanel events for all of your campaigns. However, you can disable (and re-enable) it for individual campaigns using the Track campaign performance toggle in the Create Campaign screen. Note that if you have the Analytics Platform Integration connector installed, it will stop sending events to that extension as well.