The Recommendation Report provides a birds-eye view of the performance of your recommendation program. It allows you to see the monetary impact of recommendations on your site over time, and to compare results by page type and campaigns.
To access the report, go to the Dashboard and click Full Report in the Recommendations tile.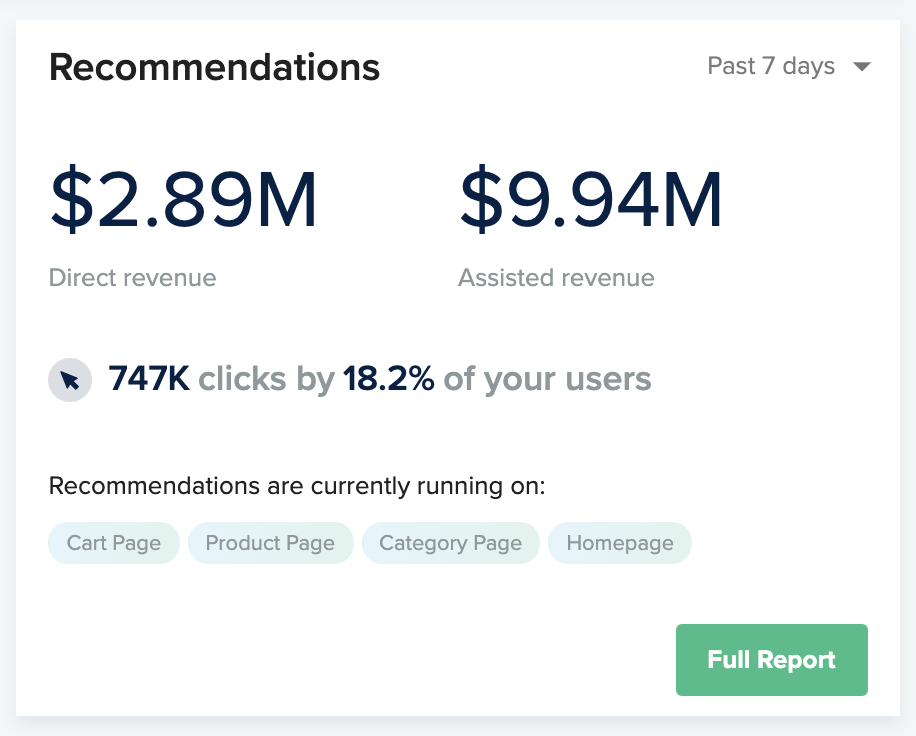 Report Structure
Overview
The visualization at the top of the report includes the following metrics:
Direct and assisted revenue, and what percent this makes up of the total site revenue.
Direct purchases: the number of purchases that include at least one recommended item that was clicked on in a recommendation campaign, and the share of these purchases from the total number of site purchases.
CTR of all recommendation campaigns (total clicks / total impressions).
You can view these metrics over time in monthly, weekly, or daily resolutions. Click on any metric at the top to plot it over-time in the line chart below.

Direct Revenue by Page Type
The next group of visualizations breaks down Direct Revenue by the page types which contain Recommendation Widgets. The Page Type is based on the page type attribute selected during the creation of the recommendation campaign. Email campaigns appear under Email. The Other page type includes campaigns set to run on Any Page page types, campaigns served via client-side APIs, or served via DY modules which are not Recommendation Campaigns (e.g. Overlays).

Note: Page type breakdown is not yet available for mobile apps.
Campaigns and Strategies
A breakdown of the performance of each campaign or strategy. You can view Direct Revenue, Impressions, Clicks, and CTR. You can also see the Direct Revenue per 10,000 impressions to evaluate which campaign/strategy is generating the most revenue relative to its exposure.

Adjust Direct Attribution Window
By default, direct revenue uses an attribution window of 30 days. This means that if users click on a recommended item and purchase it within 30 days, the purchase value will be included under Direct Revenue. However, you can shorten the attribution window using the dropdown at the top right corner of the screen. All metrics that utilize Direct Revenue will be affected (for example, % of Total Revenue, Direct Revenue / 1000 Impressions)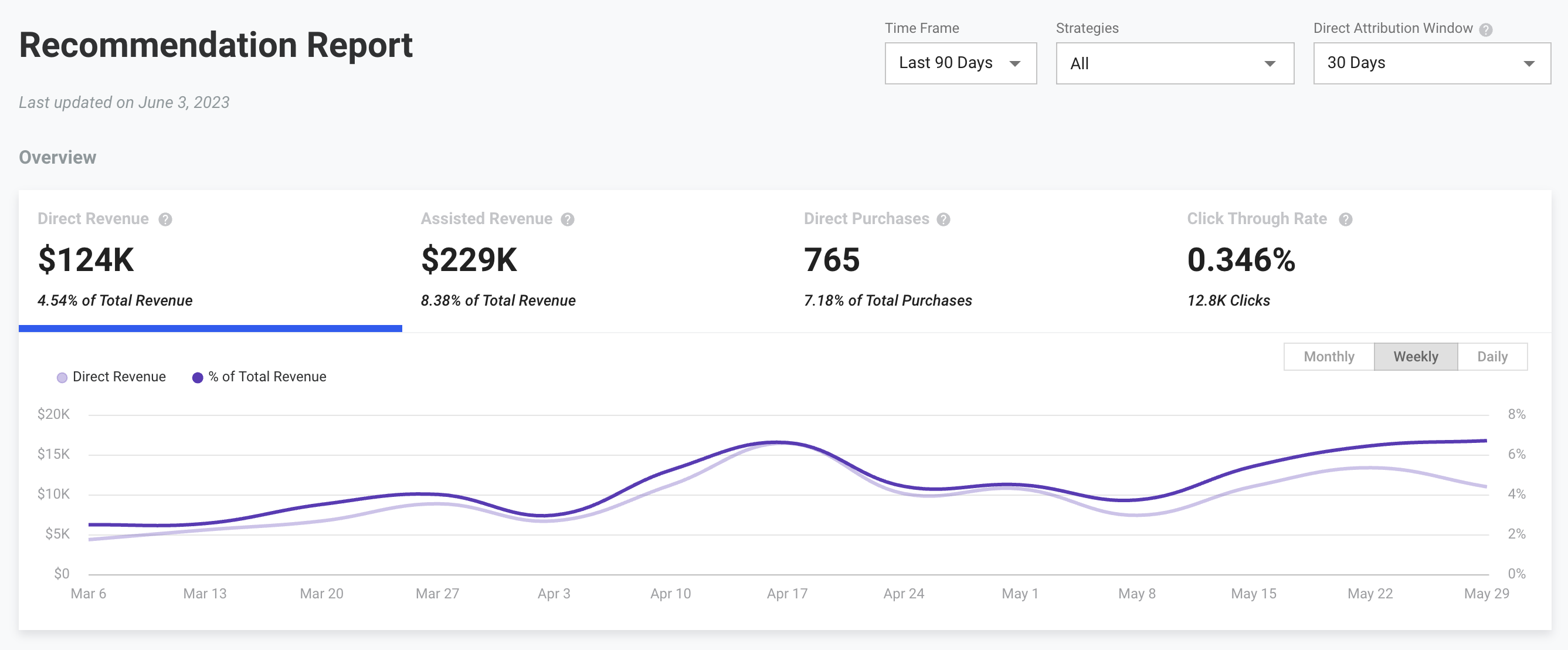 FAQs
Why do I see no data for a page type I know recommendations are served in?
The Page Type breakdown displays results based on the page type as defined in the campaign settings. If the campaign is set to run on Any Page, and served in the homepage, results appear in the "Other" section.