Optimove is a Relationship Marketing Hub powered by advanced customer modeling, predictive segmentation, and campaign automation technologies.
With this integration you can enhance both your Dynamic Yield and Optimove campaigns in the following ways:
Target Dynamic Yield campaigns to audiences created in Optimove
Enrich Optimove customer profile with behavioral data tracked by Dynamic Yield
Include Dynamic Yield powered recommendations in Optimove emails
Create a unified customer experience by aligning Optimove emails with Dynamic Yield onsite campaigns
Target Dynamic Yield Campaigns to Audiences Created in Optimove
If you have already collected meaningful user attributes in your Optimove Customer Profile, you can onboard it to Dynamic Yield. This will allow you to create Dynamic Yield audiences based on these segments. You can then use the Dynamic Yield audiences to target them with personalized offers, or breakdown test results based on these audiences.
Create a first-party data integration to onboard data from Optimove to Dynamic Yield. Contact your Customer Success Manager to enable this capability.
Create audiences based on user properties you have onboarded.
Target Dynamic Yield campaigns to these audiences.
Learn more about onboarding first-party data

Enrich Optimove Customer Profile with Behavioral Data Tracked by Dynamic Yield
Dynamic Yield tracks user behavior on your site, and allows you to create granular and complex audiences. By exporting users that belong to an audience and onboarding it to Optimove, you can enrich the Optimove customer profile.
Create audiences in Dynamic Yield.
Export the audiences to CSV files.
Import the audiences into Optimove to enrich your Optimove customer profile.
Learn more about Exporting Audiences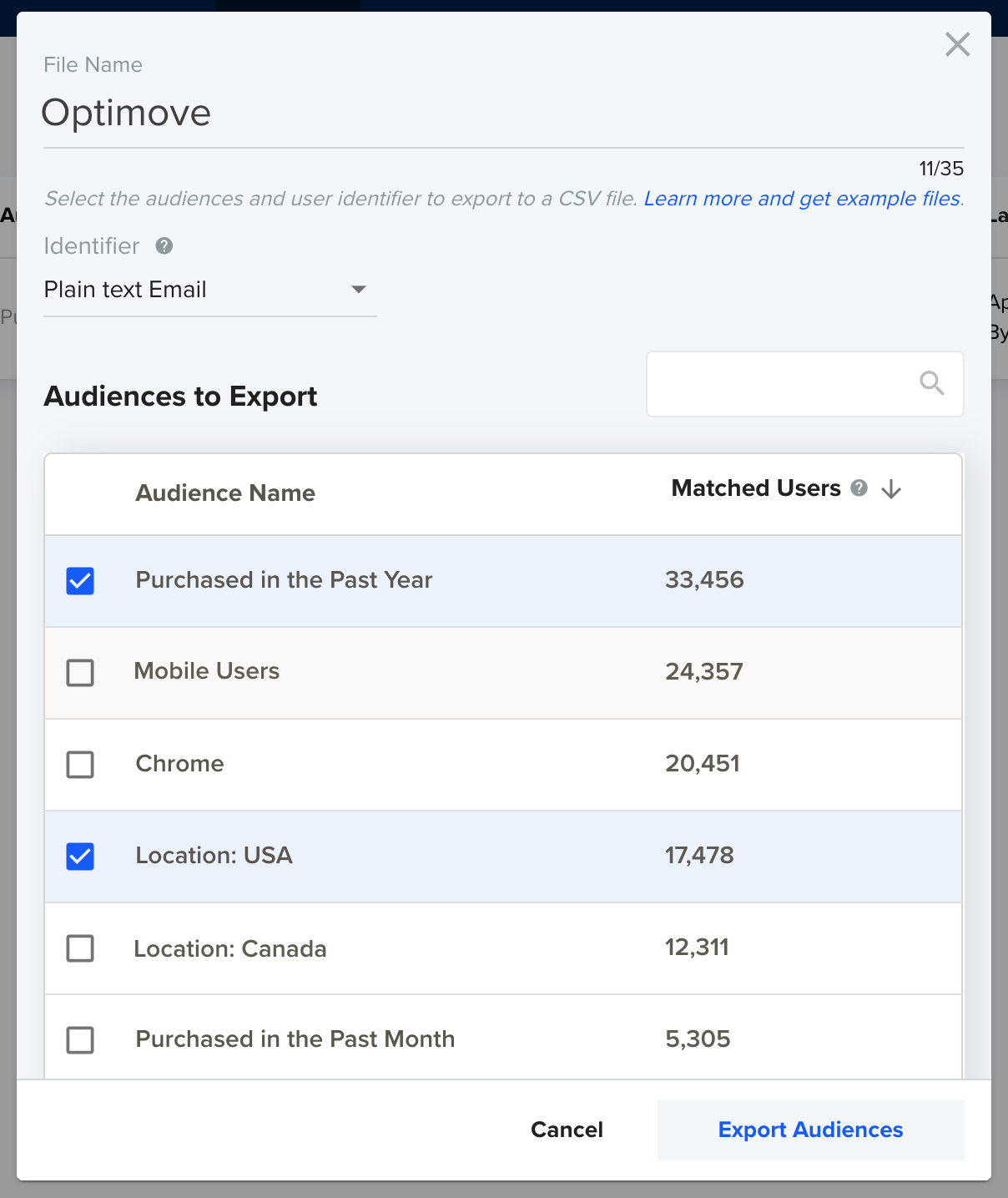 Include Dynamic Yield Powered Recommendations in Optimove Emails
Dynamic Yield offers recommendations by email with Experience Email. Both personalized recommendations and personalized content can be implemented in the Optimove email editor with an embed code. This enables you to leverage Dynamic Yield's powerful algorithms and merchandising capabilities in your Optimove emails.
Create an Experience Email or an Experience Block to insert into your existing email.
Paste the embed code in your Optimove email campaigns to embed personalized recommendations rendered in real-time when the email is opened.
Learn more about Experience Email
Create a Unified Customer Experience by Aligning Optimove Emails with Dynamic Yield Onsite Campaigns
You can personalize your site based on user engagement with your email campaigns. This allows you to create a unified and consistent experience for your users. For example, if your users clicked on an email with "Promotions for VIP Customers", you can serve them a "Welcome VIP Customer" banner at the top of the page.
Add a URL parameter (e.g. UTM parameters) to the link in your Optimove email editor
To target them on the first pageview: Target a Dynamic Yield experience with a "URL" condition, and include "contains [URL Parameter].
To target them during the session (not necessarily on the first pageview), use the "Landing URL" condition.
Learn more about targeting in Dynamic Yield