A campaign – the framework that organizes and serves your promotional content – comprises up to 20 experiences. Each experience can target various visitor segments and test (or automatically optimize) content variations. For example, you can run a hero banner with a different experience for 'tech enthusiasts' and 'gear lovers', while testing different promotions for each.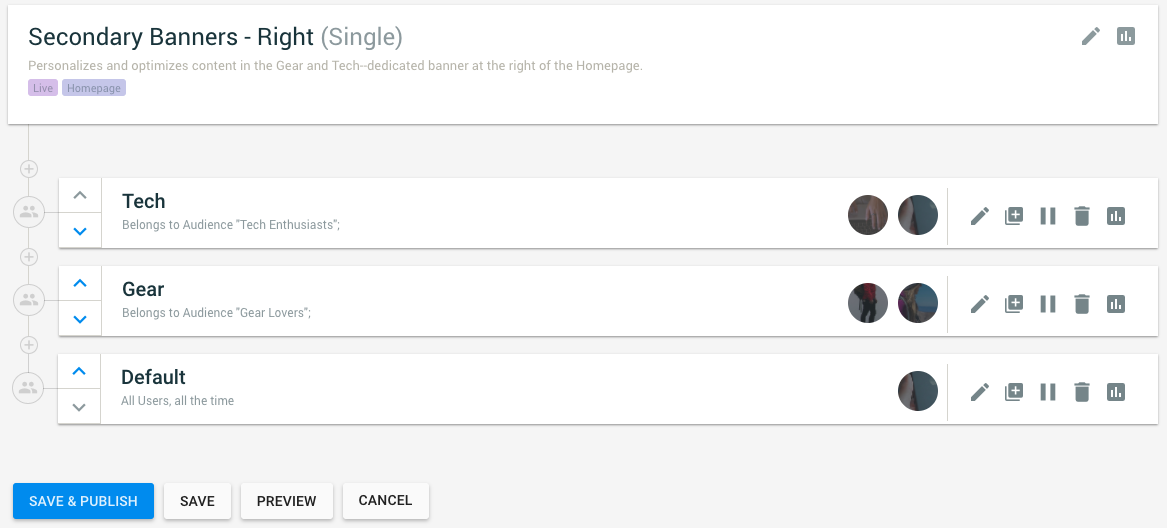 Each experience has 2 main building blocks:
Targeting: Who is served the experience, where on your site, and at what time.
Variations: What content is served to the targeted visitors.
Targeting experiences
Personalize an experience by targeting your audience. You can target visitors by different sets of conditions, such as past behavior (for example, visitors who added items to the cart), technology (say, mobile users), traffic source (social networks), gender, and time (weekend only). Only visitors who meet your target conditions are served with the experience.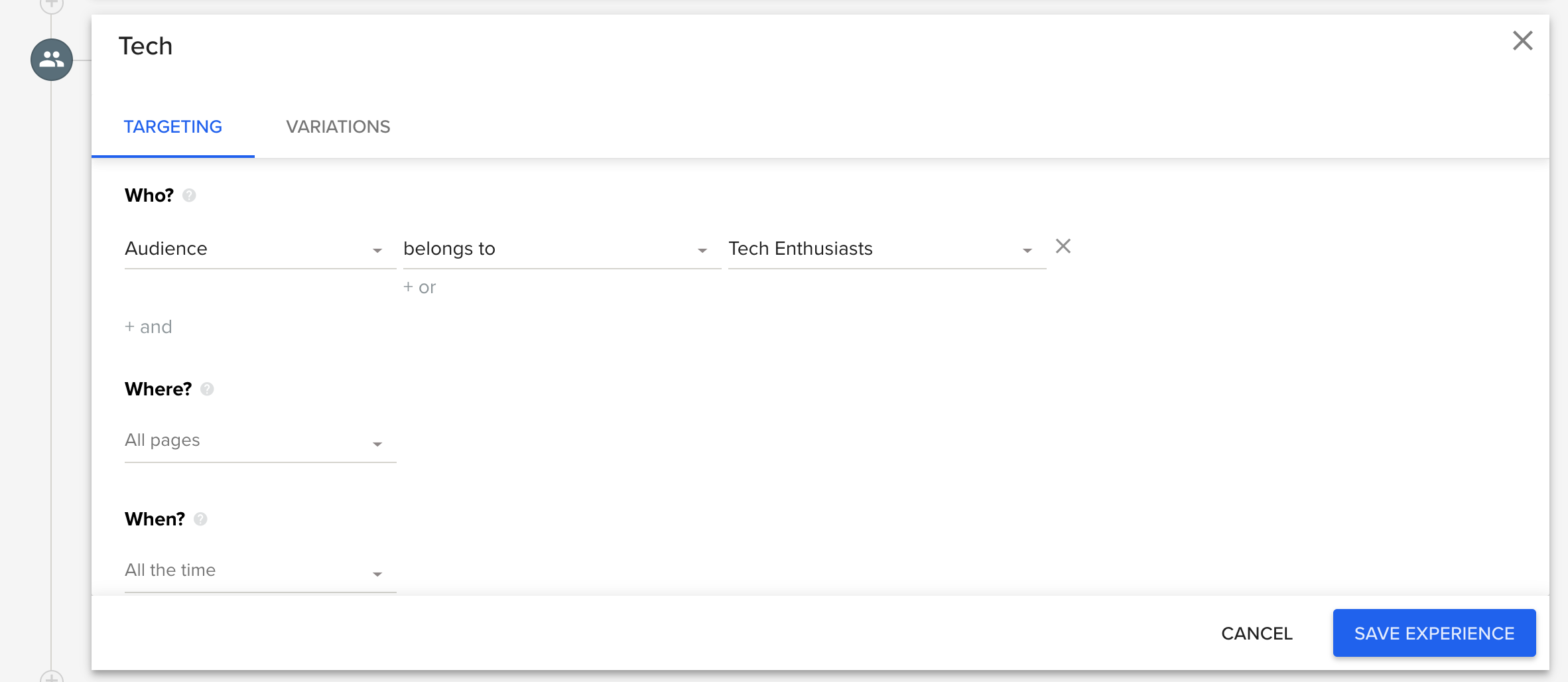 If a visitor meets the conditions for more than one targeted experience, the one with the highest priority is served. If a visitor doesn't meet any of the conditions, the default experience is served. Learn more about Targeting.
Experience variations
A variation is what you serve your targeted visitors. Depending on the type of campaign module, a variation is either a promotion served by Dynamic Content, JavaScript code fired by a Custom Code campaign, or an ad creative served by a Display Ad. You can create a single variation or multiple variations to test and optimize your campaigns.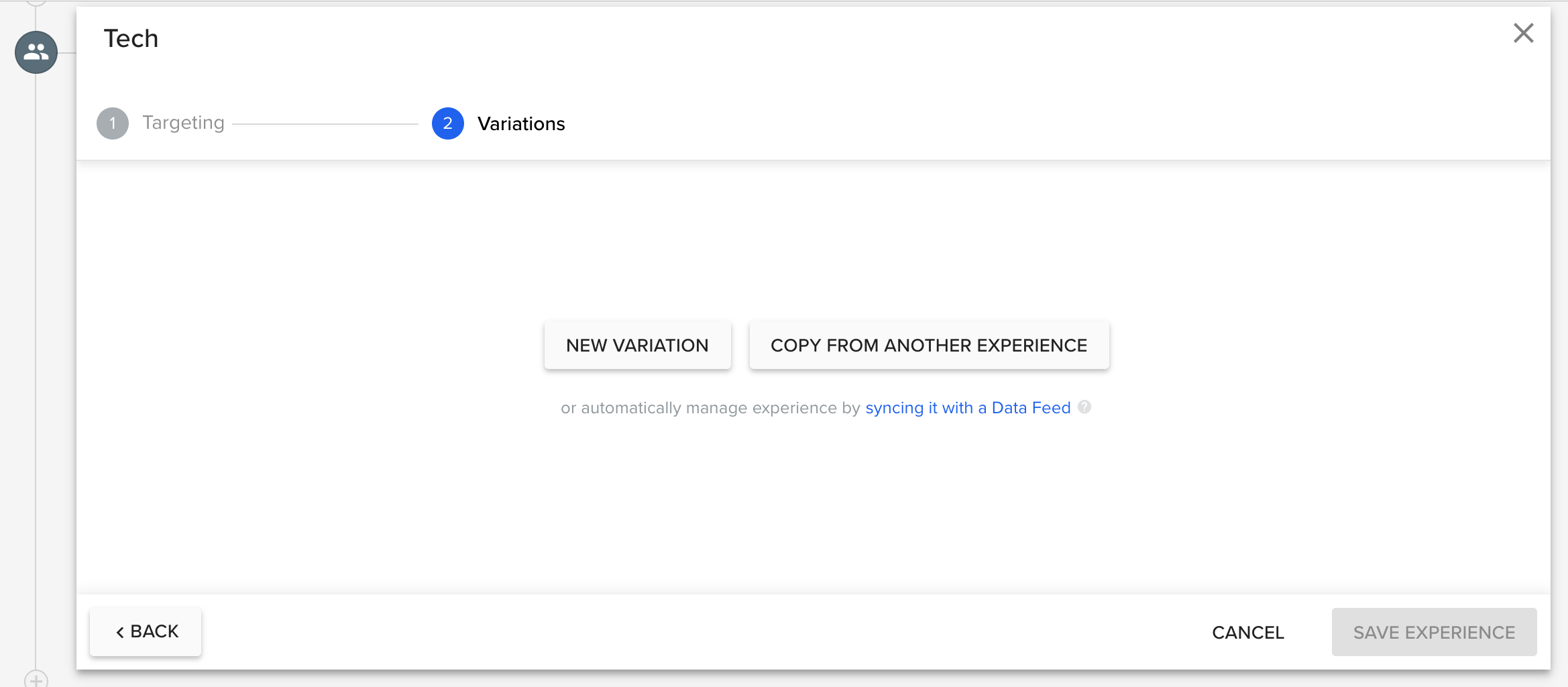 There are 3 ways to create variations:
Create a new variation from scratch: Select an out-of-the-box template or a custom template built by your developer.
Use an existing variation by clicking Copy from another experience and then editing the copy to your needs.
Create variations using a Data feed when you have a large number of variations, and you want to automate and sync their content by connecting them to a data source.
Learn more about Creating Variations.
Allocation method
The allocation method determines how the variations are served to your targeted audience. There are two methods to choose from:
A/B test: Manually assign, to each variation and the Control Group the percentages of visitors to serve the variation to. Once enough data is collected, the system will declare a winning variation. However, it is up to you to decide whether to continue serving all running variations or pause/delete poorly performing variations.
Auto Allocate: Automatically shift traffic toward the best-performing variation in real time. You can assign traffic to your control group and measure the uplift generated from the automatic allocation performance.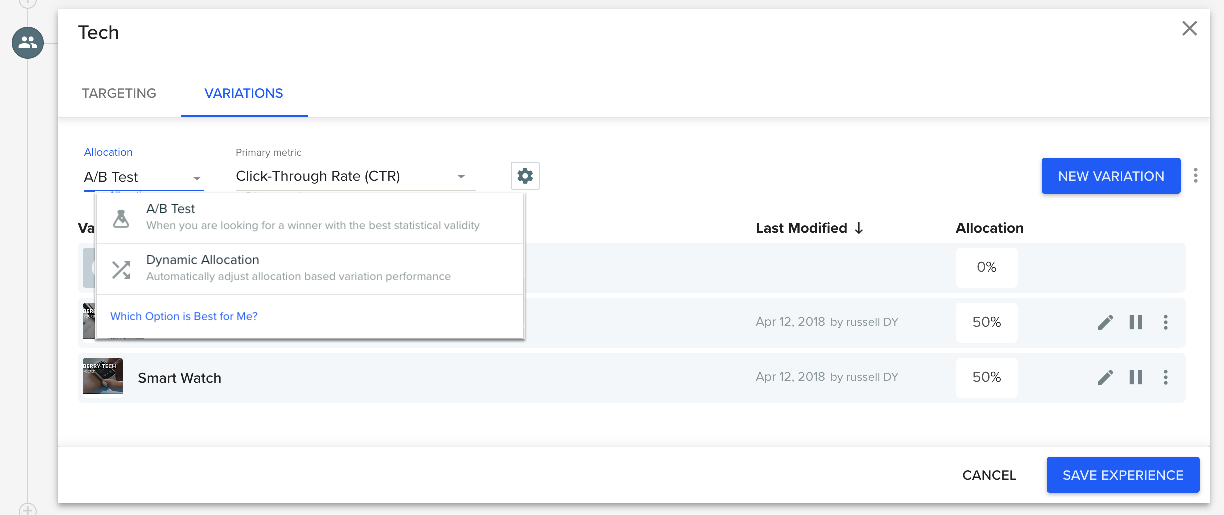 Learn more about Traffic Allocation and how to select the right method for your experiences.
Primary Metric
The primary metric is the experience's objective, which determines your variations' success. For example, the objective of a newsletter signup overlay is to increase subscriptions. Purchase, revenue, and goals are available in your reports by default. However, selecting the right primary metric has significance: In the A/B test method, it's the parameter that determines the winning variations. In the dynamic allocation method, traffic adjusts towards the variation that improves this metric.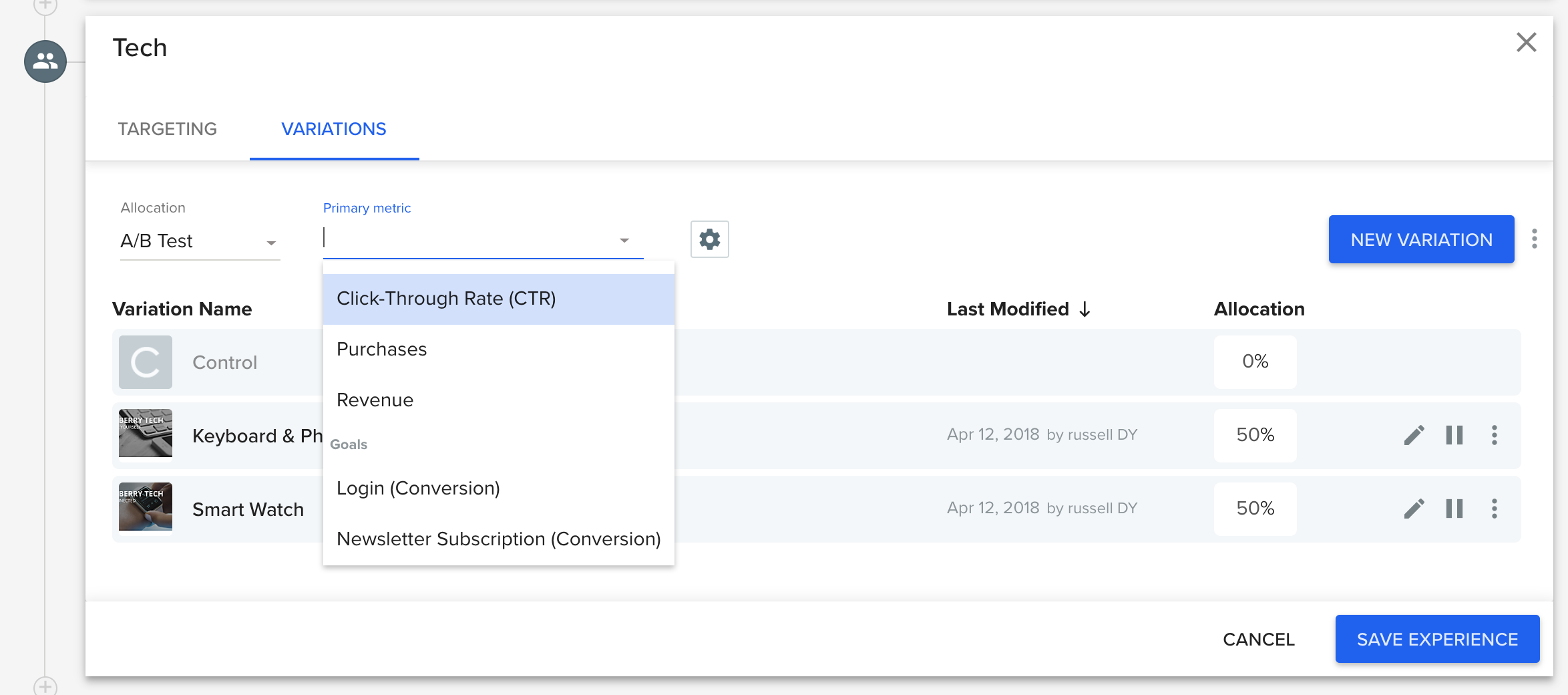 The system provides the following Metrics:
Click-through rate (CTR)
Purchases
Submissions (Financial Institutions only)
Purchase revenue
Goal conversions (custom)
Unit CTR
Learn more about Primary Metrics.
Experience Settings
Fine-tune your experiences success parameters by clicking on the settings icon: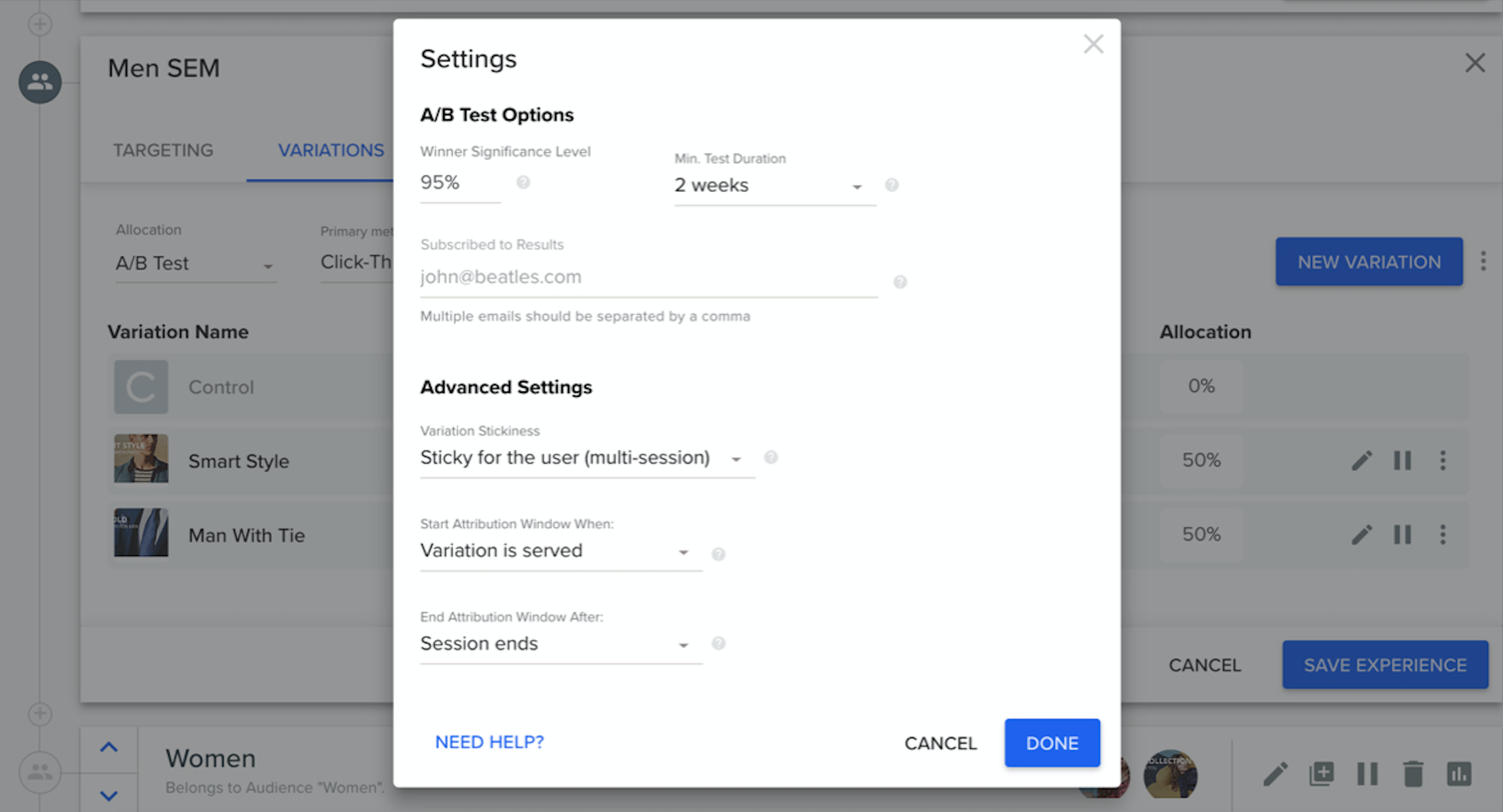 A/B Test Options – Defines the Probability to Be Best score required for a variation to be declared as a winning variation, the minimum time required before a winner is declared, and the recipient of the declaration notification email.
Advanced settings – Defines the stickiness and the attribution window.
Learn more about Experience Advanced Settings.