You can preview campaigns and variations of your site personalization experiences as if they were published on your site. There are two ways of previewing that help you test and view all aspects of your campaigns:
Previewing a variation: View a variation, regardless if you meet any targeting conditions. In this mode, variation code is simply injected into the page. This is useful to QA the variation code, look and feel.
Previewing a campaign: View it exactly as a visitor experience it on your site, including draft experiences. Meaning, you will only see the campaign if you meet the targeting conditions and frequency settings. You will see the experience with the highest priority (that you are targeted for), and you will be served to variations according to the allocation. Since it includes draft experiences, it allows you to QA experiences and campaigns before serving them to your visitors.
Previewing Variations
When creating or editing a variation, you can use the Preview On Site button or the Preview icon to see how the variation will look in on your site. You can preview variations even if the variation is not saved yet.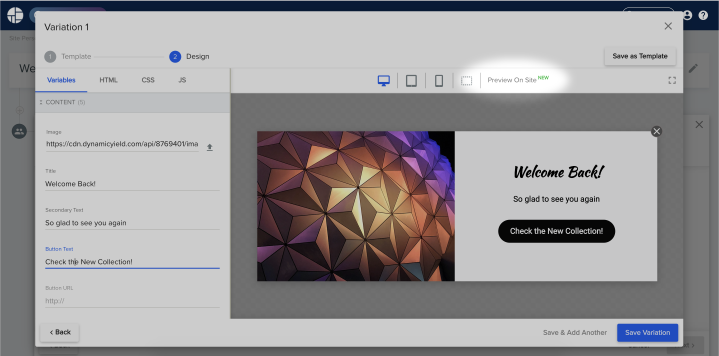 Simply enter the page in which you want to inject the variation code, and click "Preview On Site".
A new tab will open in preview mode. The variation will be visible whether or not you match the targeting conditions of the experiences. However, the campaign's trigger conditions (e.g. overlay that is triggered after 30 seconds on a page) must be met for the variation to display. If you do not match these conditions, you will see a message explaining why the variation wasn't served.
Previewing Campaigns
Go to Site Personalization, hover over any campaign and click the Preview icon.


Choose the preview URL, and click "Preview". This will open this page in preview mode.
You can also email preview URLs to your colleagues, allowing them to preview the campaign without entering the Dynamic Yield console.
Notice: Variation preview represent a snapshot of the variation code at the moment of generating the preview links. Links will remain active for 45 days.

When previewing a campaign, all targeting, trigger and frequency are considered before serving it. If for some reason you are not eligible to the campaign (e.g. campaign is targeted to mobile users and you're using a desktop device) - you will see why.

If you want to view a specific variation regardless of the campaign's conditions (like in variation preview mode), click the drop-down next to the Variation specified in the preview mode box and select any variation. Note that switching between experiences and variations is only allowed when you are logged in to the Dynamic Yield console.
Preview mode will remain active until you click the "Exit Preview Mode" or close the tab.