The Product Finder template is a tool you can use to help your site visitors select a product, whether for themselves or as a gift. The template enables you to ask users a series of questions, and then presents them with matching personalized product options. This can save the user time and stress, while also fitting in with your marketing goals.
This article provides guidelines for how to best use the Product Finder template and instructions on how to create a campaign using it.
Step 1: Plan the purpose and structure
Before you actually build the tool, make sure you know what you want to do:
What is the purpose? Who is it aimed at, and what will they find?
Use case examples:

Find a gift (Mother's Day, Christmas, anniversary)
Find an item for myself (Black Friday, Singles Day)
Content finder (blog, recipe)
Define your questions and answers. The question always relates to a column in your product feed, like gender or product category. The answer is a value in that column. In addition, you can set the price ranges the product must fit into. So you might design the following structure:

Question 1: Who is the gift for?
(Column: gender or categories; Values: Kids, Woman, Man)

Answer a: A child
Answer b: A woman
Answer c: A man

Question 2: What do they like?
(Column: categories; Values: Gym, Gadgets, Camping)

Answer a: Fitness
Answer b: Gadgets
Answer c: Outdoors

Question 3: What is your budget?


Answer a: 0-100
Answer b: 100-200
Answer c: 200-300
Answer d: 300+
Notes:
Column names from the product feed must be written in all lowercase (price, not Price, and categories, not Categories, for example).
The feed column name for questions targeting budget must be ״price״.
You can set the budget question to be multi-selection, in which case the finder considers the minimum and maximum amounts.
Step 2: Create your finder
Create an overlay campaign.
Set your campaign targeting, and create a new variation. Select the out-of-the-box Product Finder template.

Create the variation:

Select the recommendation strategy for your campaign from the selection dropdown (we recommend you use Other context in the strategy setup) and adjust any relevant additional settings (number of questions, affinity contribution).

Construct your questions and answers. You don't need to use all the offered question and answer options, only as many as you want.
Configure your results screen. Note the following options:

Lazy Load: While our recommendation engine searches for the most relevant results, you can define text to display during the wait.
If your Finder is built to find content, you can remove the Price variables.
If the recommendation engine is unable to return results (say, too many or conflicting rules), a No Results page is displayed.
The template can load up to 48 items in a scrollable view, on both desktop and mobile.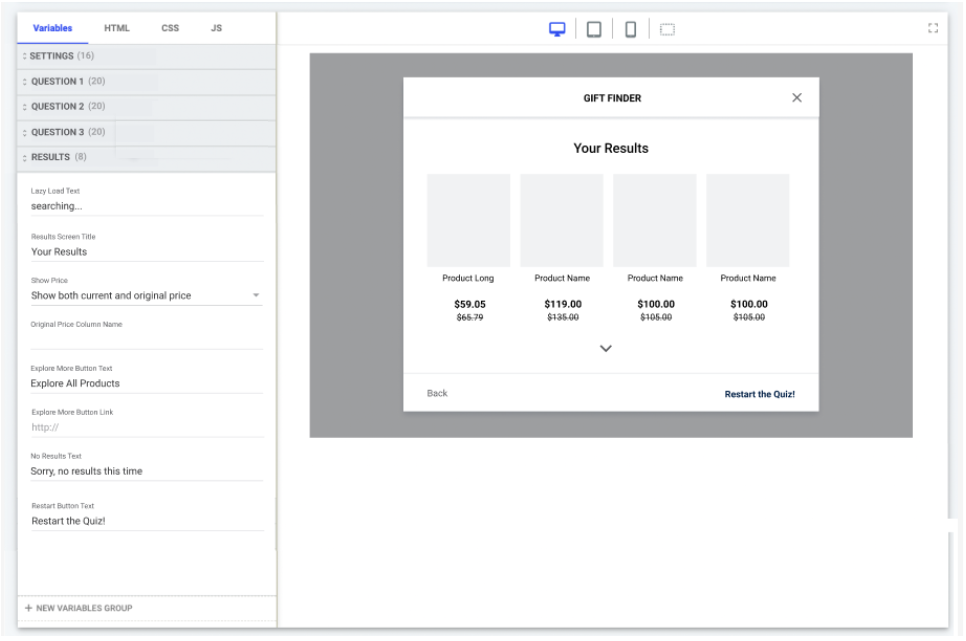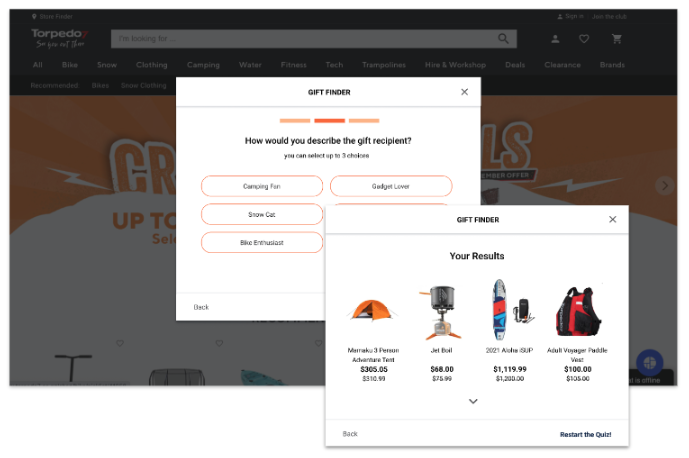 Step 3: Test and analyze
Measure the conversion rate against users who weren't exposed to the finder experience.
Use the analytics events to see how far customers got in the Finder campaign (say, if they abandoned after a specific question).
A/B test different versions of the finder (questions, answers, length, and so on)
Analyze flaws and apply improvements.