User Predictive Spend is an Experience OS extension powered by the data of Mastercard. It's part of the Cardholder Spend Insights extension set for card issuers.
About Cardholder Spend Insights 
Using proprietary predictive models, the User Predictive Spend extension enables you to create audiences based on targeting conditions relating to known users, such as their likelihood to spend in specific categories, to attrit, and many additional factors. You can then use these audiences in your campaigns to provide effective offers to each user type. 
Targeting conditions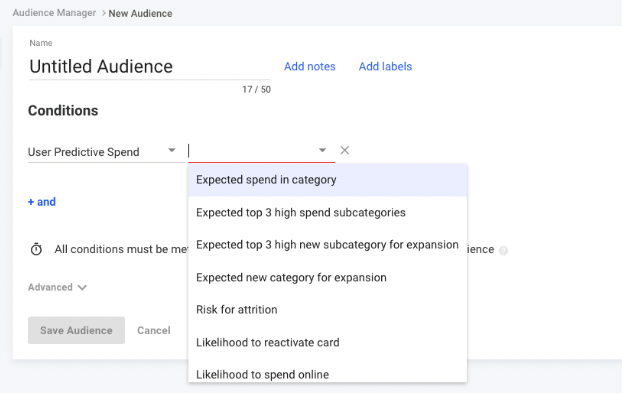 User Predictive Spend targets users based on their likelihood to spend in certain categories, and on user behavior similar to specific use cases and actions.
| Condition | Description |
| --- | --- |
| Expected spend in category | Target users whose likelihood to spend in the specific category is either high, medium, or low |
| Expected top 3 high-spend subcategories | Target users who are likely to spend the most in the selected subcategories |
| Expected top 3 new subcategories for expansion | Target users who are most likely to start spending in the selected subcategory |
| Expected new category for expansion | Target users whose likelihood to expand to a selected category is high, medium, or low |
| Risk for attrition | Target users whose likelihood to attrit is high, medium, or low |
| Likelihood to reactivate card | Target users whose likelihood to reactivate their card is high, medium, or low |
| Likelihood to spend online | Target users whose likelihood to spend online is high, medium, or low |
| Similarity to a small business user | Target users whose similarity to a business user is high, medium, or low |
Industry categories
Category
Subcategory
Apparel & Accessories
Children's Apparel
Family Apparel
Women's Apparel
Men's Apparel
Miscellaneous Apparel

Jewelry and Giftware

Luggage and Leather Stores

Sporting Goods / Apparel / Footwear
Shoe Stores
Automotive & Cars
Automotive New and Used Car Sales
Automotive Fuel
Automotive Used Only Car Sales
Automotive Retail
Miscellaneous Vehicle Sales
Education
College, University Education
Elementary, Middle, High Schools
Miscellaneous Educational Services
Electronics
Consumer Electronics / Appliances
Computer / Software Stores

Camera / Photography Supplies

Entertainment
Amusement, Recreation Activities

Casino and Gambling Activities

Live Performances, Events, Exhibits

Miscellaneous entertainment and recreation

Movie and Other Theatrical

Professional Sports Teams
Video and Game Rentals

Financial Services & Insurance

Financial Services
Insurance
Grocery & Drug Stores
Beer / Wine / Liquor Stores
Drug Store Chains
Grocery Stores
Specialty Food Stores
Health & Personal Care
Cosmetics and Beauty Services
Health / Beauty / Medical Supplies
Home & Office
Home Furnishings / Furniture
Home Improvement Centers
Office Supply Chains
Media & Art
Arts and Craft Stores
Book Stores
Music and Videos
Newspapers and Magazines
Giftware/Houseware/Card Shops
Miscellaneous Publishing Industries
Other
Advertising Services
Accounting and Legal Services
Consumer Credit reporting
Cleaning and exterminating Services
Construction Services
Courier Services
Clothing, Uniform, Costume Rental

Death Care Services

Dry Cleaning, Laundry Services
Employment, Consulting Agencies
Equipment Rental
Miscellaneous

Information Retrieval Services

Miscellaneous Administrative and Waste Disposal Services

Manufacturing

Miscellaneous Personal Services

Miscellaneous Professional Services

Maintenance and Repair Services

Miscellaneous Technical Services

Photofinishing Services
Photography Services
Public Administration
Real Estate Services
Software Production, Network Services and Data Processing
Security, Surveillance Services
Veterinary Services
Warehouse
Wholesale Trade
Restaurants & Dining
Bars, Taverns & Nightclubs
Eating Places
Retail Shopping
Agriculture/Forestry/Fishing/Hunting

Discount Department Stores

Department Stores

General Merchandise Stores
Florists
Pet Stores
Toy Stores
Wholesale Clubs

Telecommunications & Cable

Communications, Telecommunications Equipment
Communications, Telecommunications, Cable Services
Travel & Tourism
Accommodations
Travel Agencies and Tour Operators
Airlines
Bus
Cruise Lines

Vehicle Rental

Railroad

Other Transportation Services

Taxi & Limosine
Utilities
Utilities
Use case examples
Increase the value of users by cross-promoting with other products based on propensity models. Offer a new business card to users who are highly similar to a business user.
Reduce churn and increase card usage by targeting users with a high risk for attrition with attractive offers based on the categories in which they are most likely to spend.
Increase category diversity and drive card usage in specific categories by personalizing experiences with offers and incentives, targeting users based on the categories they are most likely to spend on or expand to.
Prerequisites and limitations
To get User Predictive Spend,

contact your account manager and find out if the extension is available in your

geographic location.
About Cardholder Spend Insights
Cardholder Spend Insights is a set of extensions designed for card issuers, to enable creating and targeting audiences in order to offer customers hyper-personalized experiences. The extensions use rich insights into users' past spending behavior and also leverage Mastercard's propensity modeling techniques to predict future behavior.
Working with Mastercard data
The extensions use datasets generated by Mastercard (covering Mastercard cardholders), which are then provided to each issuer. 
Each data set is aggregated at the user level and captures insights based on the user's activity in the past 12 months. The data is updated weekly.