The Dynamic Yield Support team is on hand to help you with any technical issues or questions about the product or the information in this Knowledge Base.
Opening a ticket
From this Knowledge Base
Click Open a Ticket on the header of any page in the Knowledge Base.

To get to this Knowledge Base from within the Experience OS console, click the help icon

, and then click Visit the Support Site.
From the Experience OS console
Click the help icon

, and then go to the bottom of the pane, and click Open a Ticket.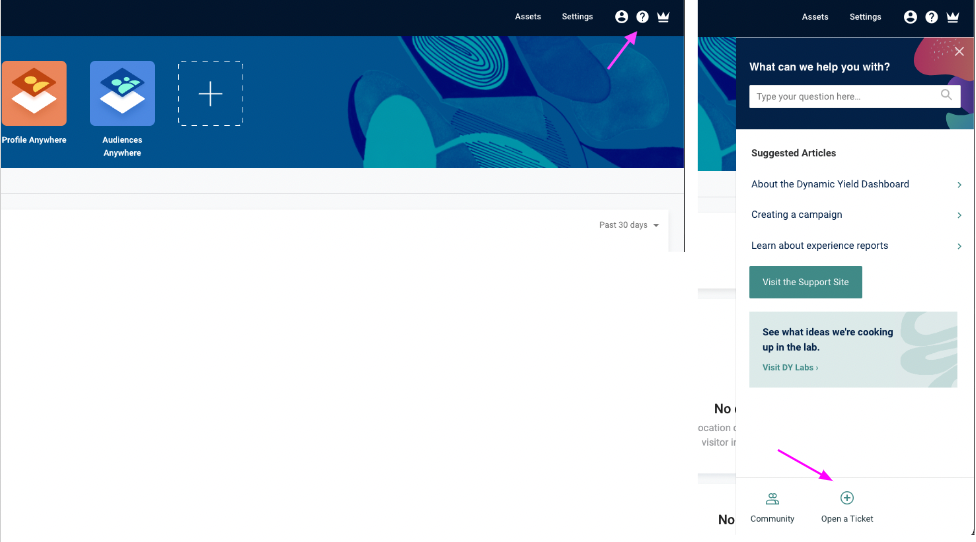 Completing the ticket request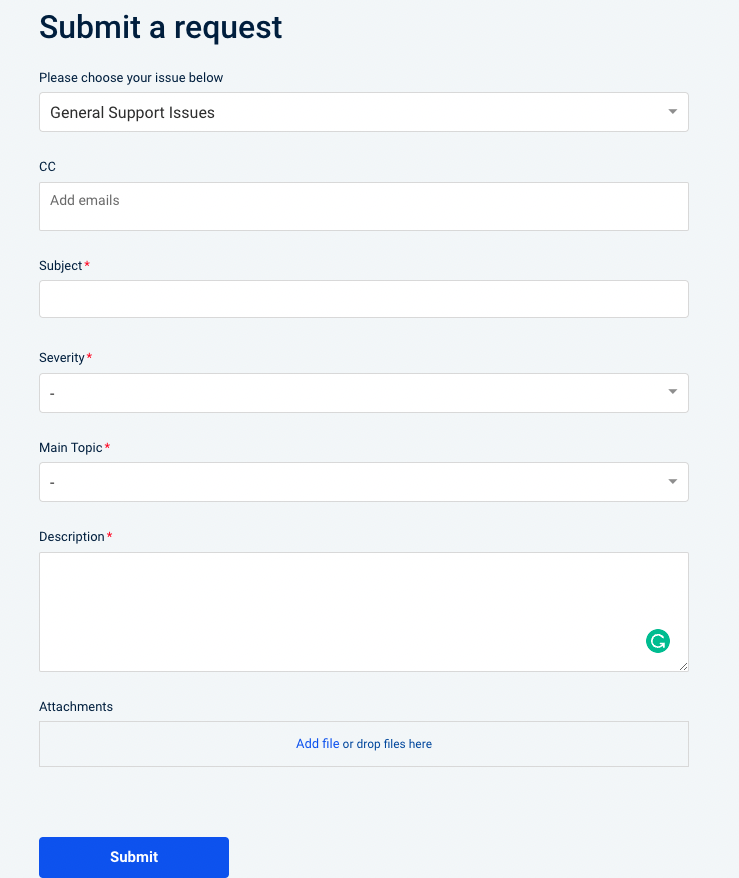 Select the issue type.
Optional: Add email addresses to copy the ticket to.
Enter a subject for the ticket.
Best practice: Try to be descriptive, and yet concise. The best subject lines include the affected product/area, and the problematic behavior. For example, "Triggered Email not showing up on mobile devices".
Select a severity level:

Critical: Your site is not functioning.
Urgent: You are experiencing issues with live campaigns.
High: The issue is blocking you from going live with a campaign.
Moderate: Any general question or minor issue.

Select a main topic:

Campaigns
Data
Onboarding & Setup
General
Mobile App
Experience APIs
Other

Add a description of the issue.
The description is very important. The more clear and detailed it is, the better the support representative will be able to understand, and provide a quick remedy. Describe where the issue is occurring, what steps you performed, what the expected behavior was, what actually happened, and so on. See Troubleshooting Campaign Issues for more details about what to detail.
Elements that you must include in the ticket:

Site name and ID
Link to the affected campaign
Link to the page the campaign is running on (staging or production)
Instructions to replicate the issue (can be a link or details about the impacted audience or campaign)
Details about what results you're seeing
The expected results

Add relevant attachments. This step is optional, but it's a best practice to add screen captures or recordings that can help the support team understand what issue you are experiencing.