Geo-based Predictive Spend and Geo-based Spend History are Experience OS extensions, powered by the data of Mastercard. 
Geo-based predictive targeting enables you to target anonymous users who are likely to engage and spend on various preset categories (for example, Children's Apparel, Jewelry, Beauty Products, and many more), based on proprietary predictive models and localized consumer spending data provisioned by Mastercard.
See the list of categories for targeting.
Geographical coverage
Geo-based predictive targeting is currently available for the following countries:
| | | | |
| --- | --- | --- | --- |
| Australia | Austria | Belgium | Brazil |
| Canada | Denmark | England | Finland |
| Germany | Ireland | Italy | Netherlands |
| New Zealand | Norway | Spain | United States |
Note that category availability is not uniform across geographies, as certain subsets of categories might only be available for a subset of countries. This is primarily true for the Predictive Spend categories, which are currently supported only in the United States. Additional countries will be added gradually.
When you select a geo-based category to target in an experience, the number and list of countries where targeting is available appears.  

Click the link to see the specific countries:

How it works
The extension evaluates the user's geographical location in real time, based on the user's IP address and the geographies it maps to. It then evaluates whether users in that geographical location are considered highly likely to spend on any of the given categories based on propensity scores that are calculated by Mastercard predictive models and datasets. If the propensity score for the user's location is high for the chosen category, the user is targeted and receives one of the variations in the experience; if the score is low, the user is not targeted.
Determining high and low scores
Each location is assigned a propensity score for each measured category. A high score is one in the top 20% percent. So a user in a location with a score in that range is targeted, and a user in a location with a score in the bottom 80% is not. 
You don't need to specify any location to set up a targeted experience leveraging Geo-based Predictive Targeting conditions. The geo-based evaluation is done automatically, referencing all relevant data points to determine whether a user should be targeted.
Targeting conditions
The two extensions map to the two available condition types, which can be used separately or together, and work similarly to every other available targeting condition:
Locations with high probability to spend: Targets users based on the geo-based predictive models.  
Locations with high spend history: Targets users based on the historical consumer behavior observed in their zip code.
Learn more about Targeting Conditions.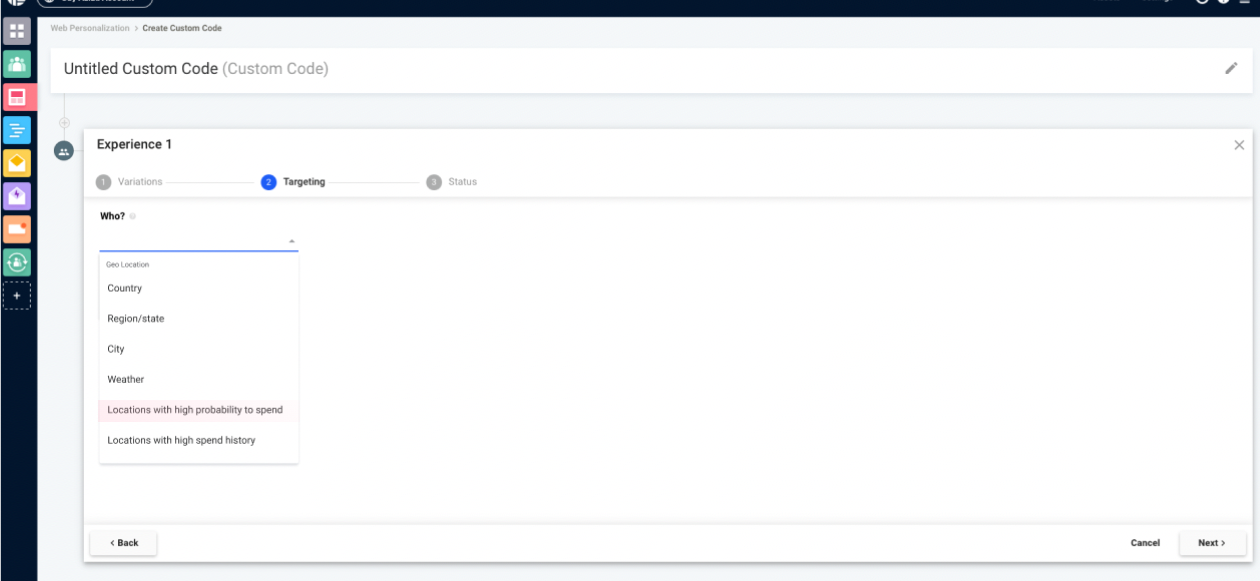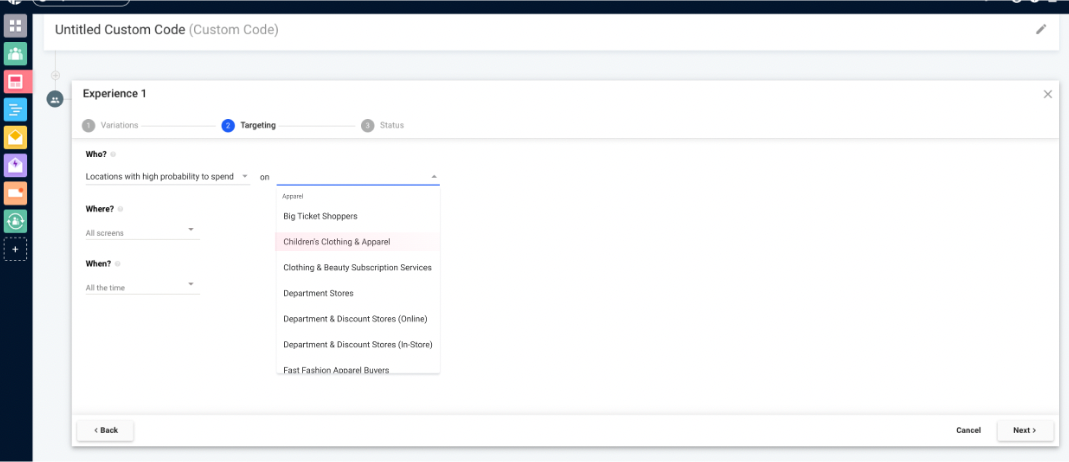 Use case examples
Targeted experiences and content personalization are especially relevant to category promotions or hero banner optimization on the homepage, for example:
E-commerce:
Offer high-end brands for users in zip codes with high scores for luxury retail, and money-savers for users in areas with a preference for discount stores. 
Financial institutions:
Promote different credit cards (travel, premium) to users in areas with high scores for respective categories (international air travel, high net worth consumers). 
Other business areas: 
Offer tools or decor items to high-spend areas for home improvement, beauty subscriptions to high-spend areas for cosmetics, and so on (pet care, new parents, consumer electronics, and more).
Best practices
The best use of Geo-based Predictive Targeting is to target users for whom you haven't yet collected any behavioral data. This includes anonymous or first-time visitors who would otherwise default to a non-personalized, sub-optimal experience.
In practice, this means that the best way to incorporate Geo-based Predictive Targeting into a campaign is in targeted experiences, as follows:
The top-most experiences are aimed at known users, based on behavioral targeting conditions or audience membership. 
Next, create Geo-based Predictive Targeting experiences.
At the bottom, place the default experience.
See this arrangement illustrated in the following screen capture, where tech enthusiasts in an audience are targeted first; next, users are targeted because they have an affinity to tech; the next tier of targeting is based on users being in a location with high tech spending, and then, finally, the default experience is served to visitors who do not match any of these criteria: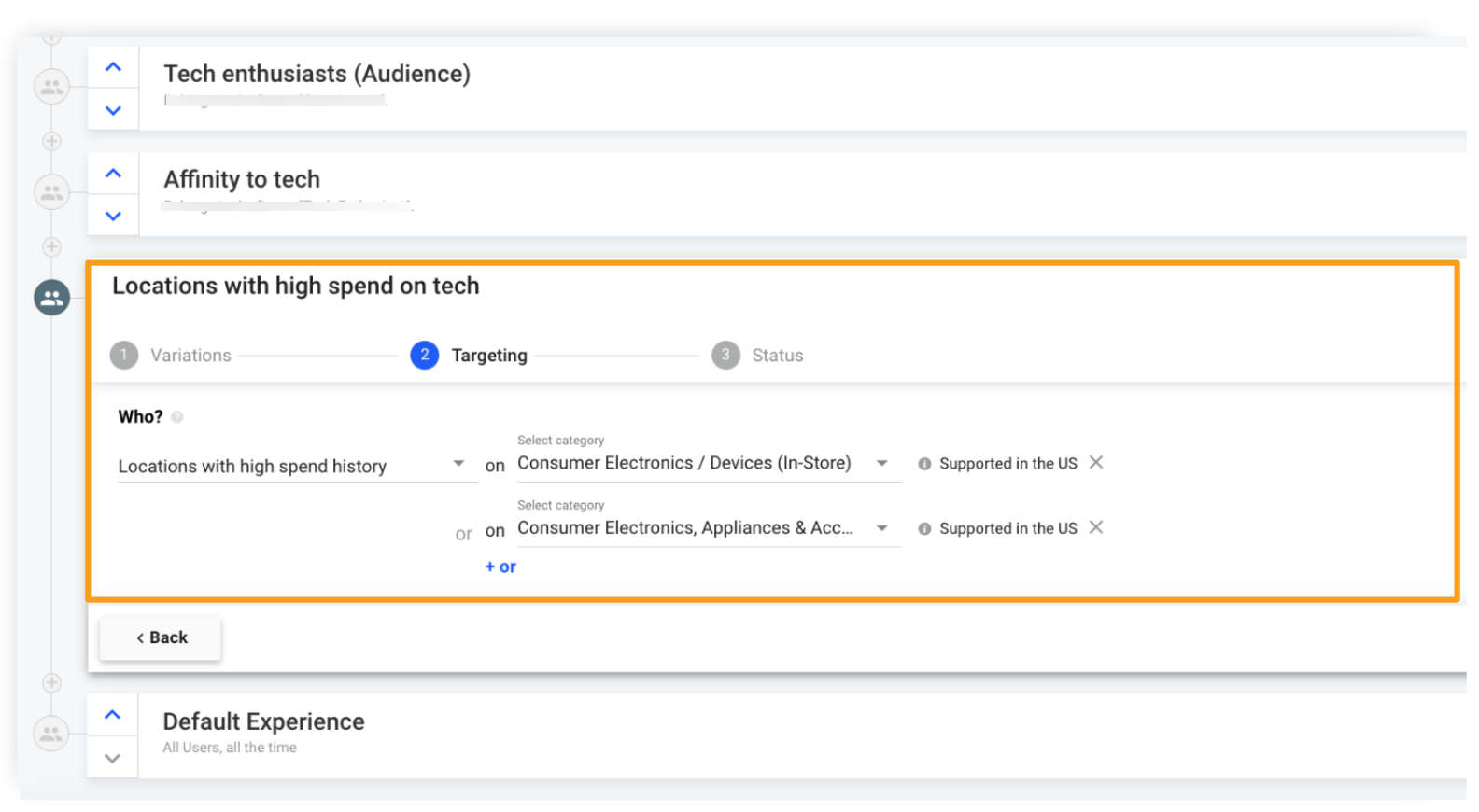 With this setup, the number of users who receive a personalized, optimal experience is maximized. Of the remaining users, the number receiving a geo-based experience is then maximized, and only users for whom there is no data at all default to a generic, non-personalized experience. 
Predictive targeting category lists
Locations with high spend history
Apparel & Accessories
Children's Clothing & Apparel
High spenders at retailers of children's clothing and accessories. This includes children's dresses, shirts, pants, skirts, outerwear, and other clothing.
Men's Clothing & Apparel
High spenders at retailers of men's casual, professional, and formal wear.
Luxury Retail
High spenders at retailers of luxury products or jewelry across all categories.
Luxury Men's Clothing & Apparel
High spenders at luxury men's retailers of clothing, casual, professional, and formal wear
Luxury Women's Clothing & Apparel
High spenders at luxury women's retailers of clothing, casual, professional, and formal wear.
Women's Clothing & Apparel (Online)
High spenders in women's apparel retailers, purchased online (excludes in-store brick-and-mortar sales).
Women's Clothing & Apparel (In-Store)
High spenders in brick-and-mortar women's apparel retailers (excludes online purchases).
Men's Clothing & Apparel (Online)
High spenders in men's apparel retailers, purchased online (excludes in-store brick-and-mortar sales).
Men's Clothing & Apparel (In-Store)
High spenders in brick-and-mortar men's apparel retailers (excludes online purchases).
Department & Discount Stores (Online)
High spenders in online department stores (excludes in-store brick-and-mortar sales).
Department & Discount Stores (In-Store)
High spenders in brick-and-mortar department stores (excludes online purchases).
Ultra Luxury Stores and Services
High spenders on extremely luxurious items or services.
Shoe Stores
Highly spenders at shoe stores.
Dollar Stores
High spenders at dollar stores.
Athleisure Apparel
High spenders on athleisure.
Department Stores
High spenders at department or super stores, mostly comprised of large chain stores.
Sporting Goods
High spenders at retailers that sell athletic equipment and sporting apparel.
Luggage / Suitcases / Carry-Ons & Leather Stores
Highly spenders at luggage and leather stores.
High-end Retail Establishments
High spenders at high-end retail establishments
Items for New Parents & Growing Families
High spenders at retailers that sell infant / young children's apparel and baby products
Golf Equipment
Frequent buyers of golf equipment or clubs
Automotive
Automotive Parts & Accessories
High spenders at retailers of auto parts or non-essential automotive products
Beauty & Personal Care
Clothing & Beauty Subscription Services
High spenders on subscriptions for monthly apparel, beauty, or clothing rental services
Cosmetic Products and Beauty Services
High spenders on cosmetics and beauty products, including makeup, hair care products, and services
Beauty and Cosmetic Products (Online)
High spenders at retailers of beauty products purchased online (excludes in-store brick-and-mortar sales)
Beauty and Cosmetic Products (In-Store)
High spenders at brick-and-mortar retailers of beauty products (excludes online purchases)
Books & Education
College & University Education
High spenders at colleges or universities, including tuition, books, supplies, etc.
Consumer Electronics
Consumer Electronics / Devices (In-Store)
High spenders in brick-and-mortar consumer electronics stores (excludes online purchases).
Cameras & Photography
High spenders at retailers of camera & photography supplies, printing services, or photo editing services.
Consumer Electronics, Appliances & Accessories
High spenders at retailers of consumer electronics, accessories, appliances, and gadgets.
Consumer Electronics / Devices (Online)
High spenders in consumer electronic retailers purchased online (excludes in-store brick-and-mortar sales).
Consumer Packaged Goods
Organic/Natural Grocery Stores
High spenders at natural or organic grocers
Grocery & Food Stores
High spenders at retailers of fresh, specialty, frozen, and big box foodstuffs, including grocery stores
Drug Store Chains
High spenders at drug stores for items including over-the-counter medication, prescriptions and supplies
Online Food & Meal Delivery
High spenders at online food or meal delivery providers, including meal kit delivery services (excludes in-store brick and mortar sales)
Online Grocery Stores
High spenders on online grocery stores, including grocery store chains that have an online website or app that allows grocery purchases (excludes in-store brick and mortar sales)
Financial Services
Tax Preparation Services
High spenders on tax preparation services between March 1st and April 20th
Premium Credit Cards
High spenders on a premium credit card, i.e. cards with high premiums
Rewards Credit Cards
High spenders on a reward credit card, i.e. cards with high reward points
General Insurance Services
High spenders on any type of insurance, including travel, identity theft, disability, accidental, life, and auto insurances
Mobile / Smartphone & Digital Payments
High spenders using mobile payment methods or apps that include mobile payments, mobile wallets, mobile investments, and/or cryptocurrencies
Gifts, Toys, & Office
Office Supplies
High spenders at office supply stores or home office specialty stores
Gifts, Cards & Stationary Stores
High spenders at gift and/or card stores
Home & Furniture
Home Furniture and Furnishing
High spenders at retailers of home furnishings, home decor, bedding, and accessories
Home Furniture and Furnishing (Online)
High spenders at online retailers of home furniture, home décor, and accessories (excludes in-store brick and mortar sales)
Home Furniture and Furnishing (In-Store)
High spenders at brick and mortar retailers of home furniture, home décor, and accessories (excludes online purchases)
Home Improvement
High spenders on home improvement supplies, furnishings, services, etc.
Pets
Pet Care & Veterinary Services
High spenders at pet care or veterinary services, including boarding and grooming.
Restaurants
Quick Serve Restaurants - Asian
High spenders at restaurants with no wait staff or server, including fast food restaurants, that specialize in Asian cuisine
Quick Serve Restaurants - Ice Cream
High spenders at restaurants with no wait staff or server, including fast food restaurants, that specialize in serving ice cream and/or yogurt items
Quick Serve Restaurants - Mexican
High spenders at restaurants with no wait staff or server, including fast food restaurants, that specialize in Mexican cuisine
International Cuisine
High spenders at international or foreign cuisine restaurants
Fine Dining
High spenders at luxury dining establishments
Travel
Luxury Travel & Tourism
High spenders on luxury travel, including first class tickets, travel bookings, lodging, and activities
Luxury Hotels / Resorts
High spenders at any Fortune 500 luxury hotel
International Air Business / Work Travel
High spenders on international air travel for business
Domestic Budget Flights
High spenders on domestic budget airlines, hotels, and car rentals
Budget Travel
Frequent buyers on domestic budget airlines, hotels, and car rentals
Domestic Air Travel
High spenders who purchase on domestic airline travel (anywhere in the United States)
International Air Travel
High spenders who purchase on international airline travel (anywhere outside of the United States)
Upscale Hotels / Resorts
High spenders who visit Fortune 500 or nationally recognized upscale hotels
Midscale Hotels & Resorts
High spenders at midscale hotels
Affluent Leisure Travel
High spenders on high end travel, including first class tickets
Locations with high probability to spend
Apparel & Accessories
Department Stores
Jewelry & GiftsHighly likely spenders at department or super stores, mostly comprised of large chain stores, in the next 30 days based on propensity model
Value & Discount Stores
Highly likely spenders at lower cost department, off price, discount or dollar stores in the next 30 days based on propensity model
Sporting Goods
Highly likely spenders at retailers of athletic equipment and sporting apparel in the next 30 days based on propensity model
Children's Clothing & Apparel
Highly likely spenders at retailers of children's clothing and accessories in the next 30 days based on propensity model. This includes children's dresses, shirts, pants, skirts, outerwear and other clothing
Family Clothing & Apparel
Highly likely spenders at retailers of clothing for the whole family in the next 30 days based on propensity model
Men's Clothing & Apparel
Highly likely spenders at retailers of men's casual, professional, and formal wear in the next 30 days based on propensity model
Women's Clothing & Apparel
Highly likely spenders at retailers of women's casual, professional, and formal wear in the next 30 days based on propensity model
Luxury Men's Clothing & Apparel
Highly likely spenders at luxury men's retailers of clothing, casual, professional, and formal wear in the next 30 days based on propensity model
Luxury Women's Clothing & Apparel
Highly likely spenders at luxury women's retailers of clothing, casual, professional, and formal wear in the next 30 days based on propensity model
Luxury Retail
Highly likely spenders at retailers of luxury products or jewelry across all categories in the next 30 days based on propensity model
Jewelry & Gifts
Highly likely spenders on jewelry, giftware or accessories in the next 30 days based on propensity model
Automotive
Automotive Parts & Accessories
High likelihood to spend at retailers of auto parts or non-essential automotive products within the next 30 days based on modeled spend behavior
Foreign Cars
Highly likely spenders on a foreign brand car within the next 30 days based on propensity model
Domestic Car Buyers
Highly likely spenders on a domestic brand car within the next 30 days based on propensity model
New / Pre-Owned Cars
Highly likely spenders on a new or pre-owned car within the next 30 days based on propensity model
Luxury Cars
Highly likely spenders on high end luxury car within the next 30 days based on propensity model
New / Pre-Owned Cars (New Buyers)
Highly likely to purchase a new or pre-owned car, without previous evidence of similar spend, within the next 30 days based on modeled spend behavior
Beauty & Personal Care
Hair Care / Styling & Beauty Salons
Highly likely spenders at hair care, beauty salons, hair salons and barber shops in the next 30 days based on propensity model. This includes services such as haircuts, nail care, manicures, and pedicures
Books & Education
Books
Highly likely spenders at book or magazine stores in the next 30 days based on propensity model
Newspaper & Magazine
Highly likely spenders on newspapers or magazines in the next 30 days based on propensity model
Consumer Electronics
Cameras & Photography
Highly likely spenders at retailers of camera & photography supplies, printing services, or photo editing services in the next 30 days based on propensity model
Consumer Electronics, Appliances & Accessories
Highly likely spenders at retailers of consumer electronics, accessories, appliances, and gadgets in the next 30 days based on propensity model
Financial Services
Tax Preparation Services
Highly likely spenders on tax preparation services based on propensity model
Accounting and Legal Services
Highly likely spenders on accounting and/or legal services in the next 30 days based on propensity model
Real Estate & Realtor Services
Highly likely spenders on real estate services, including those who plan on purchasing or renting real estate/property, in the next 30 days based on propensity model
Small Businesses
Card holders which are likely small businesses based on propensity model, and are in the market to spend on business-related products and services
Gifts, Toys, & Office
Arts & Crafts Stores
Highly likely spenders at arts and craft stores in the next 30 days based on propensity model
Gifts, Cards & Stationary Stores
Highly likely spenders at retailers of gift and/or card stores in the next 30 days based on propensity model
Office Supplies
Highly likely spenders at office supply store or home office specialty store in the next 30 days based on propensity model
Toy Stores
Highly likely spenders at toy stores in the next 30 days based on propensity model
Home & Furniture
Home Furniture and Furnishing
Highly likely spenders at retailers of home furnishings, home decor, bedding, and accessories in the next 30 days based on propensity model
Home Improvement
Highly likely spenders at retailers of home improvement supplies and home furnishings, including services in home improvement, renovations, and interior design, in the next 30 days based on propensity model
Restaurants
Valentine's Day Shoppers - Valentines Day Dining
Highly likely spenders at restaurants on Valentine's Day based on propensity model
High-end Dining
Highly likely spenders at high end restaurants within the next 30 days based on propensity model
Mid-Range & Non-Chain Restaurants
Highly likely spenders at mid-range restaurants within the next 30 days based on propensity model
Spending Behavior
High Net Worth Consumers
Highly likely spenders with a high degree of discretionary spending available within the next 30 days based on propensity model
Travel
Economy Hotels & Motels
Highly likely spenders at economy hotels and/or motels in the next 30 days based on propensity model
Luxury Travel & Tourism
Highly likely spenders on luxury travel, including first class tickets, travel bookings, lodging, and activities, in the next 30 days based on propensity model
Upscale Hotels / Resorts
Highly likely spenders at Fortune 500 upscale hotels in the next 30 days based on propensity model
Domestic Air Travel
Highly likely spenders at United States based airlines within the next 30 days based on propensity model
International Air Travel
Highly likely spenders at airlines based outside of the United States within the next 30 days based on propensity model
Big-Ticket Cruisers
Highly likely spenders on leisure trips or vacations through major cruise lines within the next 30 days based on propensity model
Luxury Hotels & Resorts
Highly likely spenders at any Fortune 500 luxury hotel in the next 30 days based on propensity model
Midscale Hotels & Resorts
Highly likely spenders at midscale hotels in the next 30 days based on propensity model
Prerequisites and limitations
To get Geo-based Predictive Spend and Geo-based Spend History,

contact your account manager.
The list of available categories might vary between accounts, based on the account's vertical classification (E-commerce, Financial Institutions, Quick Service Restaurants, or Consumer Packaged Goods). 
Geo-based predictive targeting currently works only for select geographies throughout the United States, Europe, Latin America, and APAC. In the near future, availability will be expanded to support additional countries, including: