Geo-based Predictive Spend and Geo-based Spend History are Experience OS extensions, powered by the data of Mastercard.
Geo-based predictive targeting enables you to target anonymous users who are likely to engage and spend on various preset categories (for example, Children's Apparel, Jewelry, Beauty Products, and many more), based on proprietary predictive models and localized consumer spending data provisioned by Mastercard.
The entire list of categories for targeting is attached as a spreadsheet to this article.
How it works
The extensions evaluate the user's geographical location in real time, based on the user's IP address and the geographies it maps to. It then evaluates whether users in that geographical location (mapped down to the zip-code level) are considered highly likely to spend on any of the given categories based on propensity scores that are calculated by Mastercard predictive models and datasets. If the propensity score for the user's zip code is high for the chosen category, the user is targeted and receives one of the variations in the experience; if the score is low, the user is not targeted.
Determining high and low scores
Each zip code is assigned a propensity score for each measured category. A high score is one in the top 25% percent. So a user in a zip code with a score in that range is targeted, and a user in a zip code with a score in the bottom 75% is not.
You don't need to specify any location to set up a targeted experience leveraging Geo-based Predictive Targeting conditions. The geo-based evaluation is done automatically, referencing all relevant data points, to determine whether a user should be targeted.
Targeting conditions
The two extensions map to the two available condition types, which can be used separately or together, and work similarly to every other available targeting condition:
Locations with high probability to spend: Targets users based on the geo-based predictive models.
Locations with high spend history: Targets users based on the historical consumer behavior observed in their zip code.
Learn more about Targeting Conditions.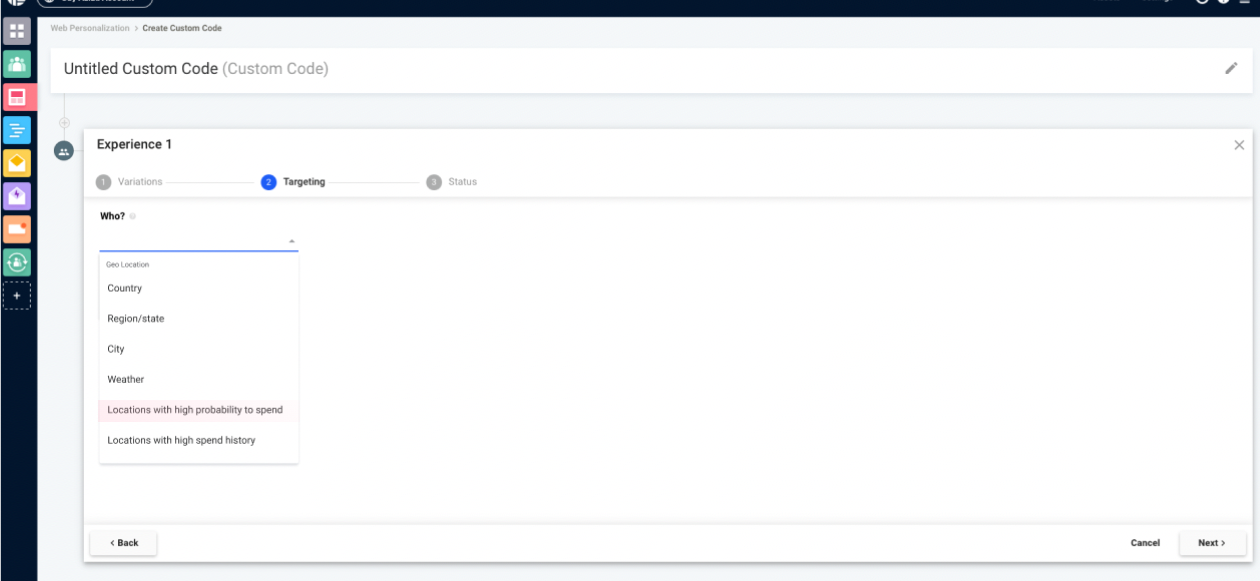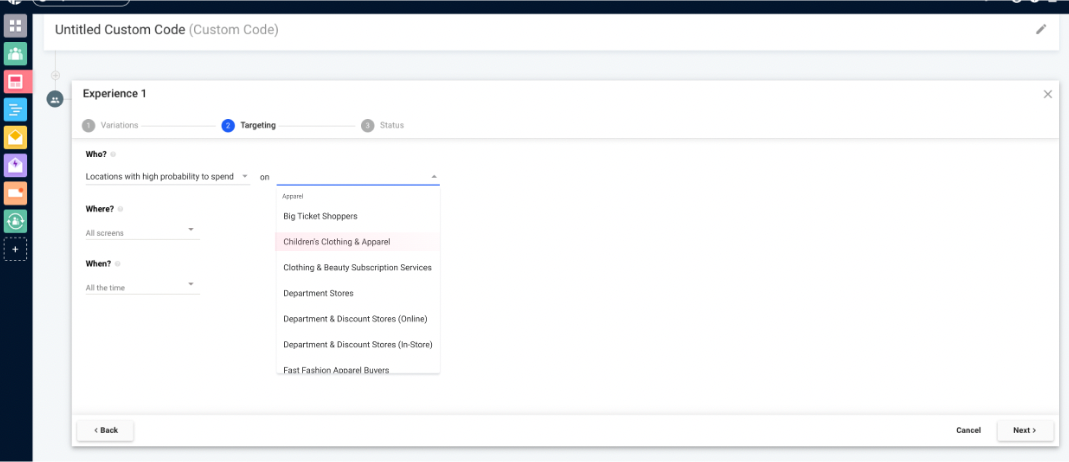 Use case examples
Targeted experiences and content personalization are especially relevant to category promotions or hero banner optimization on the homepage, for example:
E-commerce:
Offer high-end brands for users in zip codes with high scores for luxury retail, and money-savers for users in areas with a preference for discount stores.
Financial institutions:
Promote different credit cards (travel, premium) to users in areas with high scores for respective categories (international air travel, high net worth consumers).
Other business areas:
Offer tools or decor items to high-spend areas for home improvement, beauty subscriptions to high-spend areas for cosmetics, and so on (pet care, new parents, consumer electronics, and so on).
Prerequisites and limitations
To get Geo-based Predictive Spend and Geo-based Spend History,

contact your account manager.
The list of available categories might vary between accounts, based on the account's vertical classification (E-commerce, Financial Institutions, Quick Service Restaurants, or Consumer Packaged Goods).
Geo-based predictive targeting currently works only for geographies throughout the United States. In the near future, availablility will be expanded to support additional countries, including:
Argentina
Australia
Austria
Belgium
Brazil
Canada
Denmark
Finland
Germany
Italy
Ireland
Japan
Malaysia
Netherlands
New Zealand
Portugal
Singapore
Spain
Thailand
United Kingdom
Vietnam