Experience OS is an operating system for hyper-personalization, built to be agnostic, scalable, and fully customizable to your needs, and to provide value across all your digital marketing. The OS infrastructure and system components work across all the business applications and extensions, to fully realize and execute your campaigns. On top of these layers is the collection of OS applications that you can use for specific business functions, and a set of extensions that provide enhanced reach and capabilities to your apps.
The OS works within a framework of principles and standards of responsible personalization and the ability to work with any platform.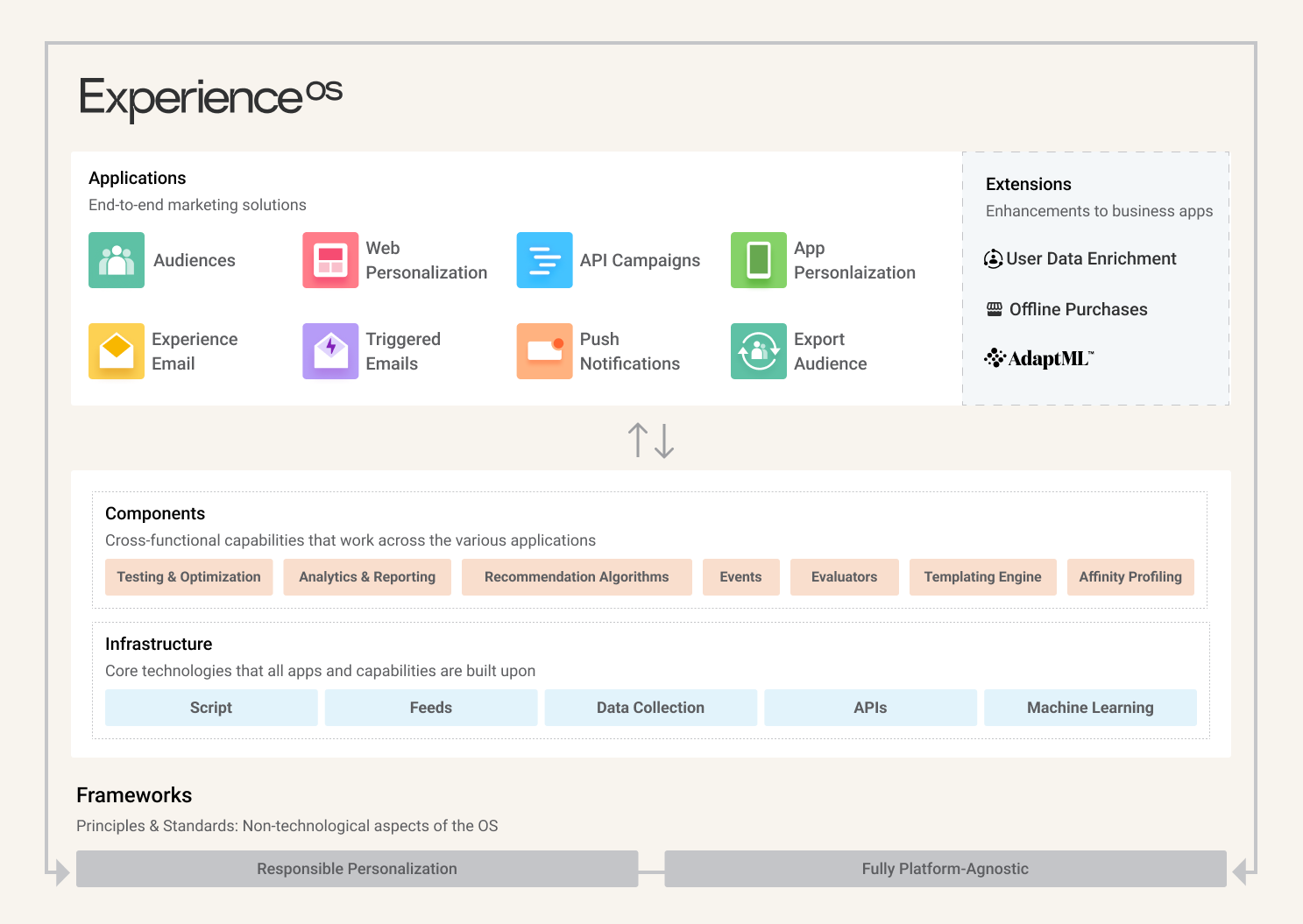 What Experience OS means for you
Unbounded: Grow with OS applications

All our apps sit on top of shared infrastructure, enabling you to extend your personalization to any touchpoint and unify different teams (email, web, mobile, loyalty). Start with what you need now, and easily expand to new apps and extensions with low implementation effort.

Fully Agnostic: Connect what you need

The OS enables cross-platform connectivity and is unbiased towards any tech, data or platform. Activate data from any source into Experience OS (CRM, CMS, ESP, CDP) and use it for personalization.

Customizable to each business' needs

Experience OS personalization is inherently adaptable to your tech stack, industry, and KPIs. Even our deep learning is trained on your specific site and can operate differently for different product lines and regions.

Access the power of Mastercard:
Coming in 2023

Infused by Mastercard's unique and proprietary market intelligence on consumer spending
Experience OS overview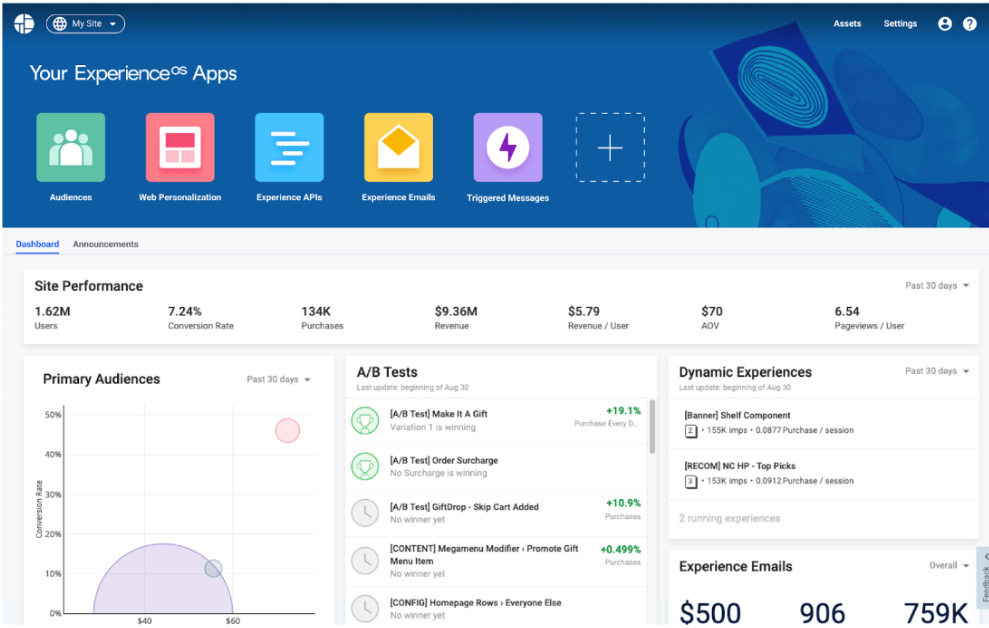 Experience OS infrastructure
The OS includes technological software components that all applications and capabilities are built upon. These include the collection script that's implemented on the site and Experience APIs that interact directly with the server. It also includes the data sources that are onboarded to the OS through feeds and the machine learning infrastructure that takes the collected data and transforms it into insights.
Experience OS core components
Supporting your apps and activities are all of the Dynamic Yield signature capabilities, which work across apps to boost your personalization efforts.
Recommendation algorithms are based on various activities on all channels, and can be used across apps; for example, Viewed Together and User Affinity can be used in both site personalization and email. The affinity profile is calculated based on user behavior on any channel, such as offline purchase and adding items to the cart. Then, this information can be leveraged in different apps; for example, serving an onsite recommendation or building an audience.
Additional cross-system capabilities include A/B testing and analytics capabilities, and various tools to use for personalization, including templates for your campaigns, evaluators for custom targeting and real-time filtering, goals to use as primary metrics, and more.
Experience OS Applications
Experience OS applications are stand-alone solutions designed to perform specific marketing functions. In the Experience OS console, you can see all the apps you have installed. Click the Plus (+) icon to access the app & extension store where you can discover more capabilities of your OS.
Available apps:
Web Personalization
Create personalized onsite experiences; showcase contextually relevant content, products, messages, and offers based on real-time signals from visitors.
Audiences
Power deep personalization with an agile segmentation and data management system.
Experience Email
Create hyper-personalized and predictive emails that adapt in real time.
Triggered Emails
Automatically trigger personalized email messages to reach customers at the most critical moments.
API Campaigns
Run experiments, recommendations, and content personalization campaigns through server and client-side APIs, rendered on any device and digital touchpoint.

Mobile App Personalization
Personalize and optimize mobile app experiences. Connect app data with CRM, web, and email channels to power experiences that drive action and improve retention.
Push Notifications
Automatically trigger personalized messages via mobile push notification to reach customers at the most critical moments.
Audience Export
Export a list of users who belong to any given Dynamic Yield audience segment to a CSV file.
Experience OS extensions
These tools augment your apps, adding extra capabilities, such as user data enrichment or machine learning.
User Data Enrichment
Upload user data to Experience OS from other platforms, and use it for enhanced targeting and user segmentation.
AdaptML
Use predictive and deep learning models in web, email, and mobile app campaigns.
Offline Purchases
Onboard offline purchase data to serve personalized experiences to your visitors based on their offline activity.
Experience OS frameworks
Experience OS is not just a technical solution. It's also a set of values and standards. Notably, the platform-agnostic philosophy, enabling you to connect your stack by onboarding data from your CDP, content from your CMS, analyze results in your analytics platform, and more.
Another is responsible personalization, working based on a set of principles and standards such as transparency, anonymization, and self-service that keep consumer privacy and regulatory compliance in mind. Learn more about privacy with Experience OS.