The latest product news and updates from Dynamic Yield.
December 3, 2023
Understand the impact of your personalization efforts with new campaign analytics 
Leverage new A/B test capabilities like Probability to Beat Control and Credible Intervals, and discover new insights that can amplify your results. Analytics improvements include a new methodology to count unique users and expanded outlier handling for users with an extreme number of events. 

Reconnect with your customers: Win back customers by reconnecting with them at the right time, with the right message, in the right channel. 
Reconnect is now available for SMS and Mobile Push Notifications channels. Customers can A/B test content and channels, connect the triggering event data to their recommendations, use personalized recommendations across all triggered channels, and enjoy a simplified, unified workflow.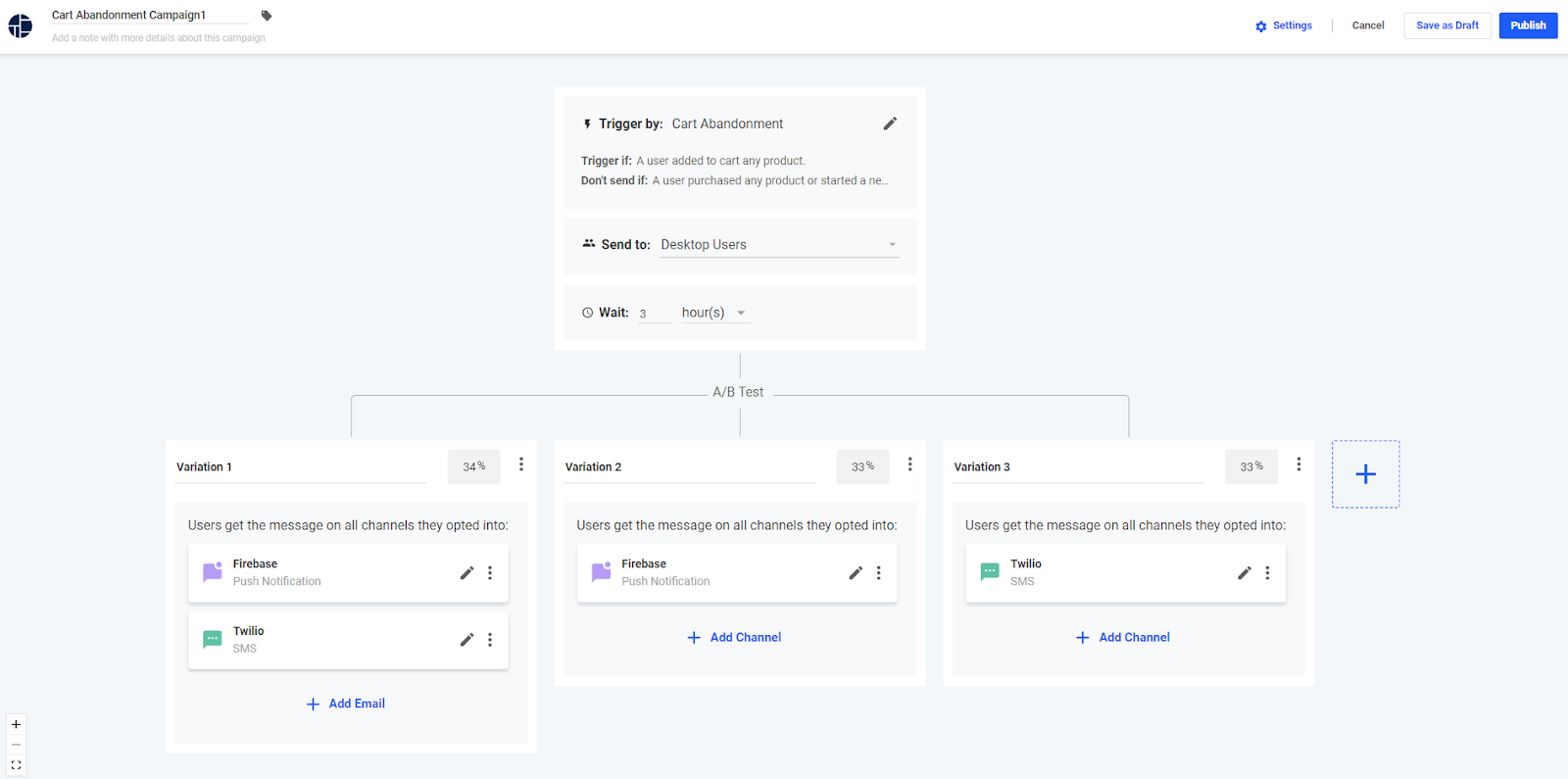 Additional Updates:
Display user data feed values within API campaigns (such as loyalty points, discount codes, and so on).   

Contentstack Connector

: Seamlessly integrate Dynamic Yield and Contentstack to streamline content management and deliver personalized experiences faster.
October 22, 2023
Use CopywriteML to generate engaging subject lines with AI in Experience Email 
You can now leverage AI to craft subject line ideas for any email in your email program: Newsletters, flash-sale announcements, welcome emails, and more.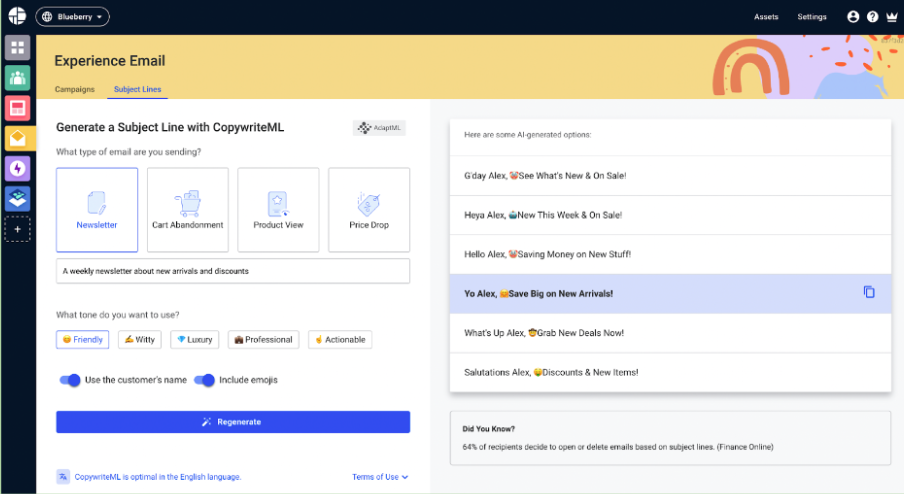 Additional Updates:
Enrich your dynamic content Experience Email blocks with onboarded user data (such as CRM data). For example, a coupon code, the user's favorite store, or any personalized data from the user data feed.
Target experiences by onboarded user data without creating an audience.
Archive unused audiences to improve user experience while working with a large number of audiences.
October 1, 2023
Incorporate business data into the Algorithm Studio
You can now create algorithms in the Algorithm Studio that balance any business data you have about your products, such as profit margin, inventory, return rate, review scores, and more.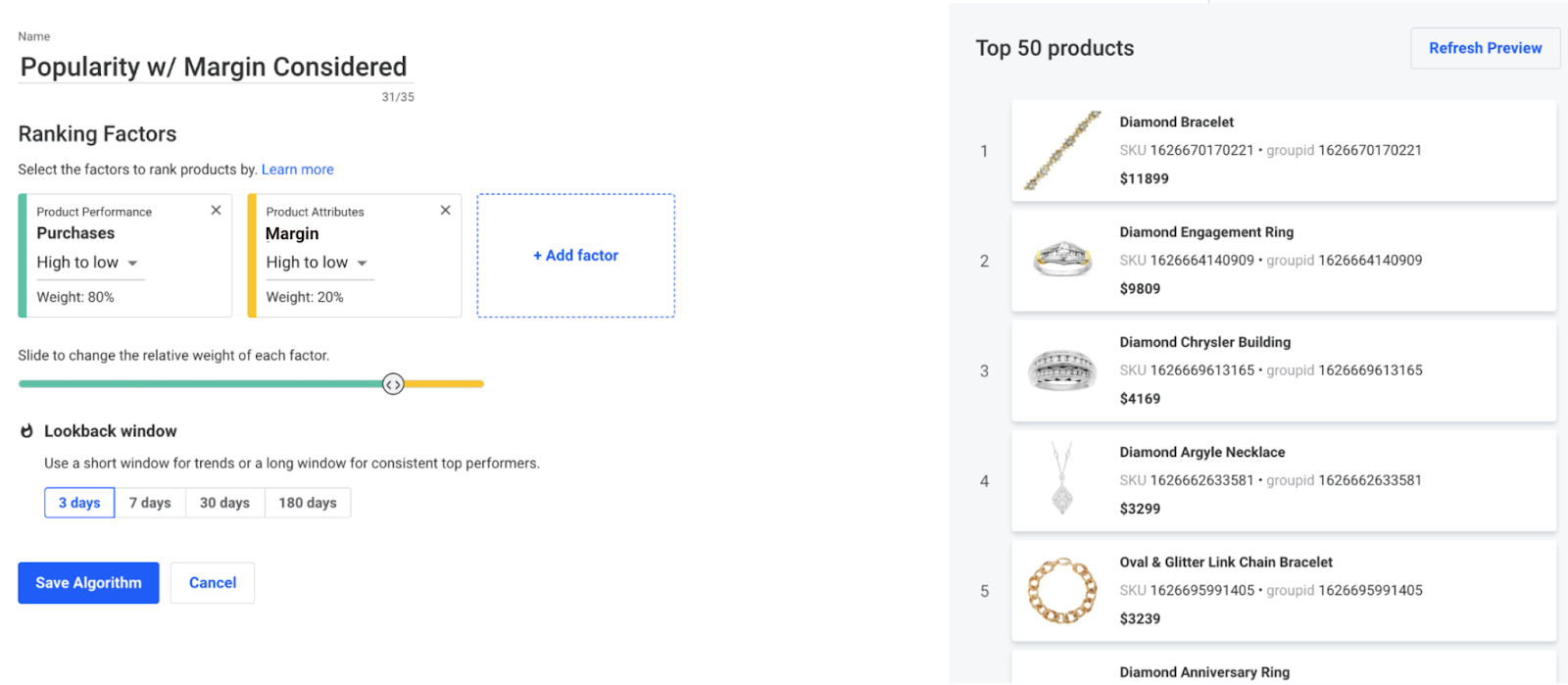 Effortlessly import content from your headless CMS into
Experience OS
You can now simplify your workflow, managing your personalization efforts in Experience OS while managing content in your Contentful or Amplience CMS platforms.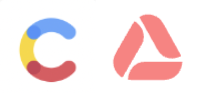 August 27, 2023
With the Popular in Location algorithm, cater to the specific tastes and interests of the user's location 
Provide recommendations based on product engagement and geo-location data.

New out-of-the-box analytics-platform integrations
1-click installation of Contentsquare, FullStory, Heap, Mixpanel, and Hotjar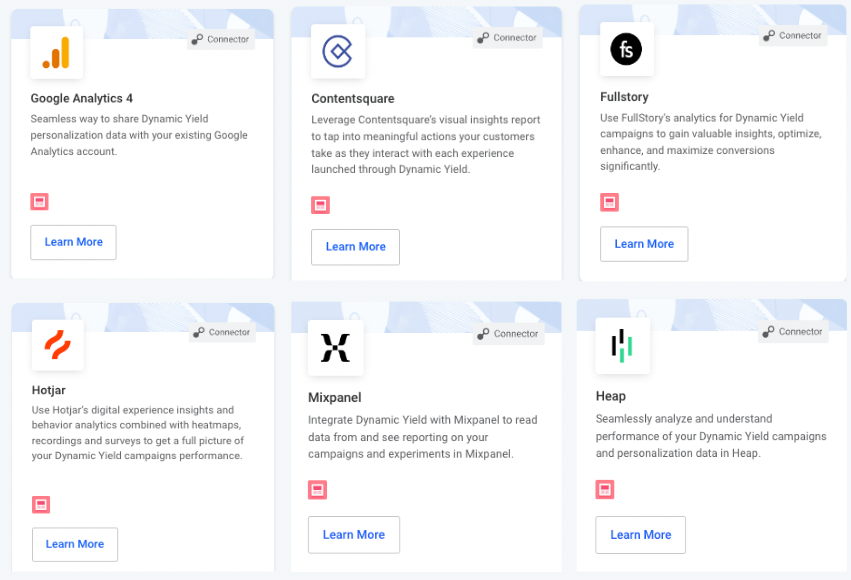 Google Tag Manager Experience OS extension
The Google Tag Manager extension fires Google Analytics 4 events whenever a variation is served to your visitors, with information you can use to create reports in your Google Analytics account.
Target campaigns using attributes from the user data feed 
Targeting users based on first-party customer data enables you to: 
Keep only your meaningful audiences

Shorten campaign creation 

Prevent scale issues and improve performance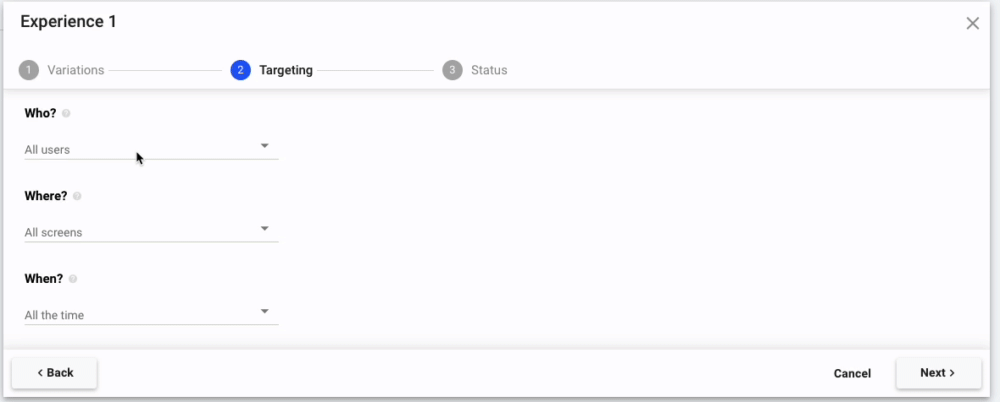 August 20, 2023
Filter products in strategies based on numeric values from custom columns
You can now curate your strategies by selecting products that meet specific numeric criteria, such as inventory, margin, sale price, number of reviews, or when the item was added.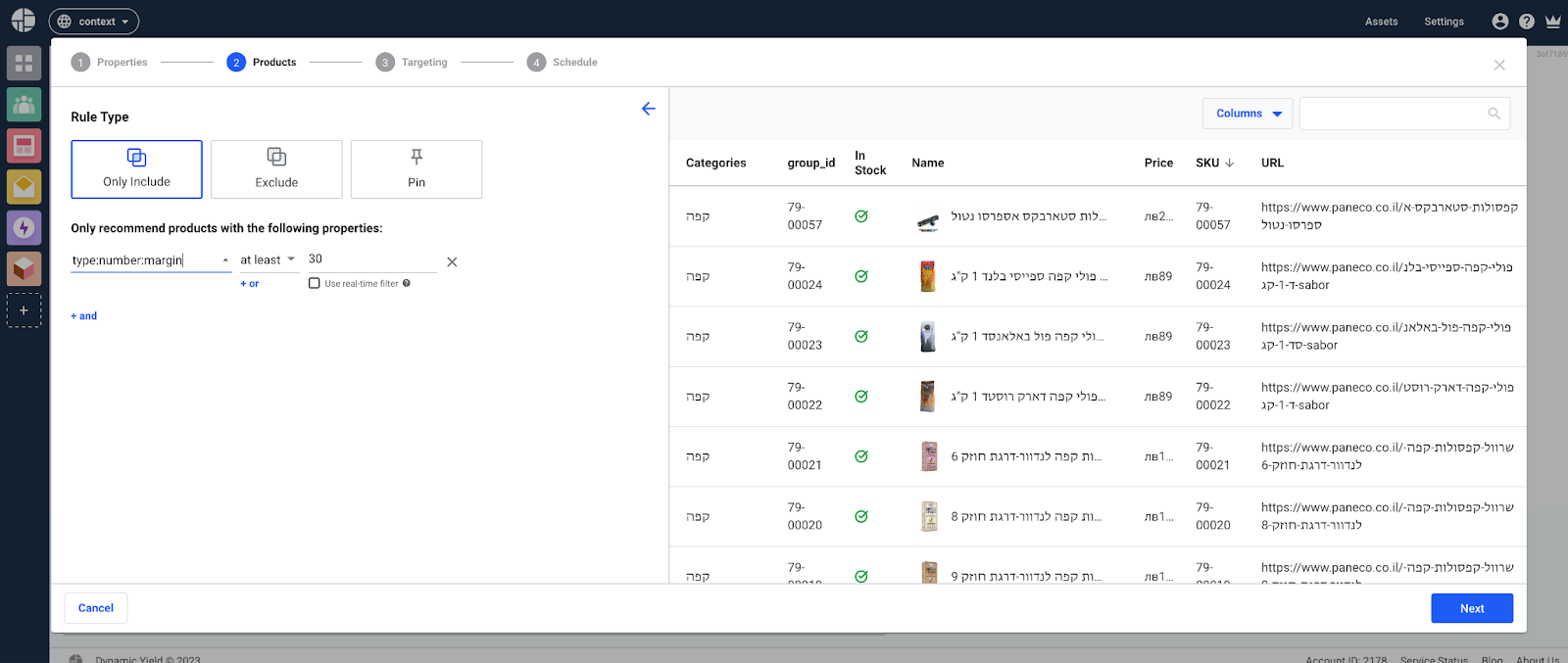 Additional updates:
Easy preview for App Personalization: Preview variations and campaigns

in your native app by scanning a QR code.

Social proof targeting for App Personalization and Web API campaigns: Increase visitor sense of urgency by targeting popular products with social proof signals.
July 23, 2023
E-commerce platform integrations now available as Experience OS extensions
Easy enablement and activation of your platform directly from the Experience OS store: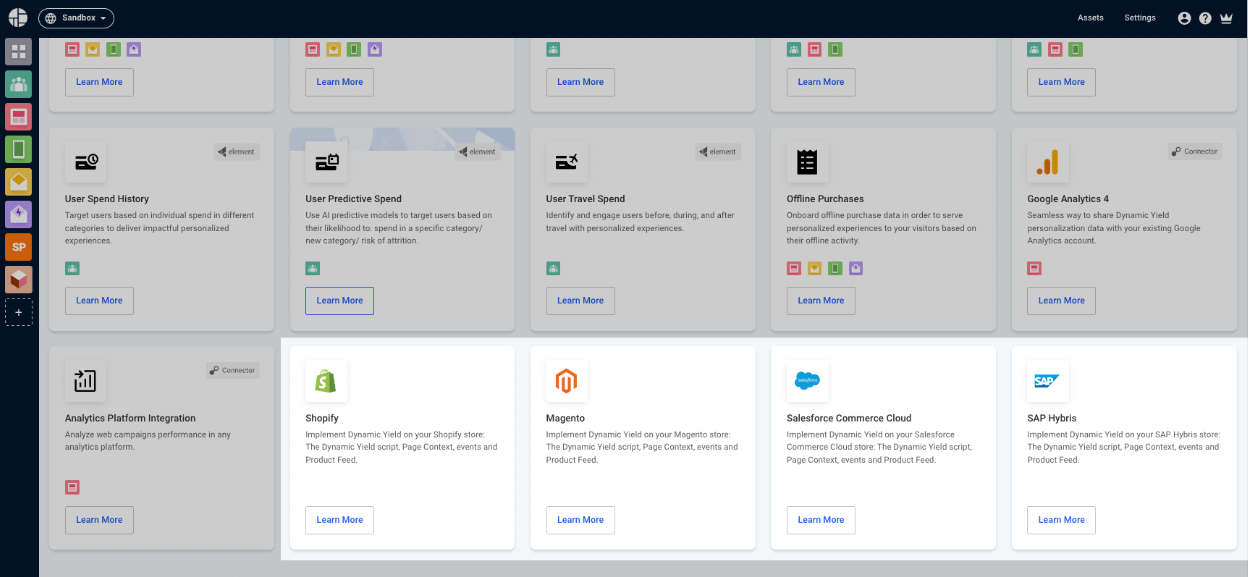 July 16, 2023
Simplified implementation with inclusive new sections
All new sections are now based on Web Personalization, upon which you can enable API and App Personalization implementation as needed. This flexible approach supports a multi-channel view of users, higher implementation mobility, and working with any e-comm plugin.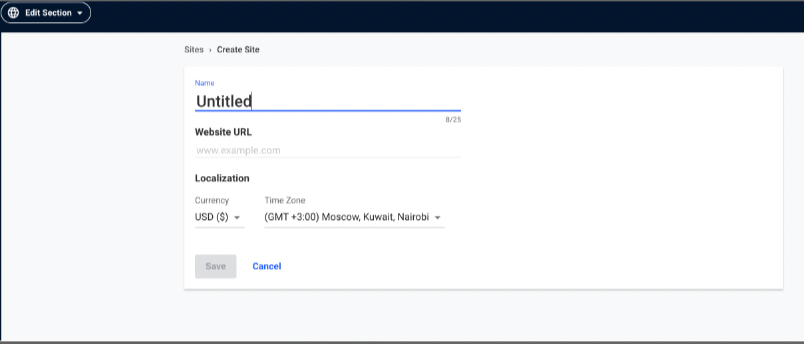 June 25, 2023
Self-service, no-code Google Analytics 4 integration with new Experience OS extension
The Google Analytics 4 connector enables you to analyze campaign results in your Google Analytics account, with easy installation from the Dynamic Yield app store. The extension is then managed in the Web Personalization app. 

June 18, 2023
API logs by channel
You can now report and filter API logs by channel to improve your API development cycle, more easily locate warning and error origins, and improve the monitoring of
API performance.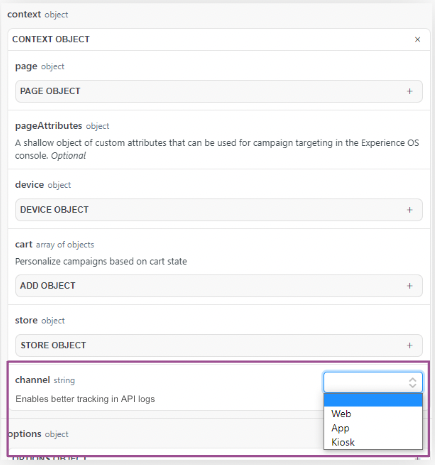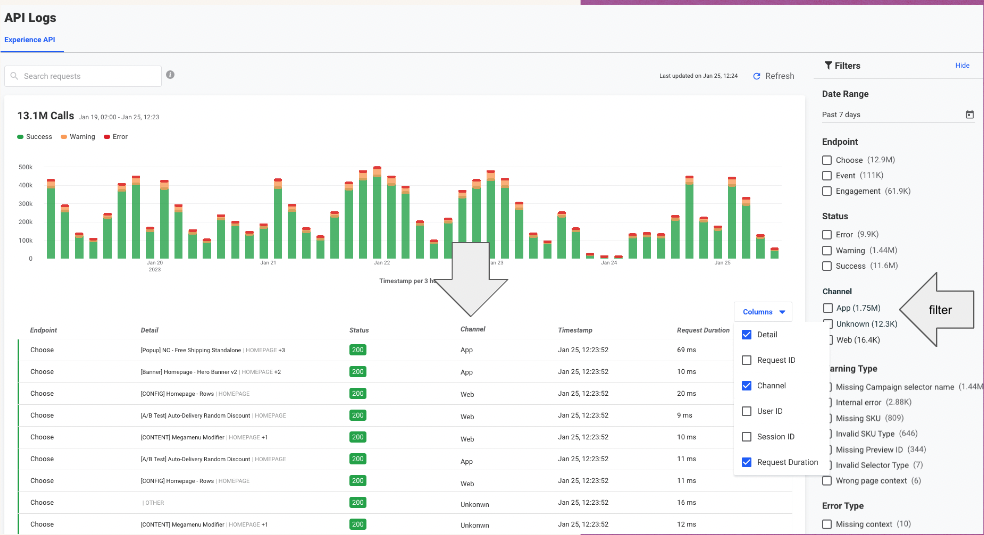 Additional updates:
CopywriteML

is out of DY Labs. You can get fresh suggestions powered by AI within your campaign workflow. 
June 11, 2023
Incorporate Location Trends Into the Deep Learning Recommendations Algorithm
The Deep Learning algorithm is now enriched with geo-based trends. Users with product engagement history are served personalized results that also consider regional trends. Users without engagement history are served only the regional trends.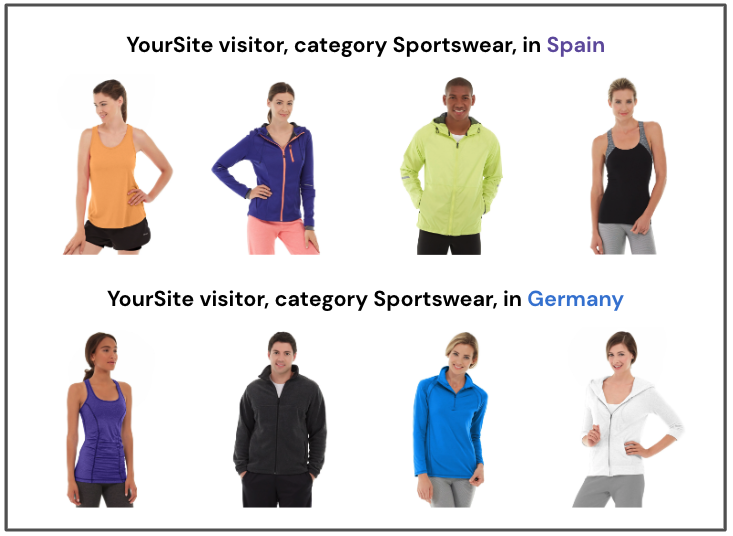 Additional updates:
Geo-based Predictive Targeting

: Targeting anonymous users based on predictive models and localized consumer spending insights is now expanded to select countries in Europe: Austria, Belgium, Germany, Denmark, Spain, Finland, Ireland, Italy, Netherlands, Norway, Portugal, and England.
May 28, 2023
Preview results in Algorithm Studio
You can now see – in real time – how the ranking factors impact the algorithm results, and adjust accordingly.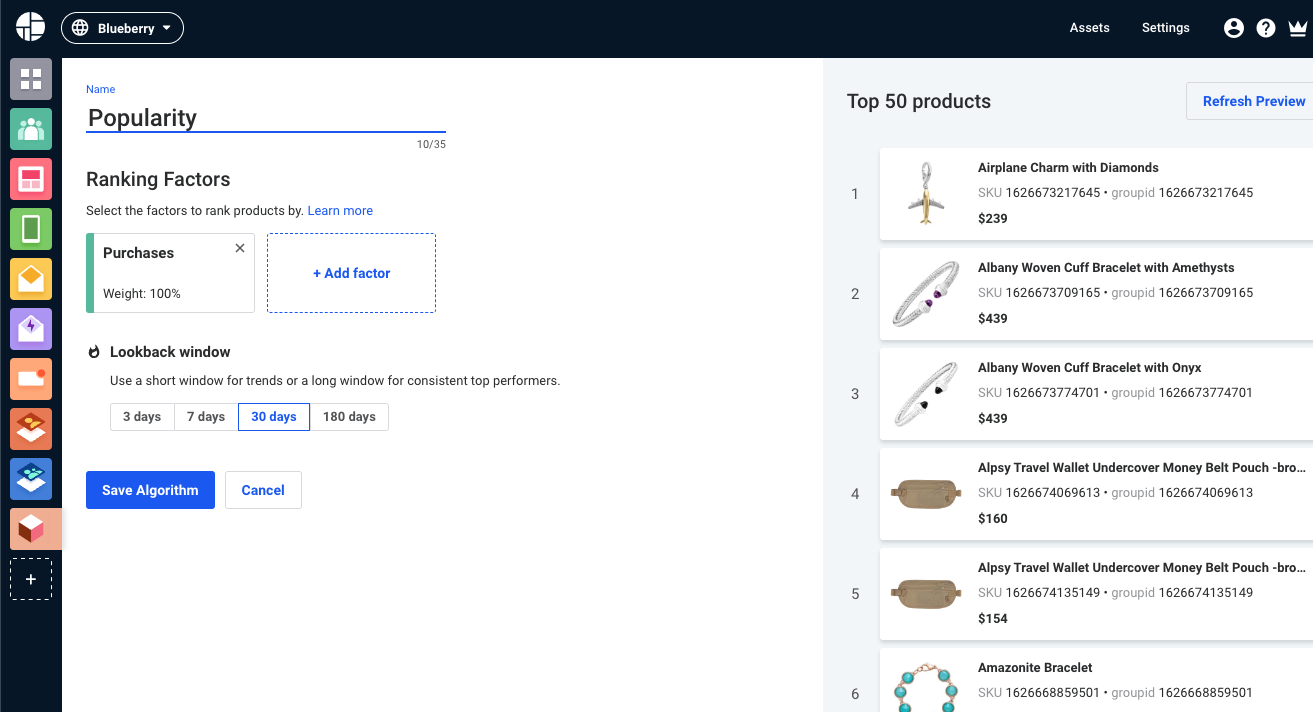 May 21, 2023
API campaigns migrate to channel-specific applications for simplified personalization workflow
Your API campaigns are now included in the relevant channel app. The API Campaigns app has been removed from Experience OS, and any existing campaigns migrated as needed. This means that:
App Personalization houses API campaigns serving native apps.
Web Personalization houses all web campaigns, regardless of your implementation method (script or API).    
API campaign templates are shared across channels.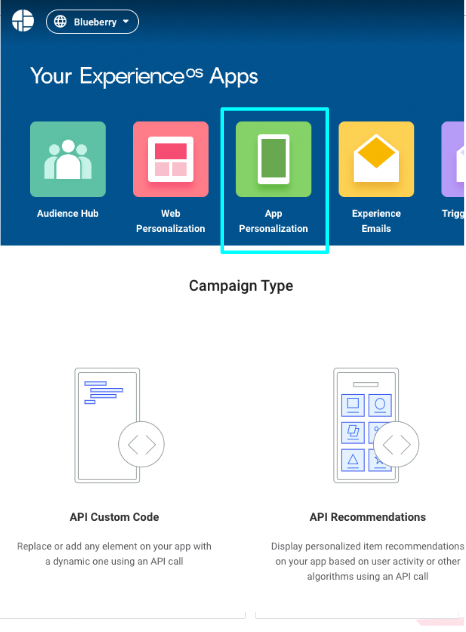 .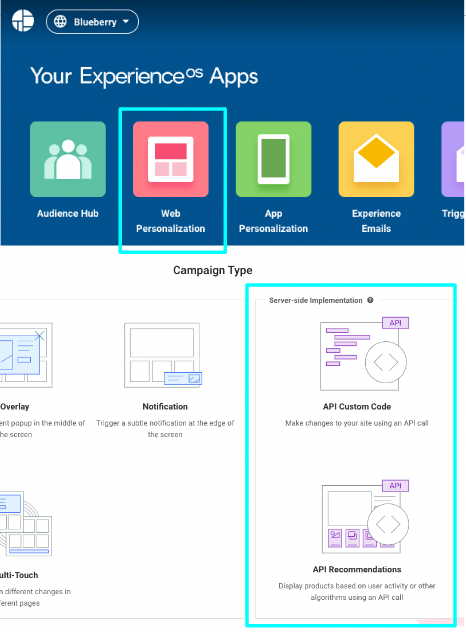 April 30, 2023
Introducing Experience OS for Financial Institutions
The Financial Institutions vertical is now a part of Experience OS. Using all core Dynamic Yield capabilities, Experience OS offers new goals, metrics, out-of-the-box audiences, and targeting conditions that match financial institutions' customer journey—from discovery to product application and submission. Furthermore, templates representing dozens of unique use cases are available to create powerful personalization campaigns with ease.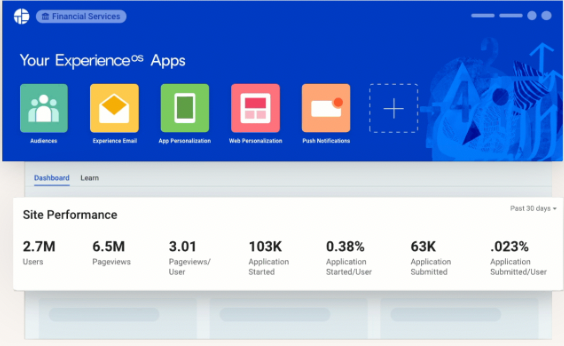 Additional updates:
User Predictive Spend extension leverages Mastercard predictive models to enable card issuers to target known users based on their likelihood to spend in a specific category or their similarity to a user or action.
The new Shopify app offers extended functionality, including active cookie consent, customized product attributes, and Bring Your Own Logic. 
QSR Recommendation campaigns are now available for QSR customers through Experience OS. 
March 31, 2023
Tailor recommendations to your business goals with Algorithm Studio 
Algorithm Studio is a recommendations app that enables marketers and data scientists to configure algorithms in the Dynamic Yield operating system using their unique business expertise, through our algorithmic framework. Quickly generate algorithms based on product performance data to use in your recommendation strategies, including trending items, most viewed or purchased products, and products added to the cart.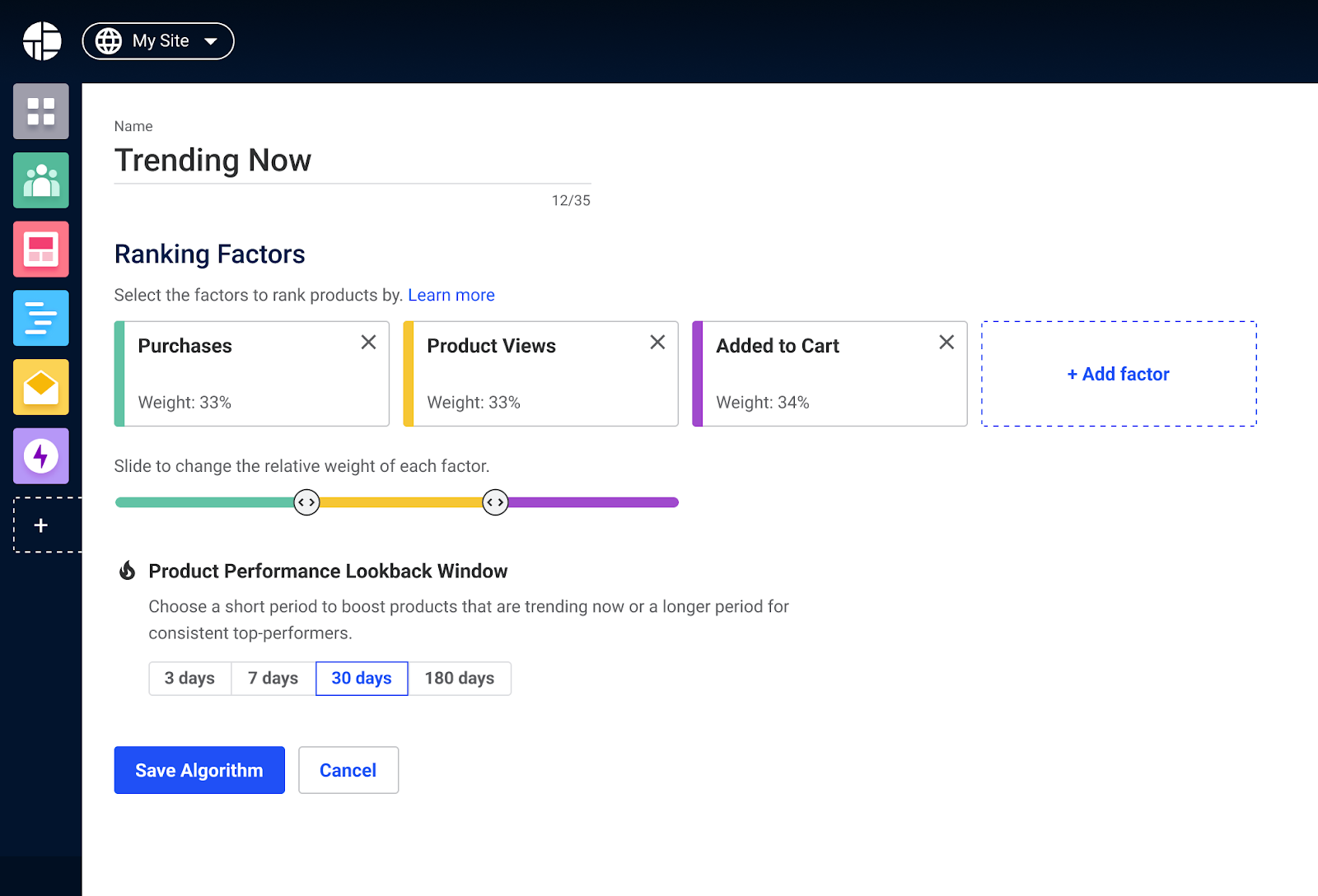 Additional updates:
From now on, you can target experiences in API campaigns and in App Personalization campaigns by previous page, current page, time of day, and day of the week.
New Dynamic Yield templates:

The Because you Watched recommendation template shows users personalized product lists, based on their recent activities.
PLP Badging Based on Recommendations and PLP Badging Based on Recommendations custom code templates enable you to automatically add badges to category pages and search results.
March 12, 2023
Target anonymous users based on spend likelihood for their location
Two new extensions enable you to target anonymous users who are likely to engage and spend across a variety of preset categories, based on predictive models and localized consumer spending data provided by Mastercard. 
Geo-based Predictive Spend targets based on future probability to spend  
Geo-based Spend History targets based on historical consumer behavior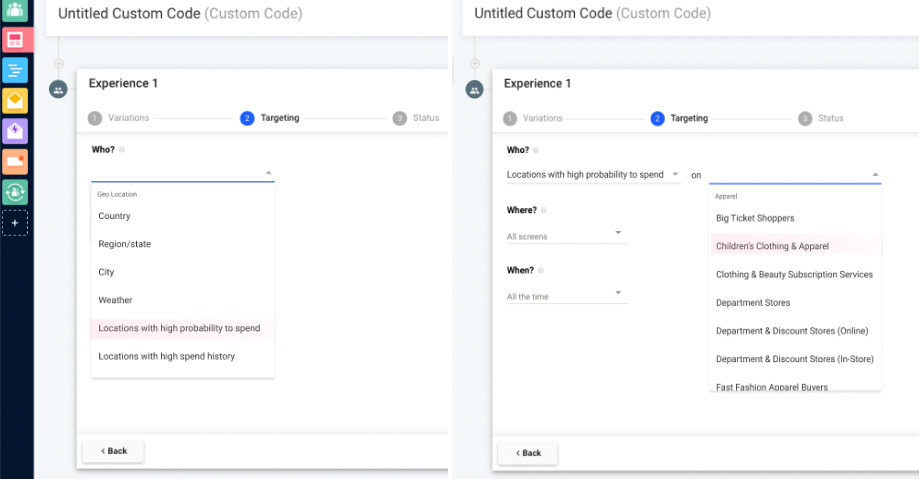 Deliver a hyper-personalized experience that reflects user affinity across the entire site
Affinity allocation is now available for site personalization campaigns. Serve the most relevant variation to each user based on their affinity profile, without having to create individualized, rule-based experiences.

Additional updates:
February 19, 2023
Use CopywriteML to automatically generate fresh copy ideas for your content and calls-to-action
Use generative AI models to suggest alternative wording for your texts and calls to action. Create variations to find the best phrasing, test different tones of voice, or find inspiration to improve your microcopy.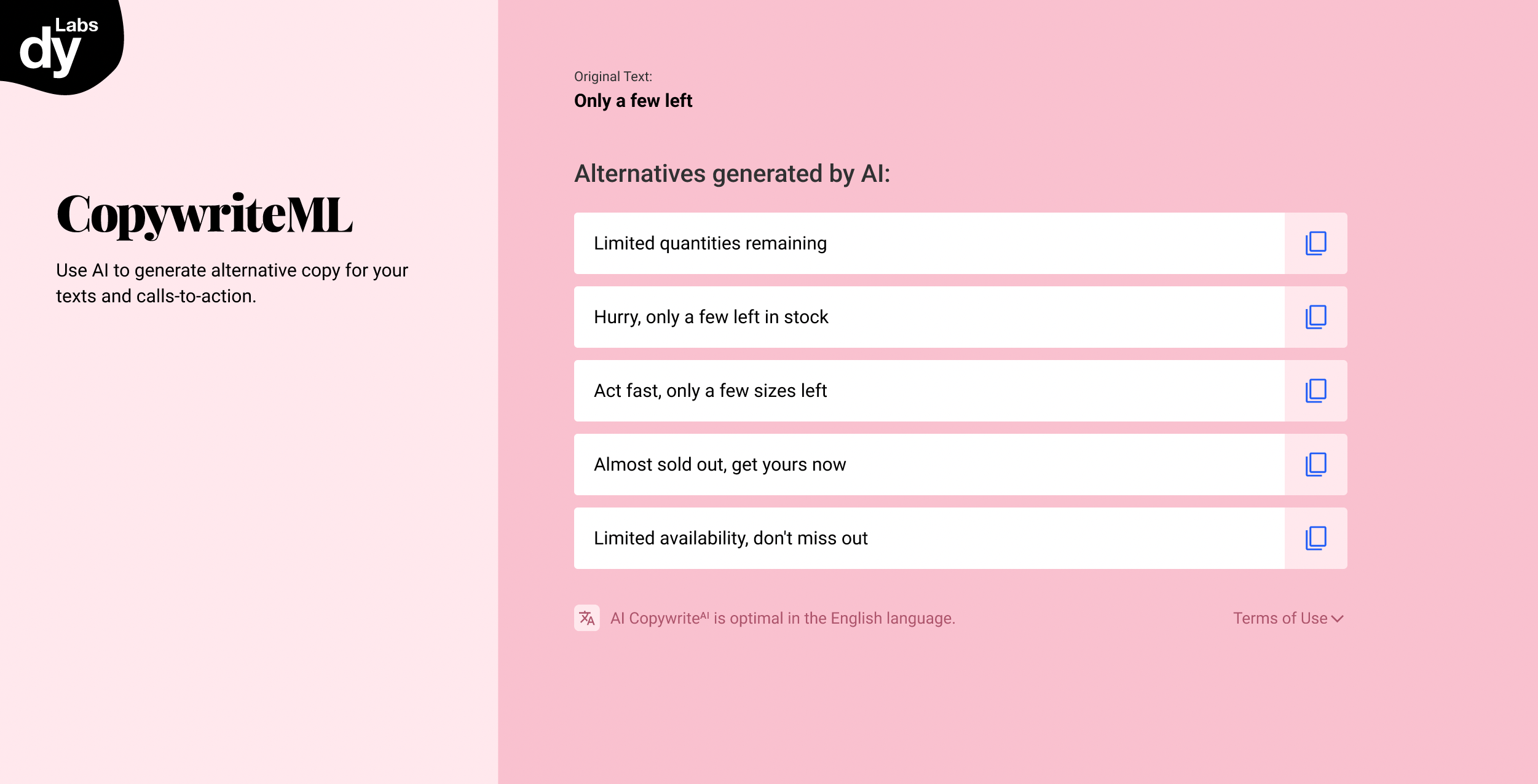 Unlock the power of Mastercard data with Market Basket Analyzer and SpendingPulse™
Now part of Experience OS: Enable rapid analysis of category-level data through an easy-to-use interface with Market Basket Analyzer, and fuel data-driven decisions through Mastercard's global spend data.

February 12, 2023
Use a conversational experience to drive self-segmentation and improve product discovery
New recommendation templates for Notification campaigns offer a friendly, conversational experience to site visitors, either through a chat-like box, or a welcome message. Templates are customizable to enable you to ask the questions that are relevant to your users and your product catalog.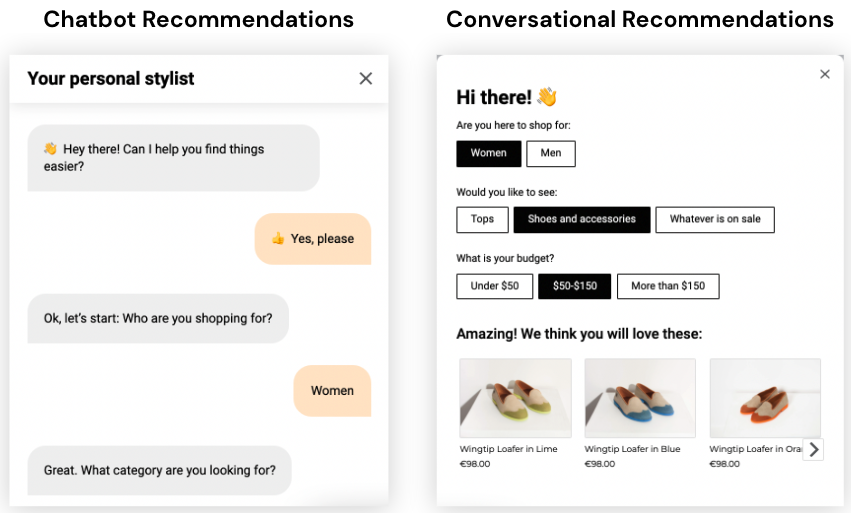 January 15, 2023 
Re-engage your users using Triggered SMS
The Experience OS trigger engine enables you to re-engage your users with personalized campaigns using the SMS channel. Remind users about products left in the cart, offer them products they've viewed that are now on sale, or set any other event to trigger a message and engage.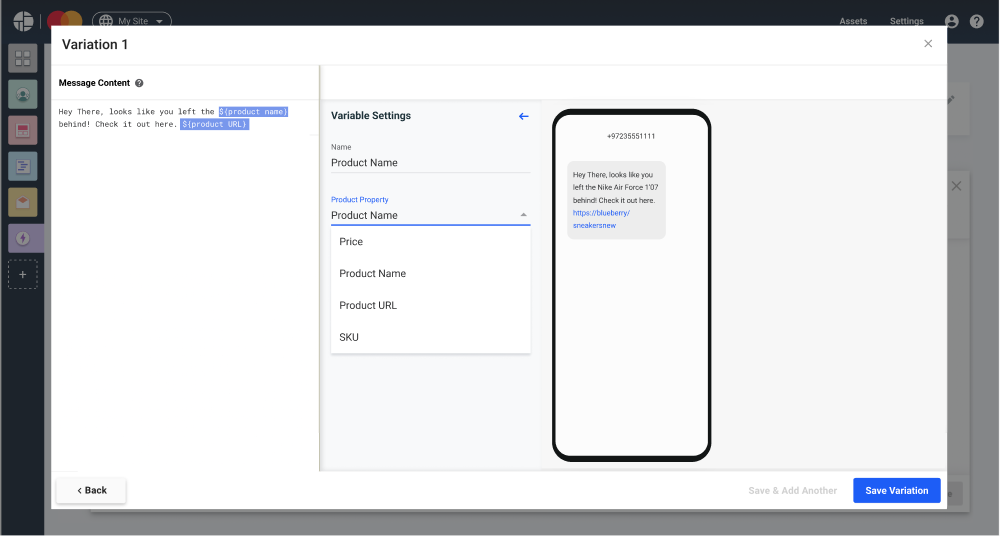 Leverage personalization generated by Dynamic Yield, anywhere
You can now leverage the Dynamic Yield affinity profile to create a personalized experience for each user encounter, anywhere. With the Profile Anywhere app, you can use a new server-side API to retrieve your users' full affinity profile at your brick-and-mortar stores, contact centers, and more.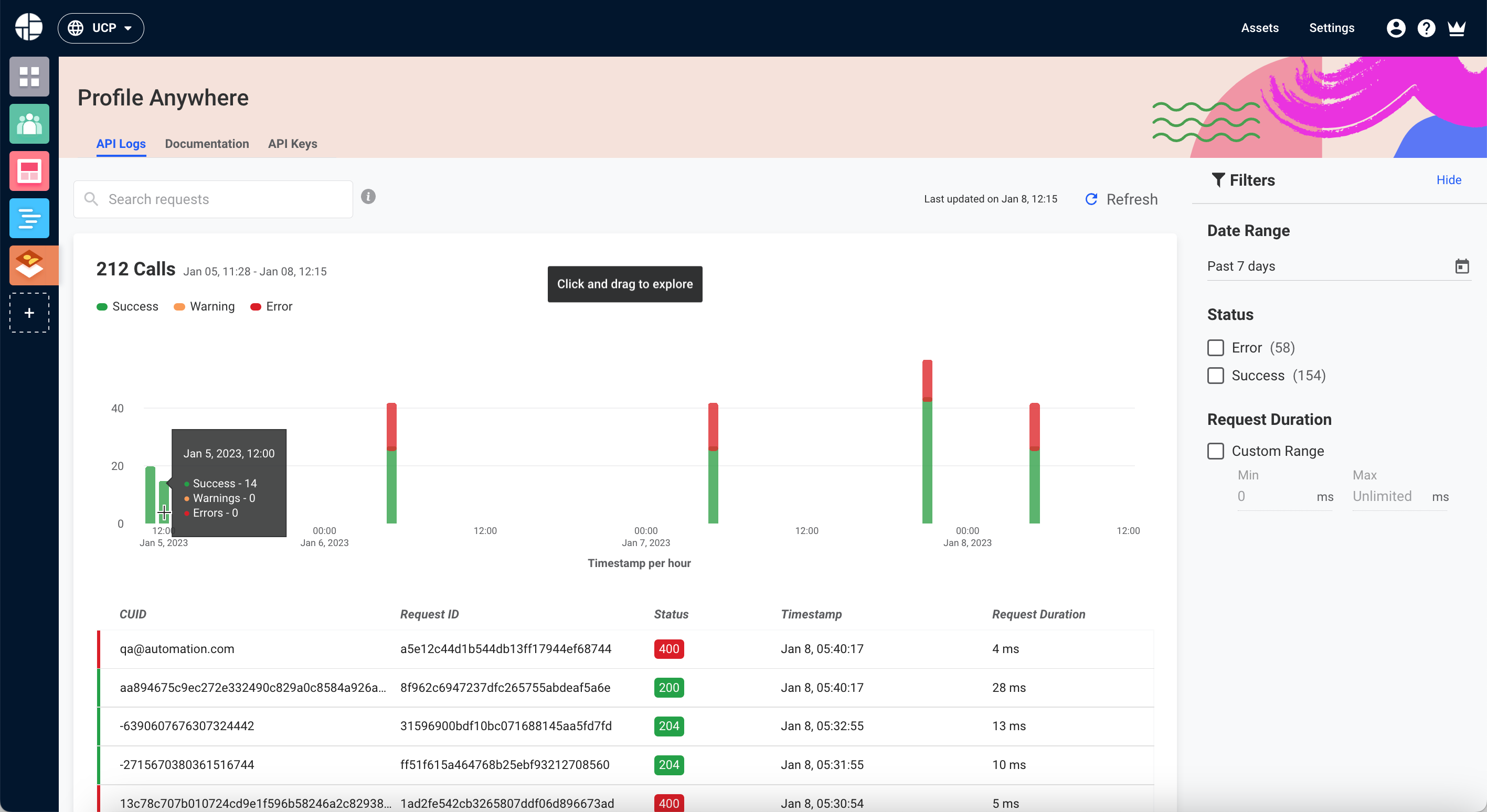 Additional updates:
The Audience Export app has received a new look and is now available as Audiences Anywhere, in accordance with its primary value: Incorporating Audiences created with Dynamic Yield unique behavioral data, anywhere across your marketing stack.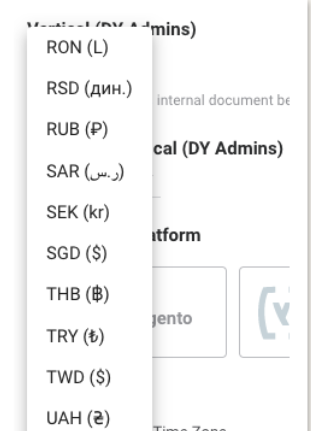 January 1, 2023
Extended currency support
Dynamic Yield now supports currency conversion for 168 currencies (109 currencies added) for use as both site currencies and event currencies.
December 18, 2022
1-to-1 personalized email recommendations using real-time filters
Use merge tags with user data as a filter rule in Experience Email recommendations. The merge tag is added to the campaign code snippet, and then, at open time, users are presented with personalized product recommendations, such as items in their size.   

Additional updates:
The new

Used By column in the Audience Manager

indicates the number of entities employing each Audience. Quickly navigate to each of the connected experiences, strategies, or audiences, and manage them.
December 4, 2022
Experience OS Alerts Center
Alerts tab lets you see all app errors and alerts in one centralized place, making it easier to implement and monitor your Experience OS apps. Alert colors and icons indicate the severity of the issue, and the notifications include necessary actions and links to logs with details.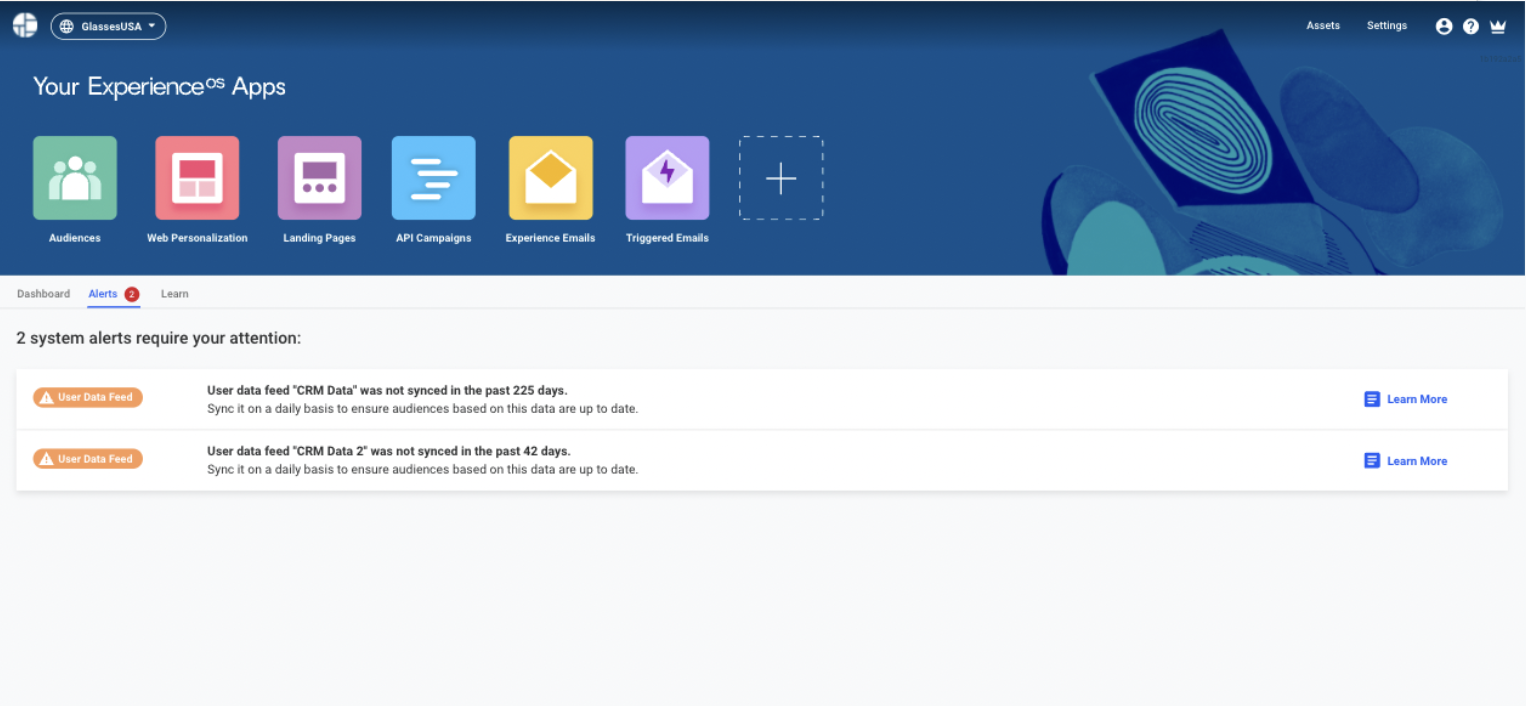 Additional updates:
User affinity

is now available from the very first product or category page view, extending your reach and providing your users with a more personalized experience. 

Bring Your Own Business Logic

is now generally available.

Our latest

out-of-the-box template

for Dynamic Content campaigns, Category Slider, increases product discovery by providing relevant, personalized navigation by affinity to categories, brands, and more. 
October 23, 2022
Localize dynamic content in Experience Email
Use the localization feature within dynamic content for email campaigns. The content will be translated by using the locale merge tag, just like for recommendations.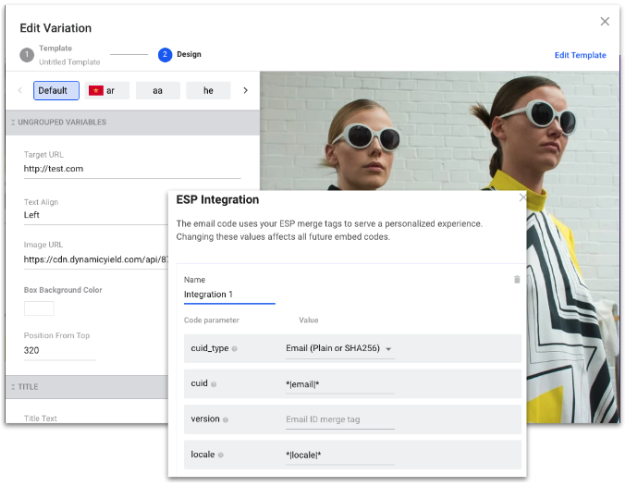 Affinity allocation in API campaigns
In your API campaigns, you can now serve the most relevant variation according to the user's affinity profile, in real time.

September 11, 2022
Product Finder template
Offer the most relevant products based on user preferences using a completely customizable finder widget, leveraging Dynamic Yield algorithm-powered recommendation abilities.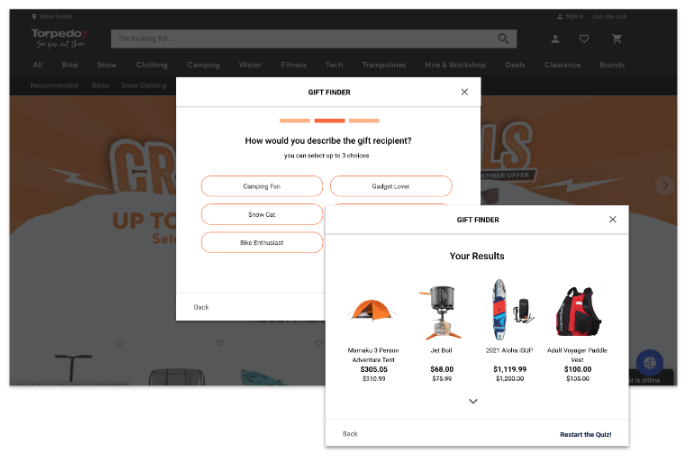 Additional updates:
August 14, 2022
Real-time filters based on a custom attribute for API campaigns
Create real-time filters with custom attributes in the Dynamic Yield console for your Experience API campaigns. You no longer have to rely on developer resources, in terms of availability and the extra workflow, to filter product recommendation results in real time, based on user or site-contextual data.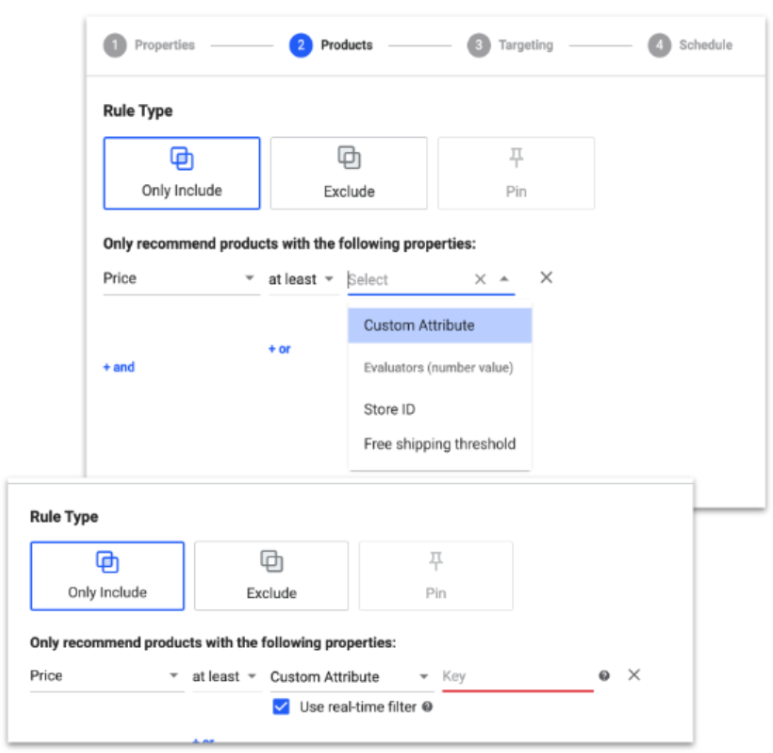 Additional updates:
You can now use

External as the Identifier type in Responsys triggered email integration. Identify users using any string that Responsys can map to an email address, such as an e-commerce app ID. 
You can now add custom parameters to the header or body of the call when using a custom ESP integration for triggered emails with OAuth 2.0 authentication.
July 31, 2022
User Profile API
Now in early access, the User Profile API is a server-side API that returns a user's affinity profile, which you can use to enhance personalization at any digital or physical touchpoint.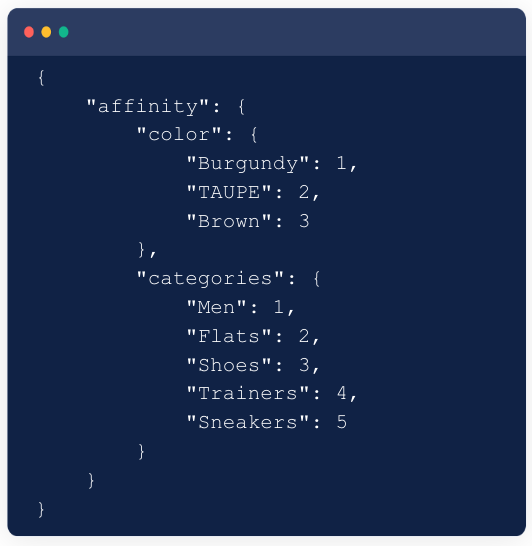 July 17, 2022
Experience Email metadata in the Daily Activity Stream 
You can now easily connect engagement events with Experience Email Blocks to the Experience Email campaign they are part of, with two new fields: parentCampaignId and parentCampaignName.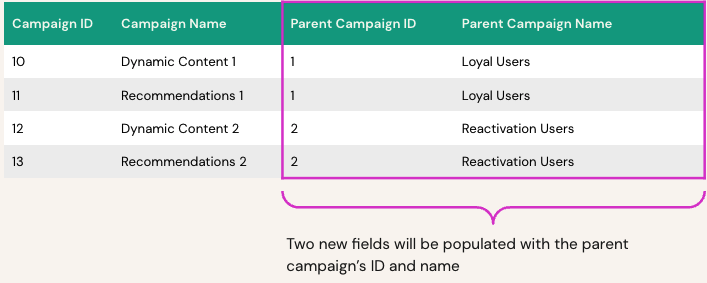 July 3, 2022
Introducing a new way to personalize content by affinity
Affinity allocation is here for Experience Email! Serve the most relevant creative based on the user affinity profile – no need to create an affinity-based audience. To target by affinity, in essence, you just tag your variations with an attribute from your Product feed, and then we automatically serve content that matches the user's preferences.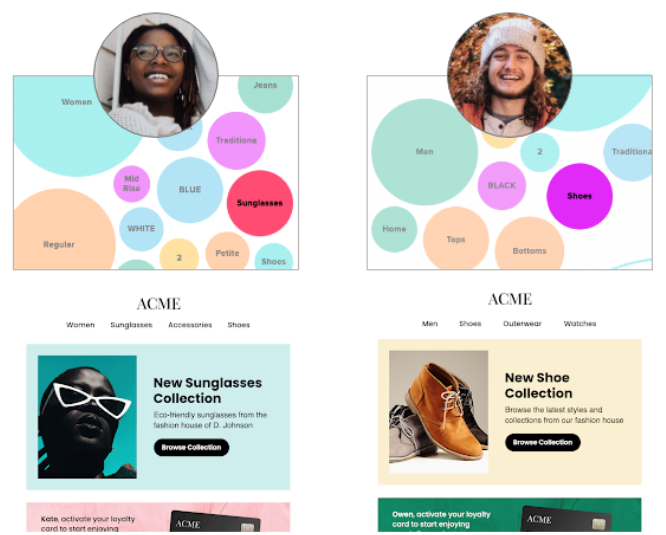 Additional updates:
Bring Your Own Logic

: You can now onboard your unique business logic into Dynamic Yield, and still use all the Dynamic Yield recommendation capabilities.

Primary audiences

help you adopt a long-term strategic approach to your personalization program. You can identify your most important audiences, and then easily target them and personalize for them, and analyze site performance in terms of these focused audiences. 

Dynamic Yield has adopted the IAB/ABC International Spiders and Bots List so we can filter out standardized bots that might skew your test results and analytics.
June 26, 2022
Listing product properties for the Product Performance API 
You can now specify the product properties that you want to receive from the Product Performance API (formerly known as the Product Data API). In addition to returning views and purchases of products to use for social proof, badging, and enhancing product recommendations, you can define up to 15 product properties to receive in your API calls.

We have also enhanced the API's stability and performance, to ensure you get exactly the information you need, as quickly as possible.
June 12, 2022
Exclude items currently in cart
This new filter enables you to remove from your recommendations products that the user already has in their cart, thus directing their focus to additional items of interest.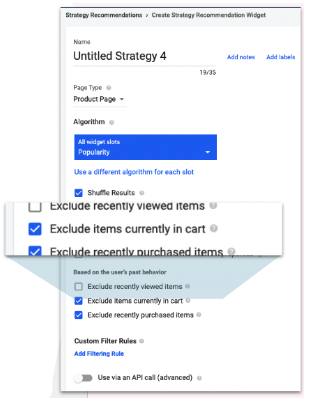 Additional updates:
You can now change the User Data API schema

that you use to update user data in the Dynamic Yield console. 

New dashboard alerts flag active API recommendation campaigns that aren't reporting any clicks. This ensures that customers are aware of the business impact of any issues in reporting clicks from their side.
If you sync your product feed via API, you can now

view a log of your responses

, so you can easily troubleshoot any issues.
May 1, 2022
New dashboard panel for Experience Email
New panel in the dashboard details revenue, clicks, and impressions for Experience Email.

April 10, 2022
1-to-1 personalization in Experience Email using the ESP variable
You can now use user data (from your ESP) within the promotions you create in Experience Email. This means each user sees a designed banner with their name, loyalty score, or any other data you have available, for a truly 1-to-1 personalized experience – created at open time.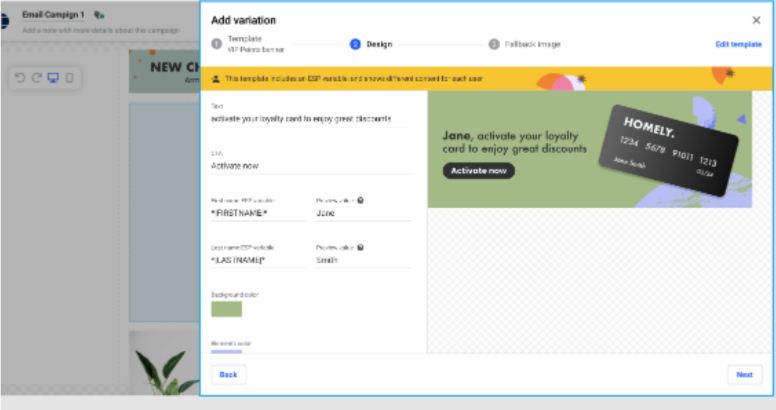 Additional updates:
Localized filter for web and API recommendations: Multi-language product feed users can now also create site personalization and API recommendation rules with filters for the visitor's locale. For example, for a discounted items strategy, you can serve only those items discounted in the user's location.
March 20, 2022
Localized Content in API campaigns
Serving variations in the relevant language to the user's locale is now supported for all API campaigns, similar to what has been supported until now only for site personalization campaigns. 
March 13, 2022
Self-service API campaign setup
You can now group your API campaigns together into a group with a selector name in the Dynamic Yield console. This means that your developers can use the group name to get an up-to-date list of all the campaigns in the group in the response to an API call, and never have to worry about changes made to individual campaign selector names. This reduces the time and effort required to get the information needed to call the required campaigns, and your work managing and adding campaigns isn't affected.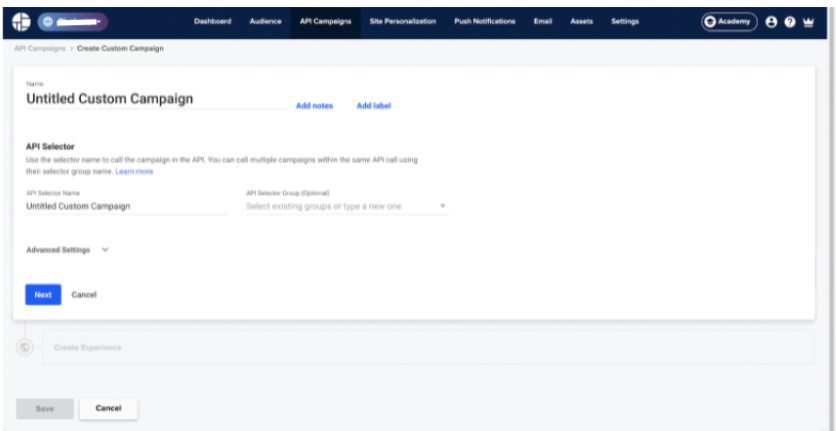 Additional updates: 
WEBP images preview: If you are using WEBP image formats, you can now preview them in your Dynamic Yield console.
March 6, 2022
The Audience Manager received a facelift, and now aligns with other list screens, such as Strategies or Site Personalization. The new layout allows for easy filtering by label and type, in addition to all actions already available today. The updated layout also provides easy access to building Campaign Traffic audiences.

February 27, 2022
New in DY Labs
DY Labs is a library of tools that can complement the Dynamic Yield offering. These tools haven't been subjected to the same level of reliability, scalability, and security measures as other Dynamic Yield products, and are not officially supported. The 2 new additions to DY Labs are:
Executive A/B Test Program Analysis – Excel Template
Download the Excel file and use it as a template that provides a visual layer to the A/B Test History CSV file that you can download from the Dynamic Yield console. The template helps you gain new insights into your A/B testing program, and more easily share its success and health within your organization.


User Data Schema Creator: 

You can now create or modify your own 

JSON schema for syncing and updating your User Data feed

 in the Dynamic Yield console, without any need to write or edit code.

Additional updates
Beginning February 28, we are adopting a new path format for the Daily Activity Stream S3 bucket. You will need to make changes in your ETLs before April 14 to continue to have access to the Daily Activity Stream.
January 30, 2022
Campaign Traffic audiences
We are introducing a new, innovative way to capture data about incoming traffic. The new Campaign Traffic type of audience is built using a Dynamic Yield Audience parameter (DYA) that unique to the audience, making it easier to capture unknown visitors coming from offsite campaigns and add them to the right audience. This enables personalization from the very first pageview and ensures that the site experience is consistent with the ad that pulled the user in.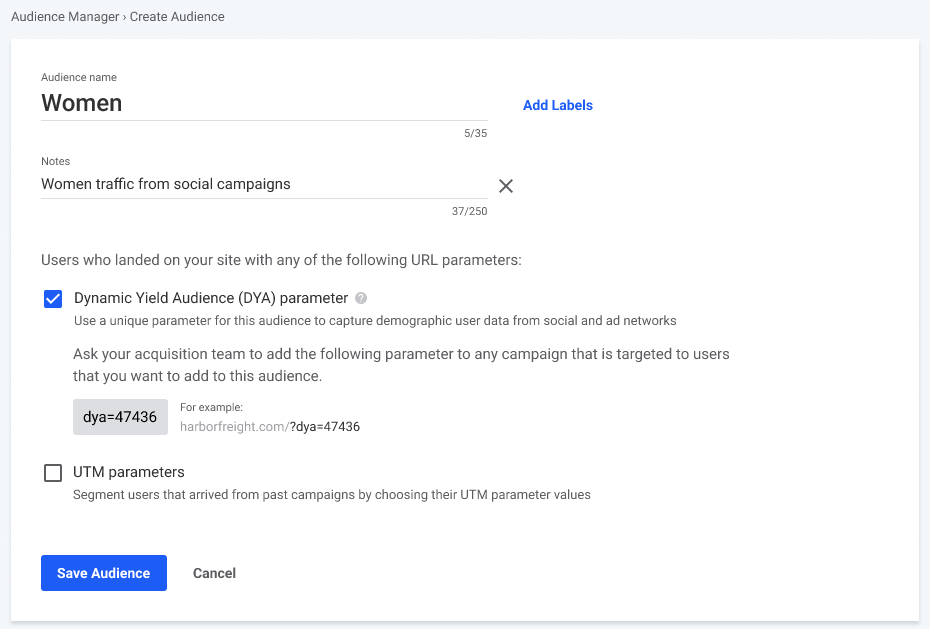 Additional updates:
We are sunsetting the Acquisition module (for landing pages, smart links, and display ads).
January 16, 2022
Experience Email: Personalize every pixel within the email
Use the new Dynamic Content block to personalize content at open time.
Added to our current recommendations capabilities in Experience Email is the Dynamic Content block, adding personalization to every element, including banners, promotions, messages, and more. 
Use the audiences you already have in Dynamic Yield
Get a ready-to-paste code snippet for any ESP (including multiple)
Serve side-by-side recommendations and dynamic content
Send a test email within the Dynamic Yield platform
See how any user will see your emails with the preview tool
Set a 7-day attribution, just like in your ESP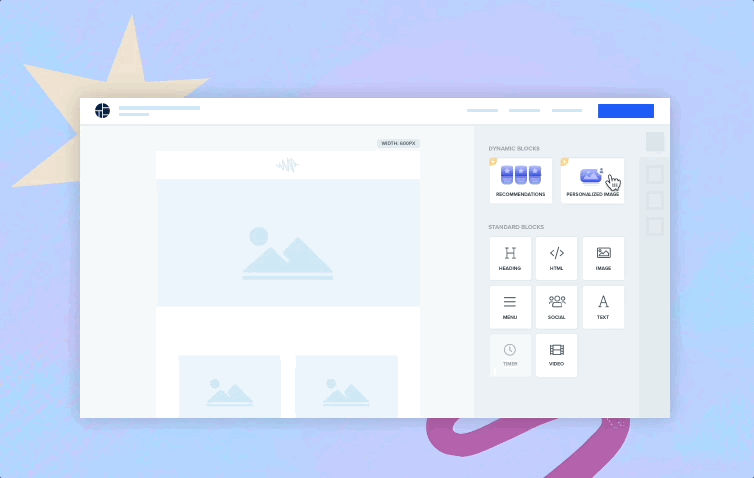 We've also added 10 new out-of-the-box templates, to inspire you and help you meet even more goals with your email campaigns.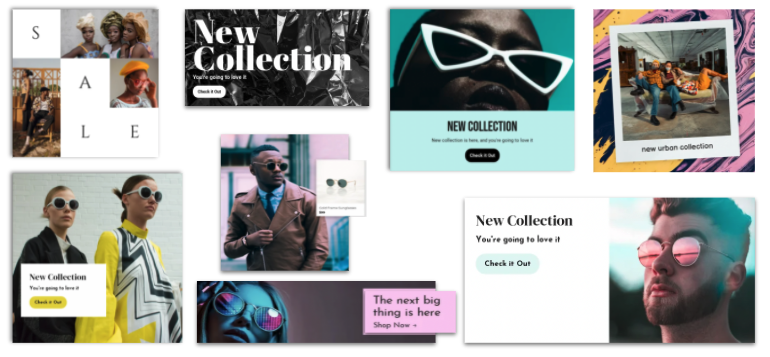 Additional updates
Dynamic, real-time rules can now be used in recommendations strategies without the need to use APIs. Serve website visitors the most relevant product recommendations based on information from their current visit: Offer products that take the user above the free shipping threshold, build gift finder strategies, and more.
December 5, 2021
Experience Email: New parameter version added to ESP integration
Instead of setting the parameter in each link, you can now set the version parameter for your ESP integration once, and apply it to all future emails. 
November 7, 2021
Auto-Detect page context in single-page applications using the page title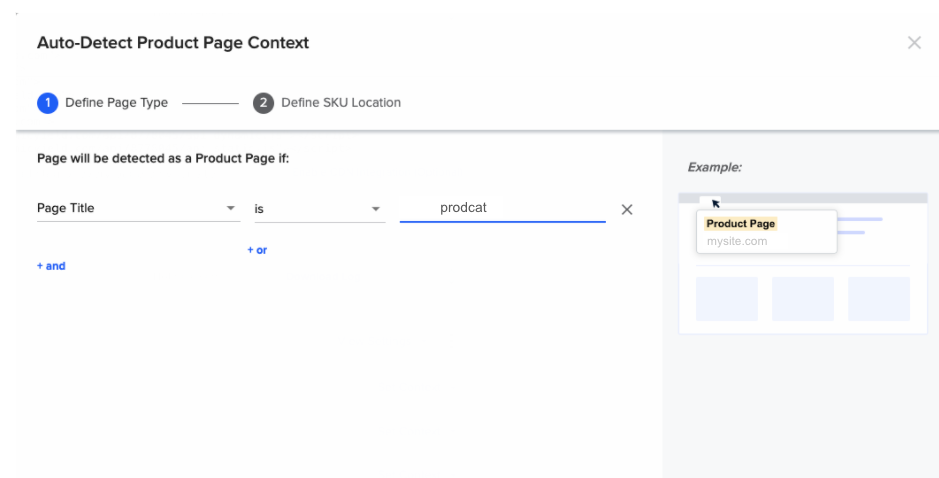 You can now define page attributes for context in either the page URL or title.
Additional Updates
October 24, 2021
Target Experience Email Recommendations Based On User Activity
Re-engage users with products they have recently viewed or purchased with the Recently Viewed, Recently Purchased, and Last Purchase algorithms.

October 10, 2021
If you use our EU data center, you can now personalize recommendations using the Collaborative Filtering algorithm.
September 13, 2021
Integrate All Your ESPs with Experience Email
If you send transactional emails through one ESP, and your newsletter in another, the code snippet for your Experience Email includes multiple versions – one for each platform.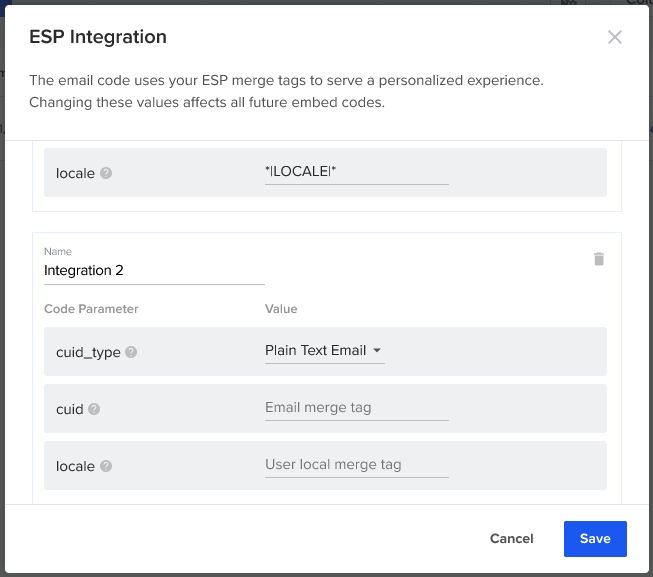 August 29, 2021
Experience Email Support for Any ESP Integration
If you do not have native ESP integration implemented, you can noweasily define an integration with your ESP once , and then it automatically applies to all your future emails.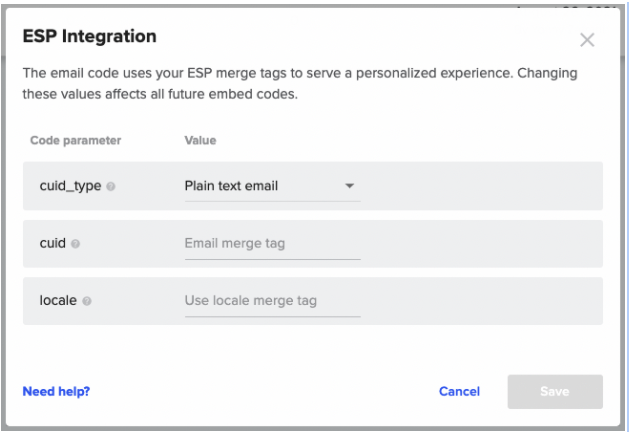 Additional Updates
Experience API errors are now surfaced on your dashboard, so you won't miss a thing. Alerts include expanded information to help you resolve issues as fast as possible
Client-side APIs now return recently viewed and recently purchased counts for identified end users across all devices used, not only per device.
You can now export audiences with users identified by any identifier, not only email, to later ingest and target them in other platforms (Facebook, Google, ESPs, and so on).
Our out-of-the-box Google Analytics integration now supports Google Analytics 4.
August 15, 2021
Use Experience Email within an existing ESP template
You can now choose to use Experience Email to build an entire email template in Dynamic Yield, or build an Experience Block to add into an existing email template you already have in your ESP. For example, enrich your "shipping confirmation" email template (managed by your ESP) with product recommendations for related products.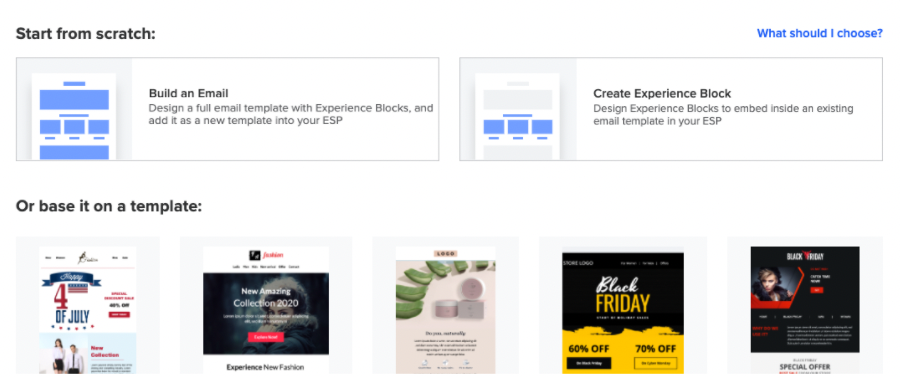 Additional updates:
August 1, 2021
Experience Email: Picks up where the ESP left off
Experience Email enables you to transform static emails into individualized, real-time, predictive emails using an intuitive visual editor. Use the drag-and-drop builder to create emails in just minutes. No coding or design skills required. And no need to worry about different widgets recommending the same products – we automatically prevent that from happening.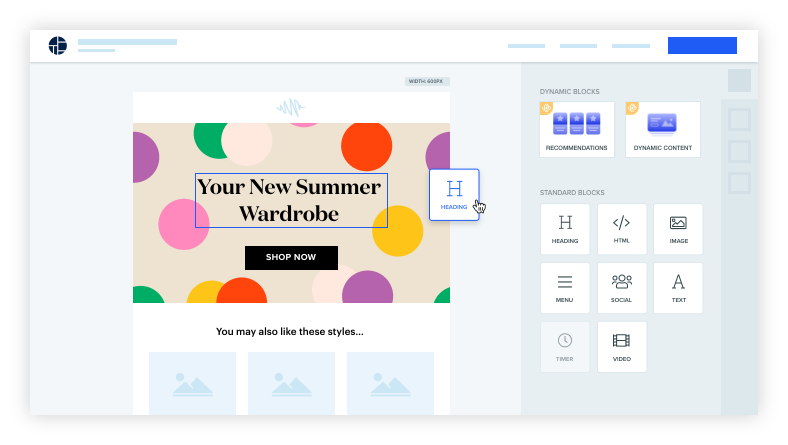 Additional updates
The Daily Activity Stream (raw data export) now includes additional data points that enable deeper analysis of your campaigns:

Recommendations data: the SKU that was recommended and clicked, including the  strategy that was served. 
Touchpoint data for multi-touch campaigns.
July 25, 2021
Experience API Logs Improvements
Enhancement to Experience API logs include:
If the JSON response is long, you can see the Indication that it was trimmed due to size. You can always contact support if you need the complete log contents. 
You can now filter according to event type.
Indication of the number of campaigns and events in each row. 
July 11, 2021
Swipe-Right Recommendation Template
New out-of-the-box template serves recommendations with a fresh design. Visitors swipe right on what they like!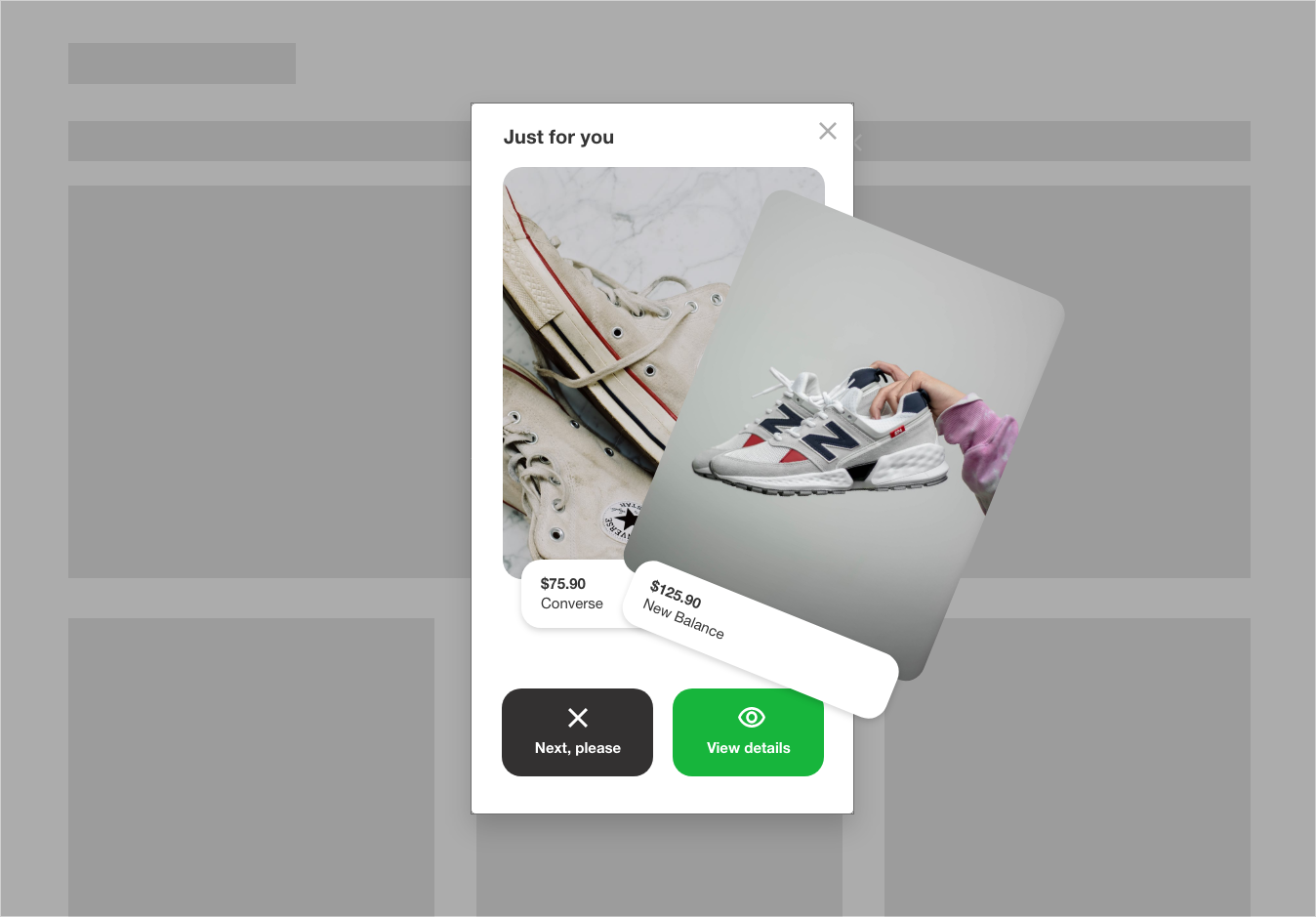 Additional Updates
June 13, 2021
Export Campaign Raw Data with the Daily Activity Stream
You can now export raw data of impressions and clicks of Dynamic Yield campaigns. This allows you to ingest this data into your BI platform, and build advanced reports that are custom to your business.
Serve Dynamic Yield Cookies as First-Party Cookies to Comply with ITP Restrictions
This early-access allows you to serve Dynamic Yield cookies from your domain with a simple DNS setup. Once set up, Safari and Firefox users will not have their cookies expired after 7 days.
Additional Updates
Faster filtering results in API Logs screen.
Introducing the AdaptML® branding for our Deep Learning algorithm.
June 6, 2021
New Out of the Box Recommendation Template: Recommendations as Stories
Use the well-known UX pattern of stories to recommend products. This is ideal in homepages, for a more immersive and engaging product discovery experience.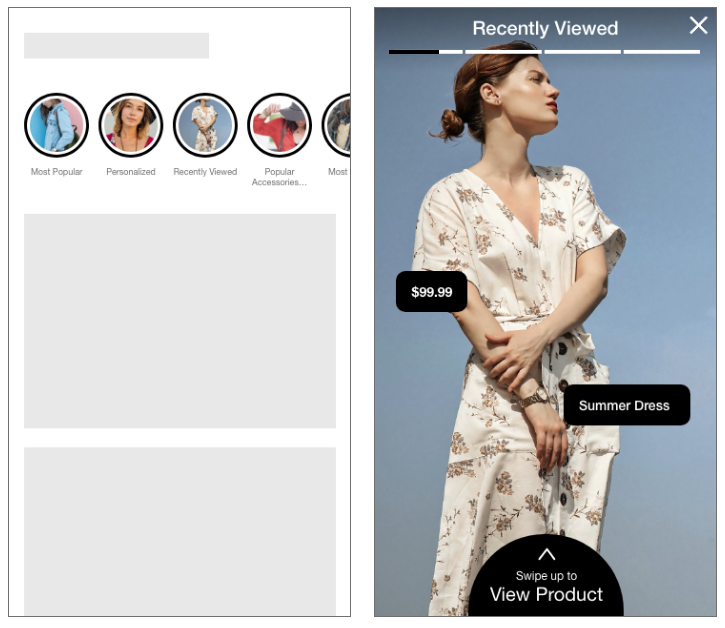 Additional Updates:
Easily localize the price format (currency symbol as well as the thousands and decimal separators) in all of the Dynamic Yield recommendation templates using variables.
You can now use any of the 23 new, beautiful fonts in email recommendations and dynamic content
May 23, 2021
Self-Service CRM Monitoring
You can now see the sync status of User Data feeds (also known as "CRM Feed"). Moreover, new alerts will appear in the dashboard if issues arise, and a simple error log will allow you to fix issues in a timely manner.

Additional updates
Check out our new out-of-the-box

Multi-Strategy Recommendations n

otification template, to serve recommendations in the style of the mobile streaming apps.
ES6 syntax is now supported in variations, evaluators, and Custom Analytics integration code. String interpolation, Arrow Functions, and Spread Operators are just a few of the cool new ES6 capabilities that you can now use to make coding a breeze.
May 9, 2021
Codeless Context Implementation (Early Access)
You can now set up page context without implementing any code. You can set the definition to identify the page type and its attributes straight from the Dynamic Yield console.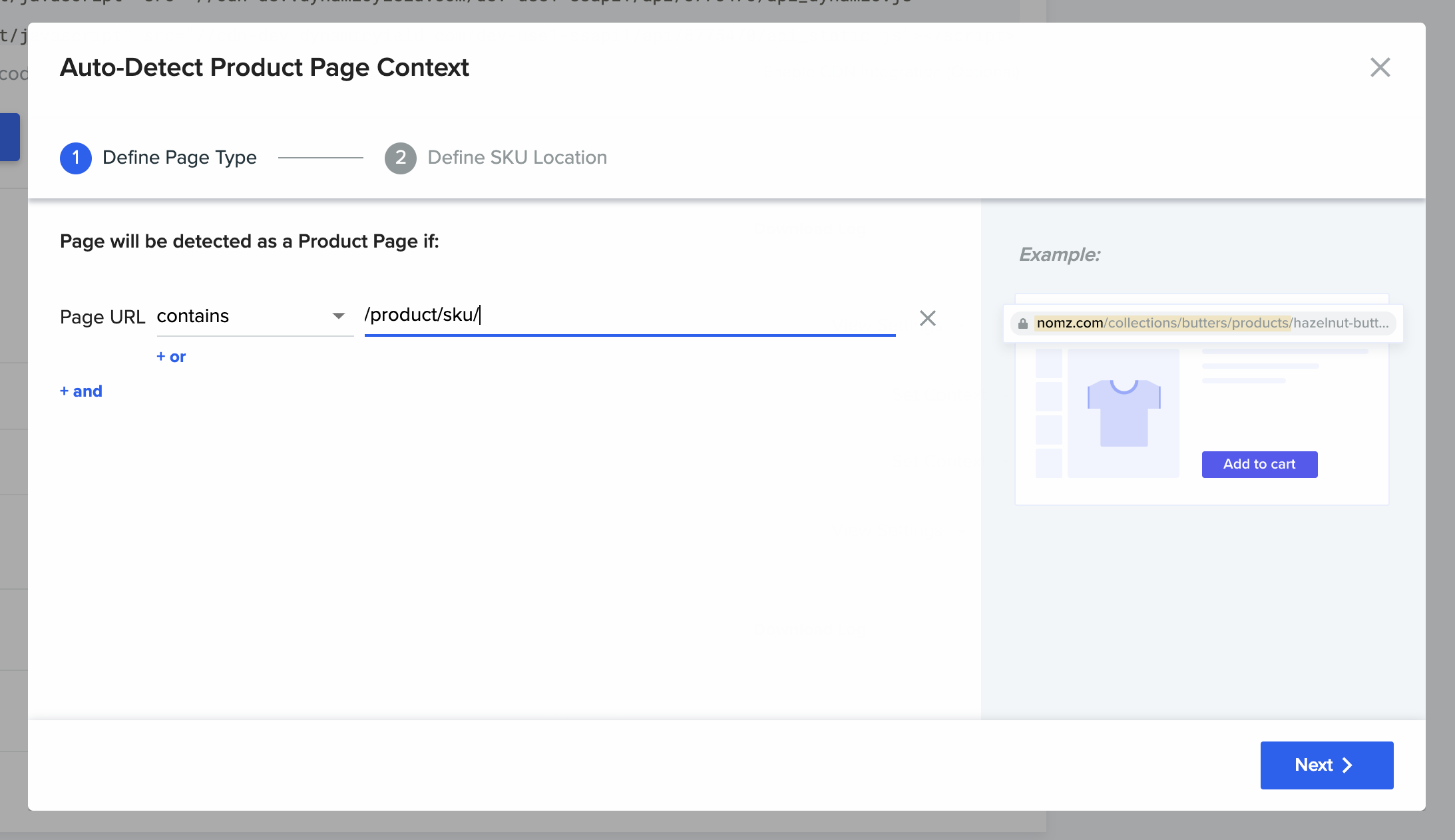 Additional updates
You can now exclude specific products from your email recommendation campaigns by adding an attribute to your embed code.
April 25, 2021
Preview Your Email Campaigns
A new tool to QA your email campaigns. Paste the embed code of the email recommendations or dynamic content campaigns, and enter user email or locale, and see how the campaign will look to your subscribers.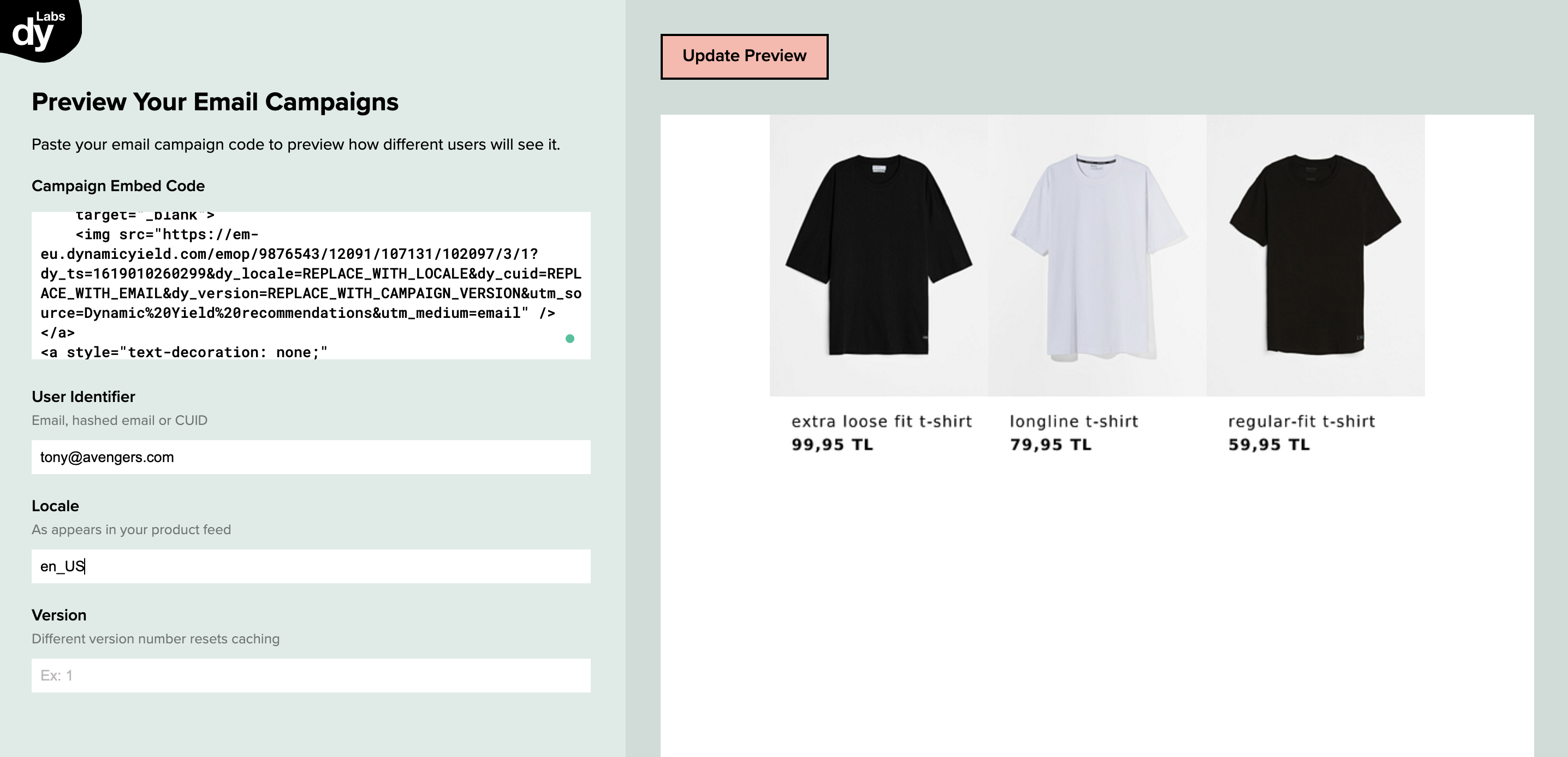 Additional updates
A new Dynamic Yield recommendation template called "Animated Recommendations" allows you to present recommendations in a new, innovative, and eye-catching way.
April 11, 2021
Enhancement to Campaigns Multilingual Support
You can now manage variation translations at the language level, regardless of the country.
For example, let's say you have German and French sites that include an English version (en_DE, en_FR). From now on you only need to translate the variations to English once, instead of twice.
Additionally, this enables this feature for the following "lng" context implementations:
Only language, without a country code. Example: EN
Less traditional language and country combinations. Example: fr_IT
language codes and non-country combinations. Example: es_EU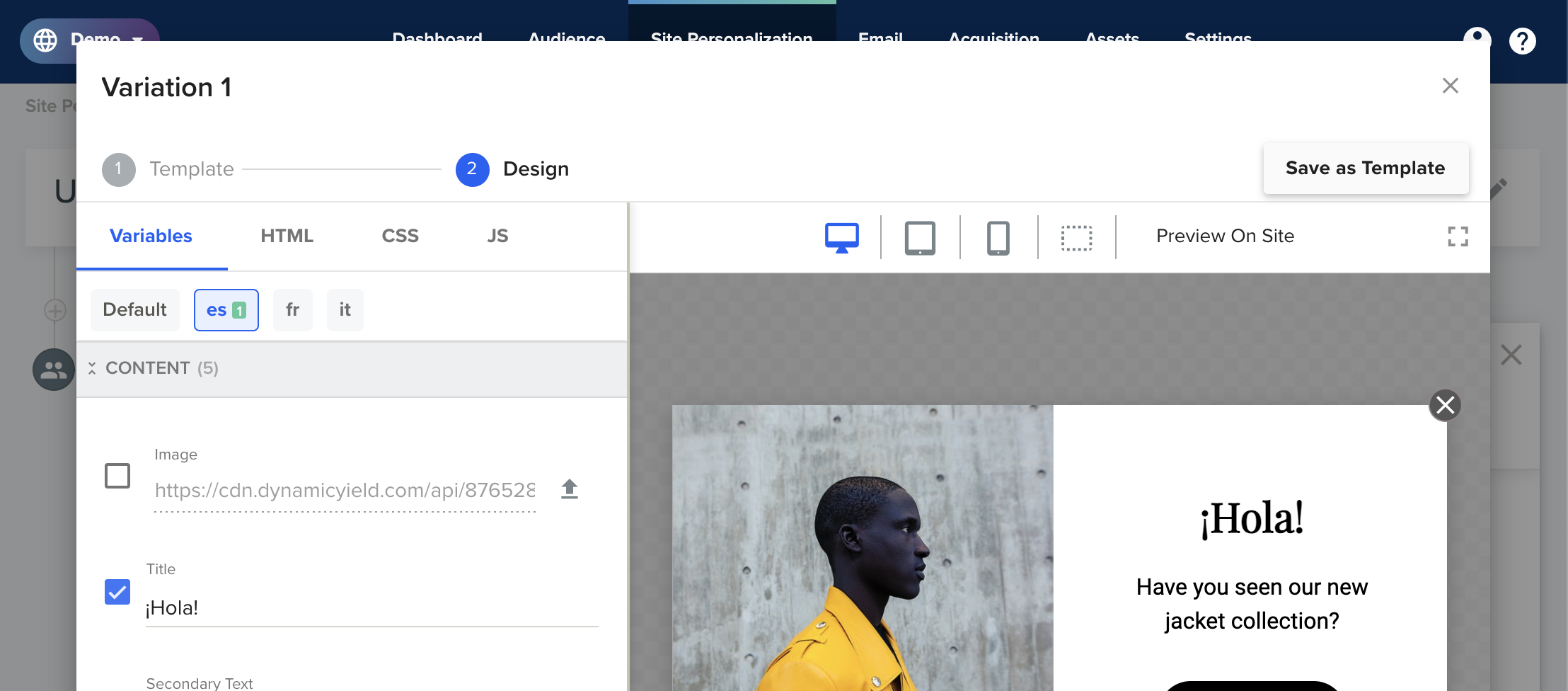 Additional updates
We are sunsetting the following capabilities:
Variable value in Page Visit & Unit based goals
Automatically creating a unit from your site's code
Bronto integration for Triggered Emails
April 4, 2021
LiveRamp Integration: You can now use your LiveRamp data to personalize experiences. It means you can already serve tailored experiences to anonymous users.
A new dashboard box will show you how you can make the most with Dynamic Yield, with additional features you might not be using (e.g. Email Personalization, Deep Learning recommendations).
March 29, 2021
Previewing campaigns and Draft Mode are now available for API campaigns. It means that you can create campaigns and run a full QA cycle, before launching it to your visitors.
Emarsys integration: Leverage DY's trigger engine to send emails with your Emarsys account.
February 17, 2021
If you run API campaigns, you are now able to:
February 14, 2021
If you create email recommendations and you have many product feed columns - it is now easier to find the column you'd like to create a filter for. How? The column picker has a new search capability.
You can now disable the Social Proof client-side API (that retrieves the number of views and purchases of products) if you do not use it. This is an additional security layer on this data, added to the data obfuscation that was released last year.
January 31, 2021
The Activity Log now shows the exact changes you made for each variation - including the changes to variable values.
When you create a trigger email - you will now see only templates that are relevant for your trigger type.  

The following triggered email integrations have successfully passed early access testing and are now available to all customers: 
January 10, 2021
Managing Campaigns in Multilingual Sites is Easier than Ever with Localized Campaigns
Creating individual experiences for each translation is now a thing of the past. Save time and reduce human error by using a single variation to localize content per site language.
You can provide a translation for any variable, and the localized value will be served based on the page language.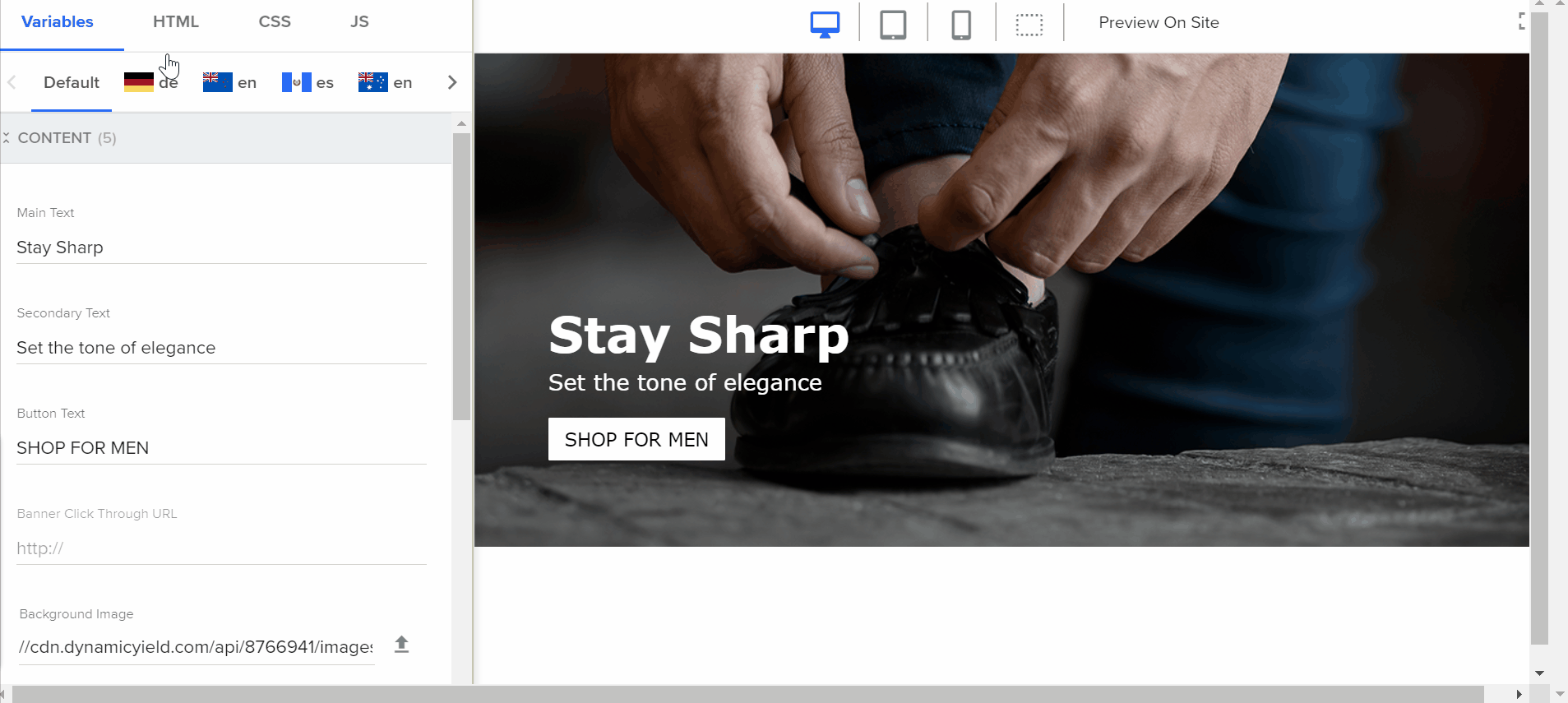 Additional Updates
December 20, 2020
Send Automated Price Drop Emails (Early Access)
Price drop triggered emails let you notify users that a product they engaged with (but did not buy) is now available at a lower price.

Additional Update
Troubleshooting Experience APIs just got easier with the ability to filter the Experience API log by response speed.
December 6, 2020
You can now add custom fields such as widget titles to your Experience

 API recommendations campaigns

. 

Recommendations for email

now support user identification based on external identifiers to align with your company's policies. 

Create dynamic recommendation filters in your Experience API campaigns using

real-time filters

. Use it to create a "gift finder" or recommending products that pass the "free shipping" threshold. 

SPA calls are getting faster this month with another performance improvement. 

The strategies list has been redesigned, with the ability to filter the list by page type or algorithm.
November 1, 2020
You can now

reduce the size

of the responses of your Experience API recommendations if you only need the SKUs. 

The data from visitors who are opted-out using any method of data privacy management is not sent to

Google Analytics

through our integration. There is also a

new API

that allows you to prevent their data from being sent through any Custom Integrations.
October 27, 2020
Take your zenloop surveys to the next level by using Dynamic Yield to personalize and test them with our new template. 
October 11, 2020
Improve Security with Single Sign-On
Introducing an enterprise-grade security enhancement: Single-Sign On integration through SAML 2.0 or OIDC (which are supported by all major identity providers like Okta and Active Directory). Your Security team will love it, as it gives them full control of the authentication policy and you will have one less password to remember.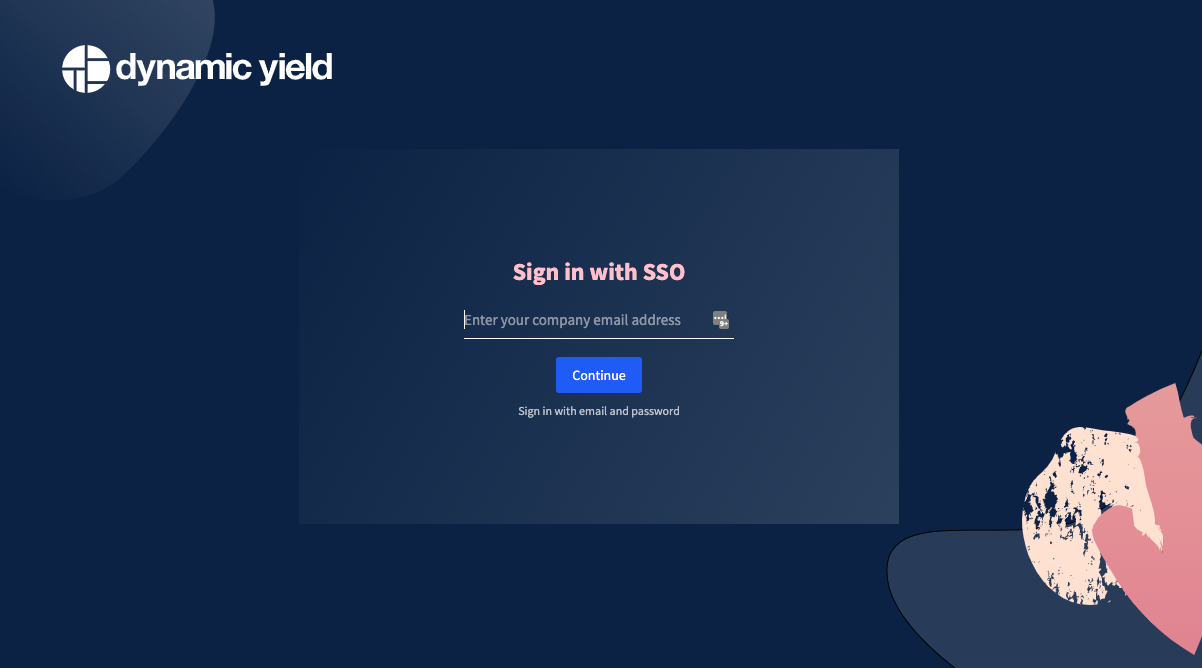 Additional Updates
Active Cookie Consent is now fully supported in sites of type API.
Customers who use SAP Hybris as their eCommerce platform can now seamlessly implement Dynamic Yield using a dedicated extension to speed up the process (Early Access).
The Activity Log keeps getting better with the ability to view details about changes to the campaign and experience status.
Provide more personalized recommendations, as they are now based on user engagement across all devices for identified users (gradual rollout).
We added support for the following currencies to be used as both your main currency and as secondary currencies in events such as purchase or add to cart: AOA (Kz), MXN ($), MZN (MT), ARS ($), BYR (BYR), LKR (Rs), PEN (S/.), UAH (₴), UYU ($U).
September 29, 2020
A New Way to Manage User Data Privacy Preferences
Active Cookie Consent is a new way to manage user data privacy preferences that restricts user data unless users actively consent. 

Additional Updates
You can sync your Product Feed via API (early access). It gives you the flexibility to update the entire feed whenever you want or make quick changes to specific product properties without syncing the entire feed (e.g. updating the price of a specific SKU).
You can finally track code changes in your variations with a new addition to the Activity Log that shows a before/after view of every change. 
Create Units easier than ever with a completely new user interface.
September 13, 2020
August 30, 2020
You can now view which attributes are used to calculate affinity, and which product attributes are available for targeting in the Product Feed.
Check out the new PLP Dashboard to get an overview of the uplift to views and revenue on your product listing pages.
Upload an avatar in the my account screen to make yourself more recognizable in the manage teammates screen.
Create goals faster and easier than ever with a completely new user interface. 
Selecting the location of Dynamic Content and Recommendations on your site is now more intuitive. 
August 16, 2020
Dynamic Yield is always trying to improve our effect on page load performance. This month's improvement of 4% brings the total to 40% over the past four months! 



If your site is affected by flickering, speak to your Customer Success Manager to enable a new option to help make flickers a thing of the past.
With Safari's ITP policy, customers were required to make changes to ensure user tracking worked properly. This solution is now also available for customers who implemented Dynamic Yield through a CMS platform like Shopify and WooCommerce.  Speak to your Customer Success Manager to learn more.
Copy campaigns faster than ever with a new option to copy to all sites with one click.
You can now use a 1 day attribution window in recommendation reports and experience settings.
August 2, 2020
Manage Users at Scale, with Role-Based Permissions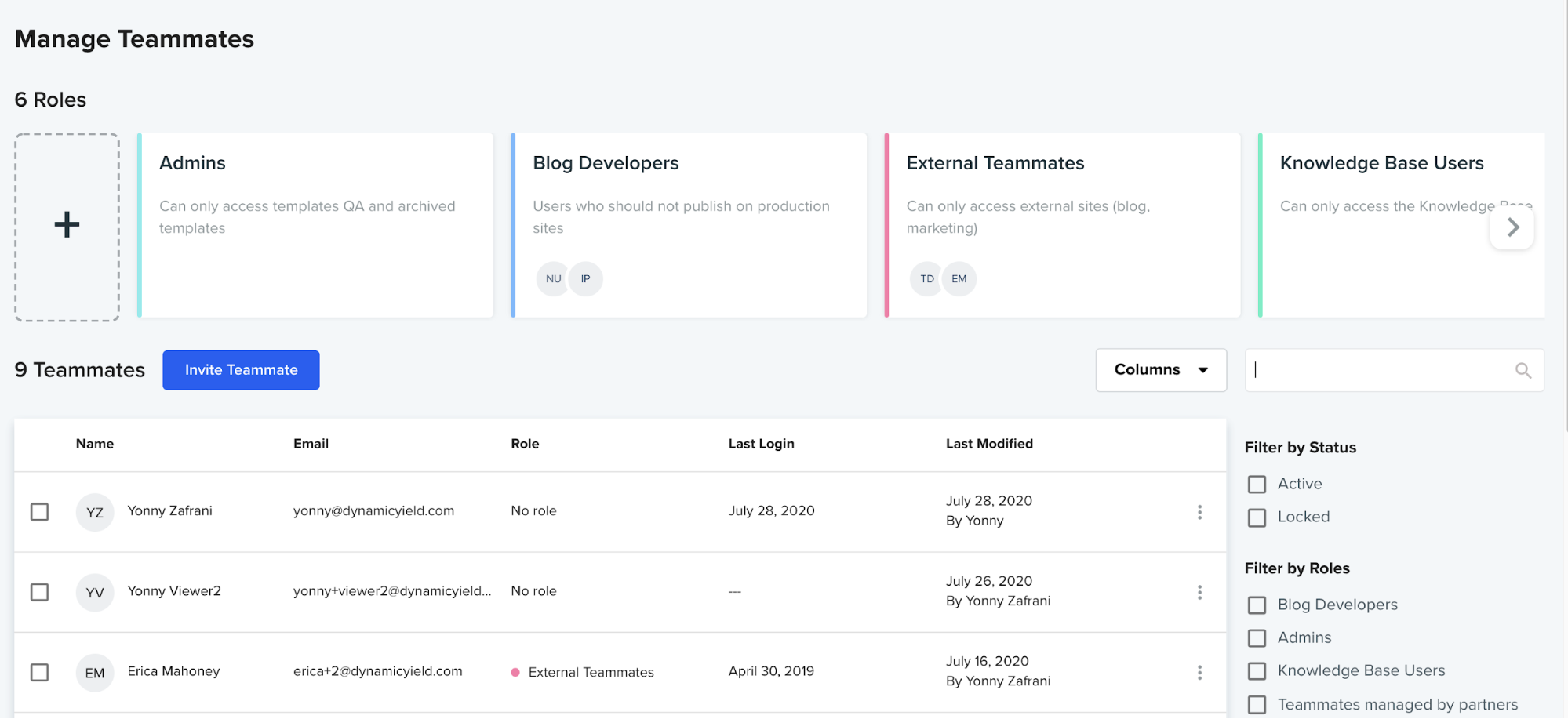 Managing user permissions for each user can be time consuming. With this enterprise-grade capability, you can assign a group of users into a role, and manage their permissions at once by changing the permissions of the role. Learn more
Additional Updates:
July 19, 2020
July 6, 2020
Personalized Product Listing Pages (Early Access)
PLPs (AKA category pages) are an integral part of the conversion funnel in eCommerce sites. Now you can use Dynamic Yield to display products in your PLPs in an order that is optimized for each visitor. The order is based on a deep-learning algorithm, that prioritizes products the visitor is more likely to purchase. Learn more about Personalized Product Listing Pages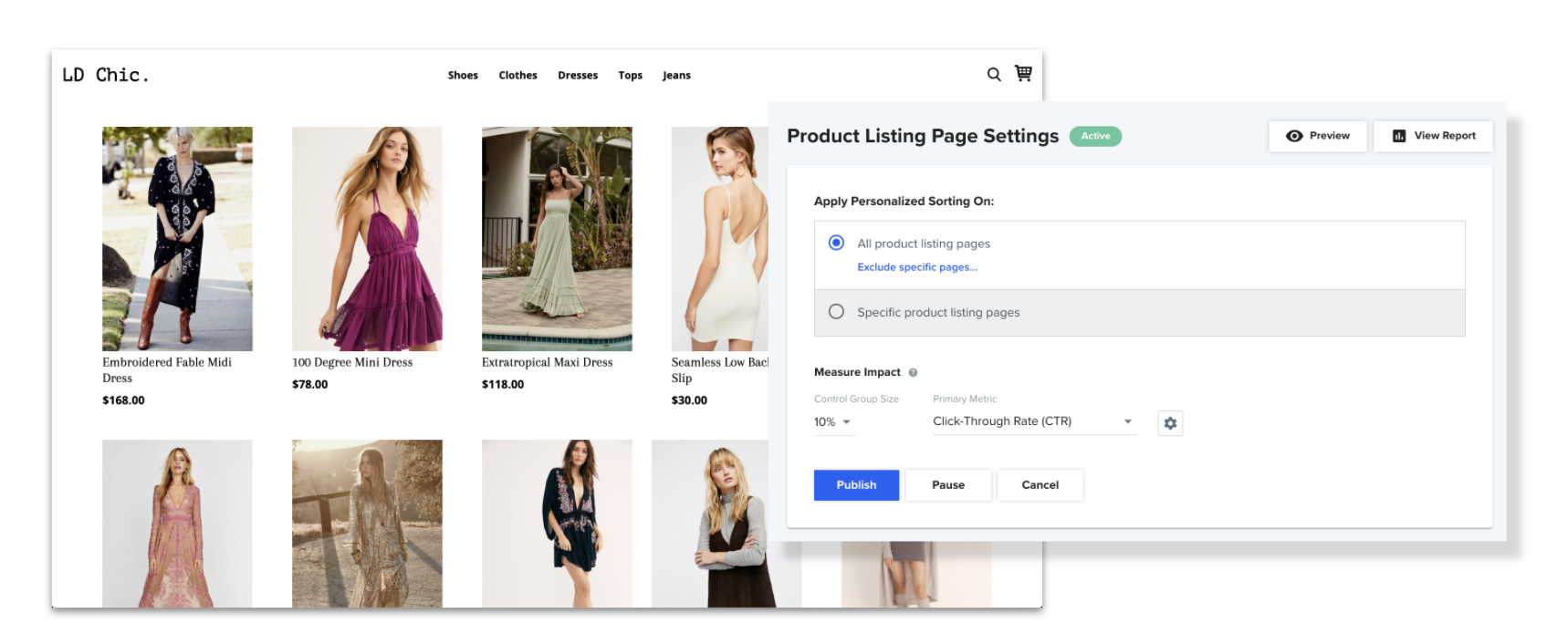 Additional Update
June 21, 2020
You can now copy recommendation campaigns across sites, just like you can do with other campaign types.
See the overall performance of your triggered email campaigns in a new dashboard section. It includes the total number of emails sent, clicks, revenue, and more.
Filter mobile recommendations using realtime data, plus additional enhancements in the new mobile SDK.
Send triggered emails via Salesforce Marketing Cloud using this new guide.
All platform user management screens (e.g. My Account) have been redesigned.
May 31, 2020
Dynamic Yield's Experience API is now live. You can now leverage Dynamic Yield capabilities (behavioral targeting, recommendations, and testing) with server-side API based campaigns. With these campaigns, the page is not manipulated after it is rendered. Instead, the Dynamic Yield decision engine is integrated tightly with your technology stack, improving your overall page performance. These campaigns can run in parallel to standard client-side campaigns (e.g. Overlay, Dynamic Content).
This release also includes a new type of API key, and a log for all server-side API calls for debugging purposes. Learn more about it in dy.dev ›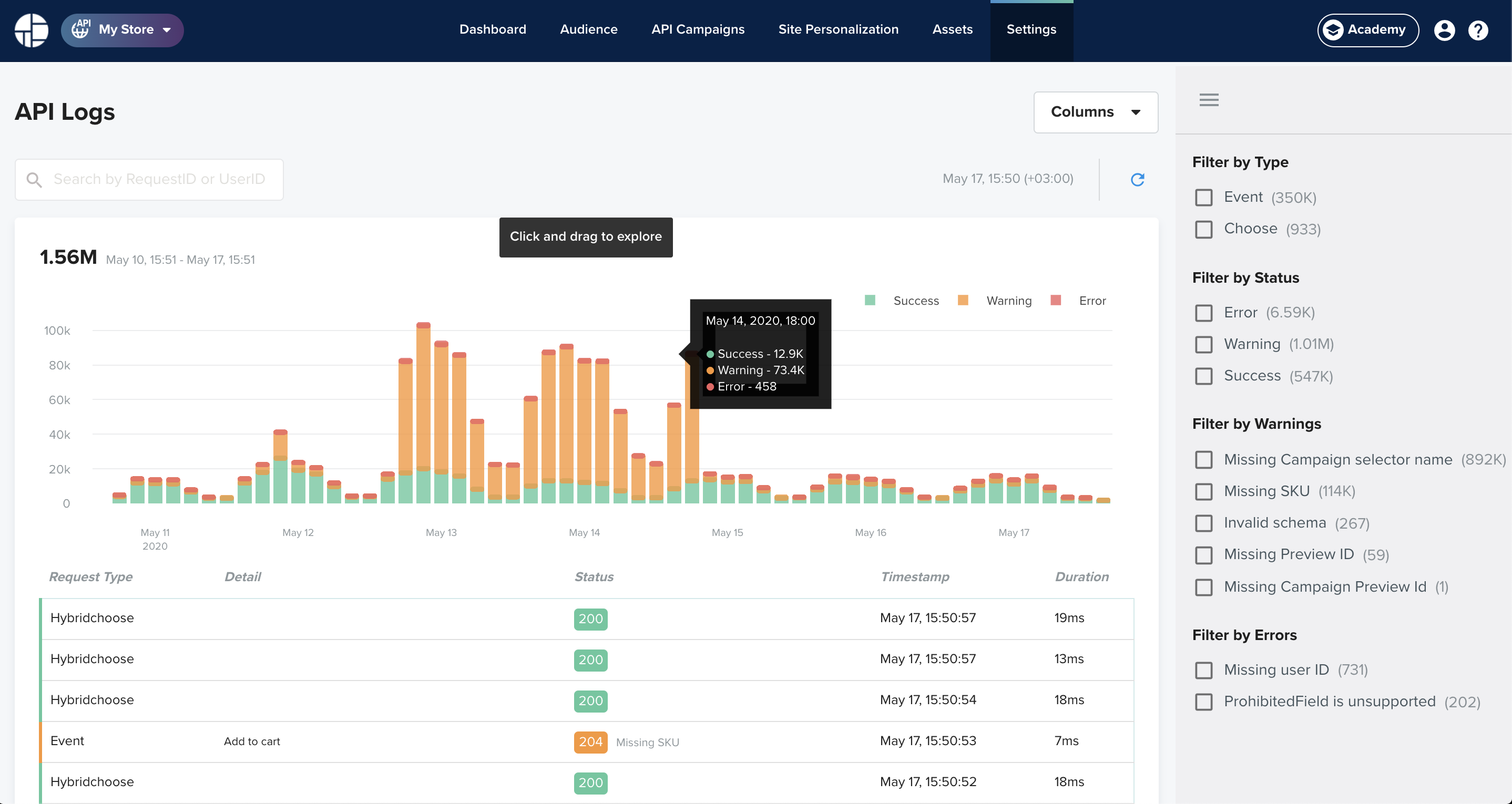 The new recommendation overview report gives a much-needed birds-eye-view of all recommendation campaigns, with tons of new data points: Direct revenue impact (as % of total revenue) and direct purchases over-time, flexible attribution window, page type breakdown, and recommendations metrics at the campaign level. The new report will be gradually rolled out in the next 2 months.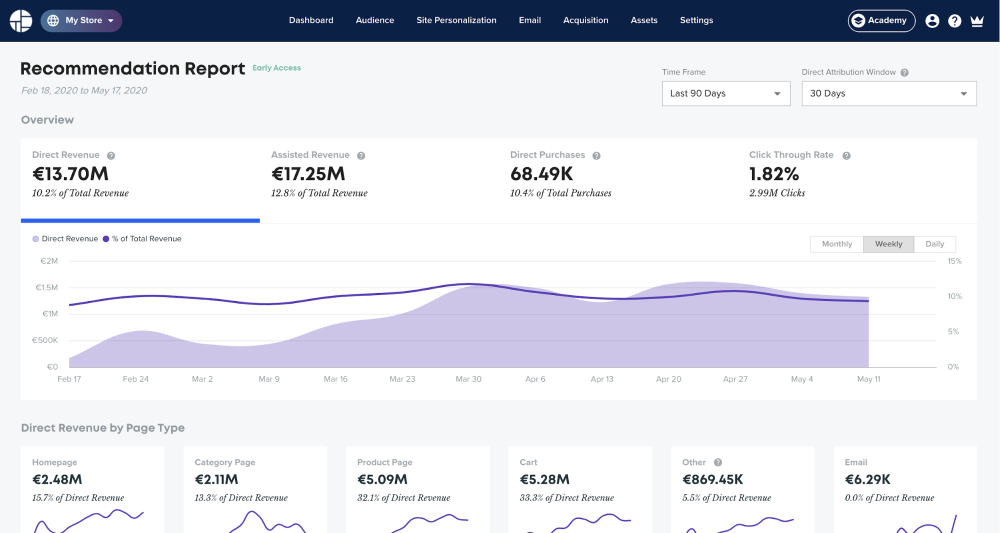 Additional Update:
The "My Account" screen was revamped with an updated design, bug fixes, and security improvements.
May 10th, 2020
You can finally serve recommendations in Multi-touch campaigns without complex workarounds, simply by choosing "Recommendations" in the touchpoint type.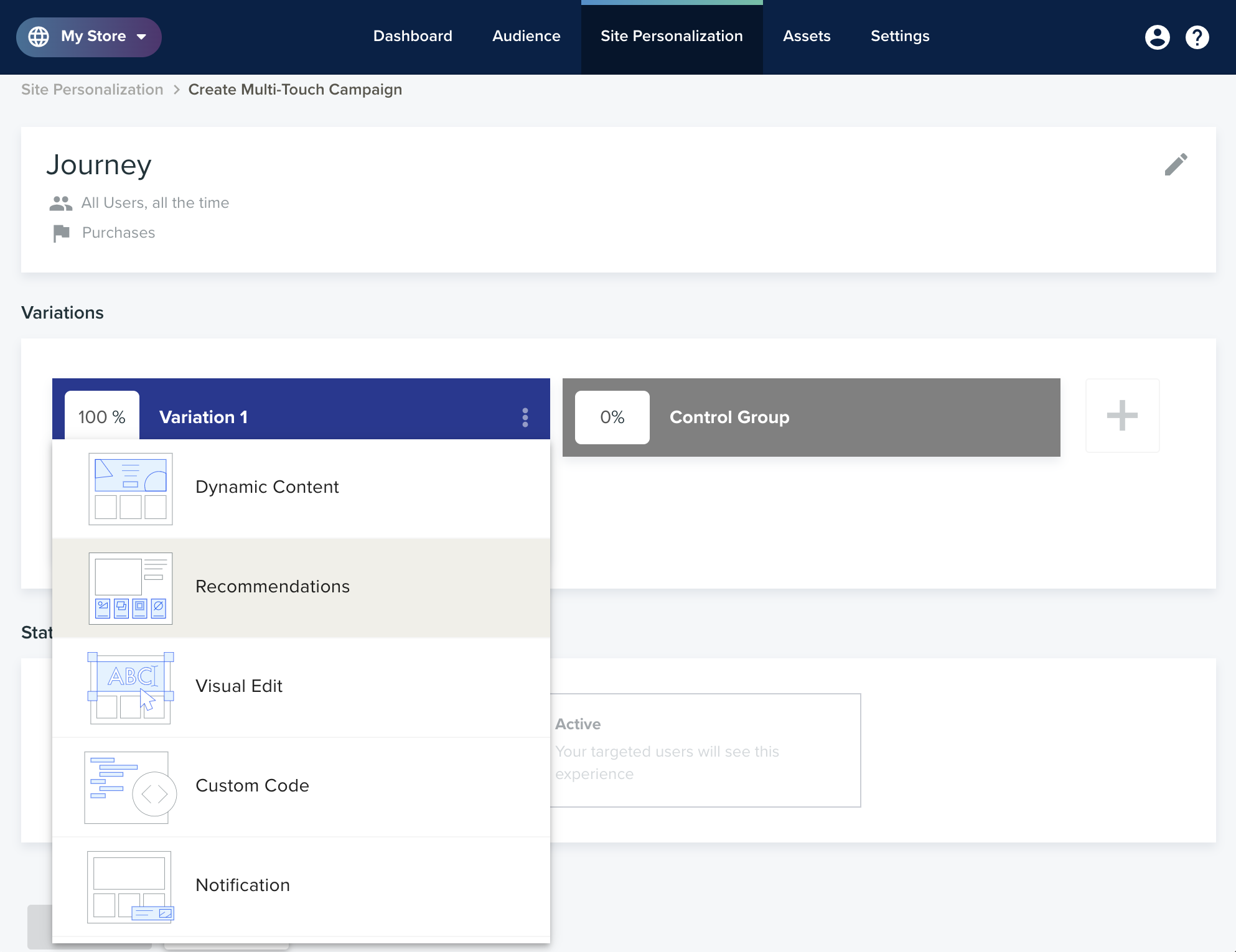 Additional Updates:
Enabling triggered emails is now self-service for customers who have a Sendgrid account.
You can now use one ESP for triggered emails and another for dynamic content and email recommendations.
April 26th, 2020
Dynamic Yield has rolled out a solution you can implement to resolve complications arising from Safari's new ITP policy. 
April 12th, 2020
You can now view a log of edits to any campaign by clicking the "Activity" button, from the "Site Personalization" list of campaigns, or straight from the campaign settings page.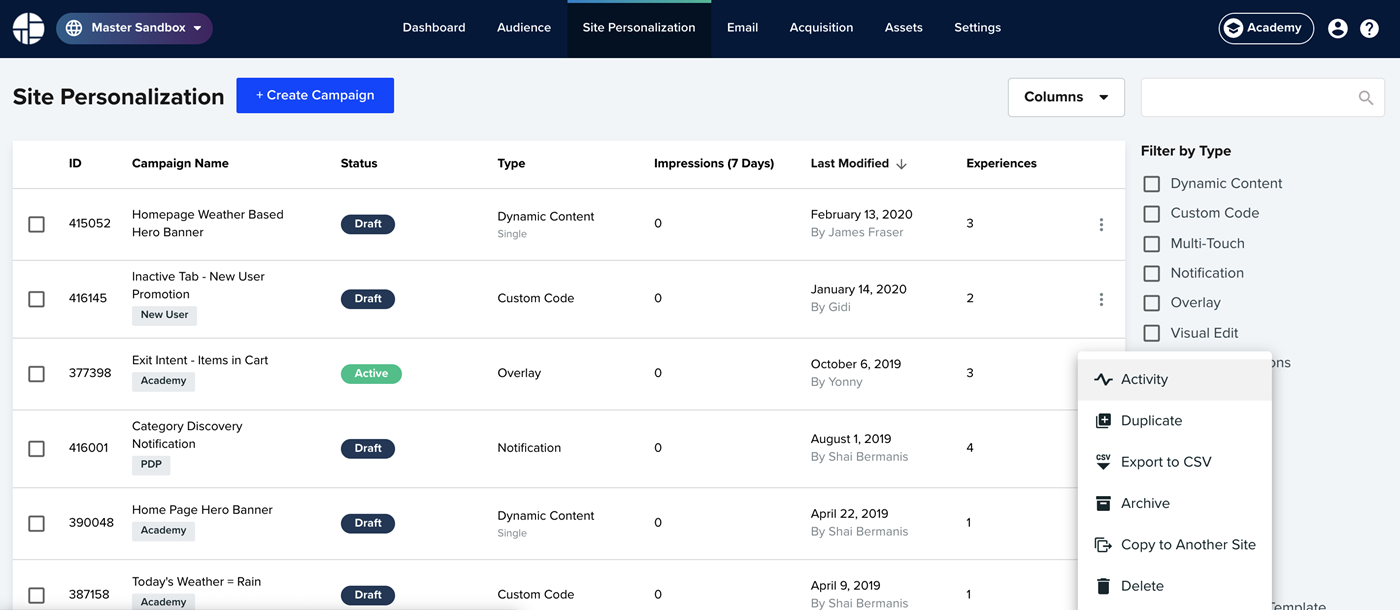 March 29th, 2020
A recommendations API allows you to create dynamic real-time filters. Use it to create a "gift finder" or recommend products that pass the "free shipping" threshold.
You can filter the Activity Log by date and user, making investigations much easier.
Onboarding user emails (used for Triggered Emails and Audience Export) is now fully self-service.
You can now exclude products that the user recently purchased offline from recommendation widgets.
A new academy course on Behavioral Targeting will help you leverage your users' data to deliver personalized experiences.
The Dynamic Yield Community is now available for European customers. Additionally, it has a new "Feature Request" category, where you can suggest and upvote feature ideas. 
March 1, 2020
Check out the new Activity log to see who changed which campaigns, audiences, and other assets were changed in your account.

You can now see who else is currently editing the same campaign you do, so you don't override each others work.
February 16, 2020
Target Dynamic Yield Audiences Anywhere
You can now run a daily export of visitor emails of any audiences created in Dynamic Yield. This can later be used by other marketing platforms (e.g. email service platform, facebook) for targeted offsite campaigns.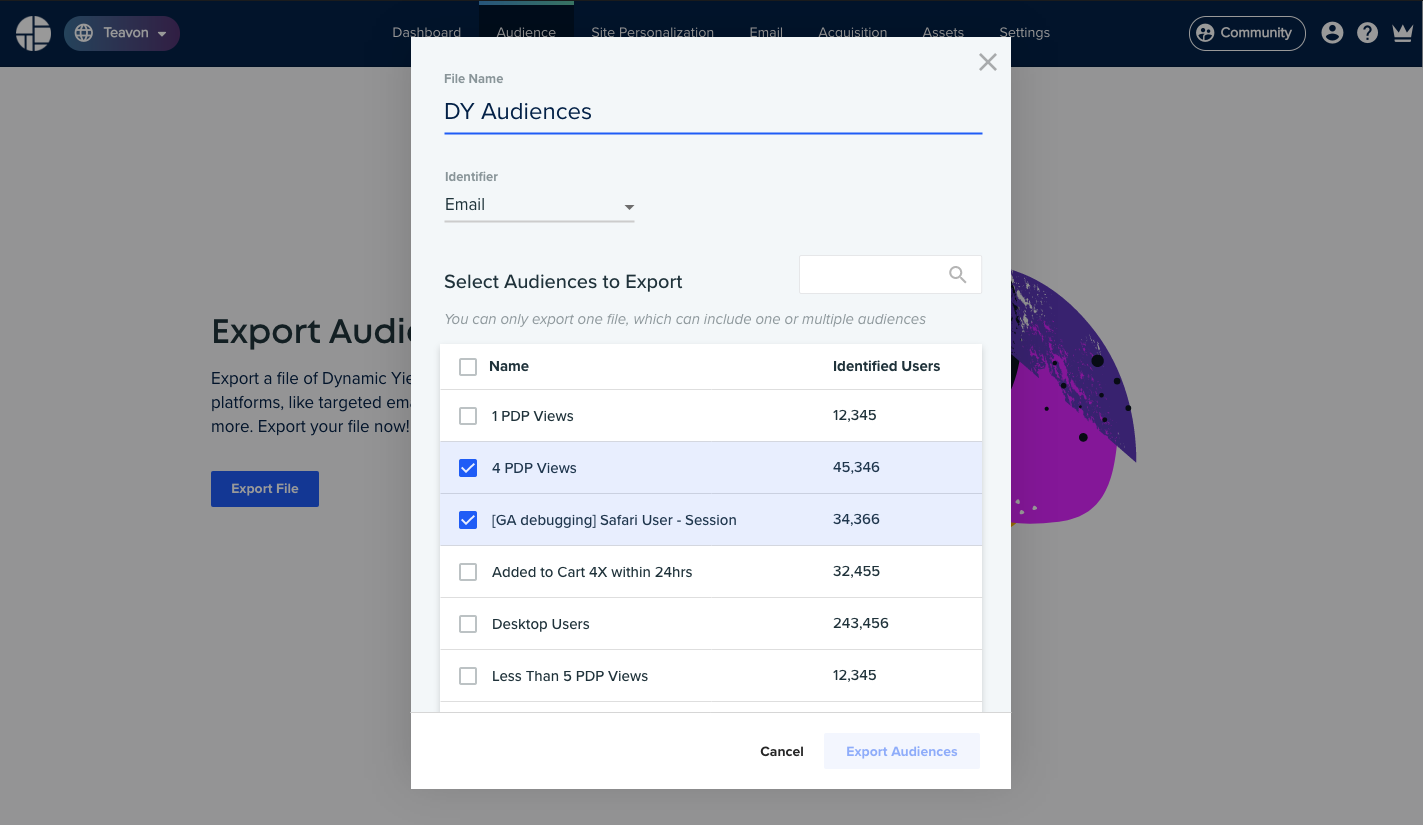 Additional Updates
Monitor and view logs of the onboarding of user email addresses (used for triggered emails and audience export).

Gain better visibility in your campaigns with more accurate update tracking. When a template is edited, the last modified date and modifier of any campaigns using the template are updated as well.

February 2, 2020
Preview Mode now lets you know if the reason you can't see a Dynamic Content or a Recommendation Widget is because it's not targeted to the current URL, making it even easier to debug "what am I not seeing it" issues. 
Are you a developer that's new to Dynamic Yield? Visit the academy to learn the basics of the Dynamic Yield platform: templates, evaluators and events.
Dynamic Yield cookies now include the Secure attribute, as required by Chrome 80's new privacy policy. This ensures that everything will continue to work as expected.
Dynamic Yield Partners can now use the Affinity Demo Tool to demonstrate how visitor behavior affects the affinity profile. 
You can now easily see if the report you're looking at belongs to a draft, paused or archived campaign - straight from the report.
The confirmation message when deleting a campaign now contains the campaign name, so you don't have to double check it. 
January 19, 2020
Visual Template Selection in Email Recommendations
You will now see large thumbnails when choosing a template in email recommendations. In addition, real-time preview will update as you change variable values, so you won't design blindfolded.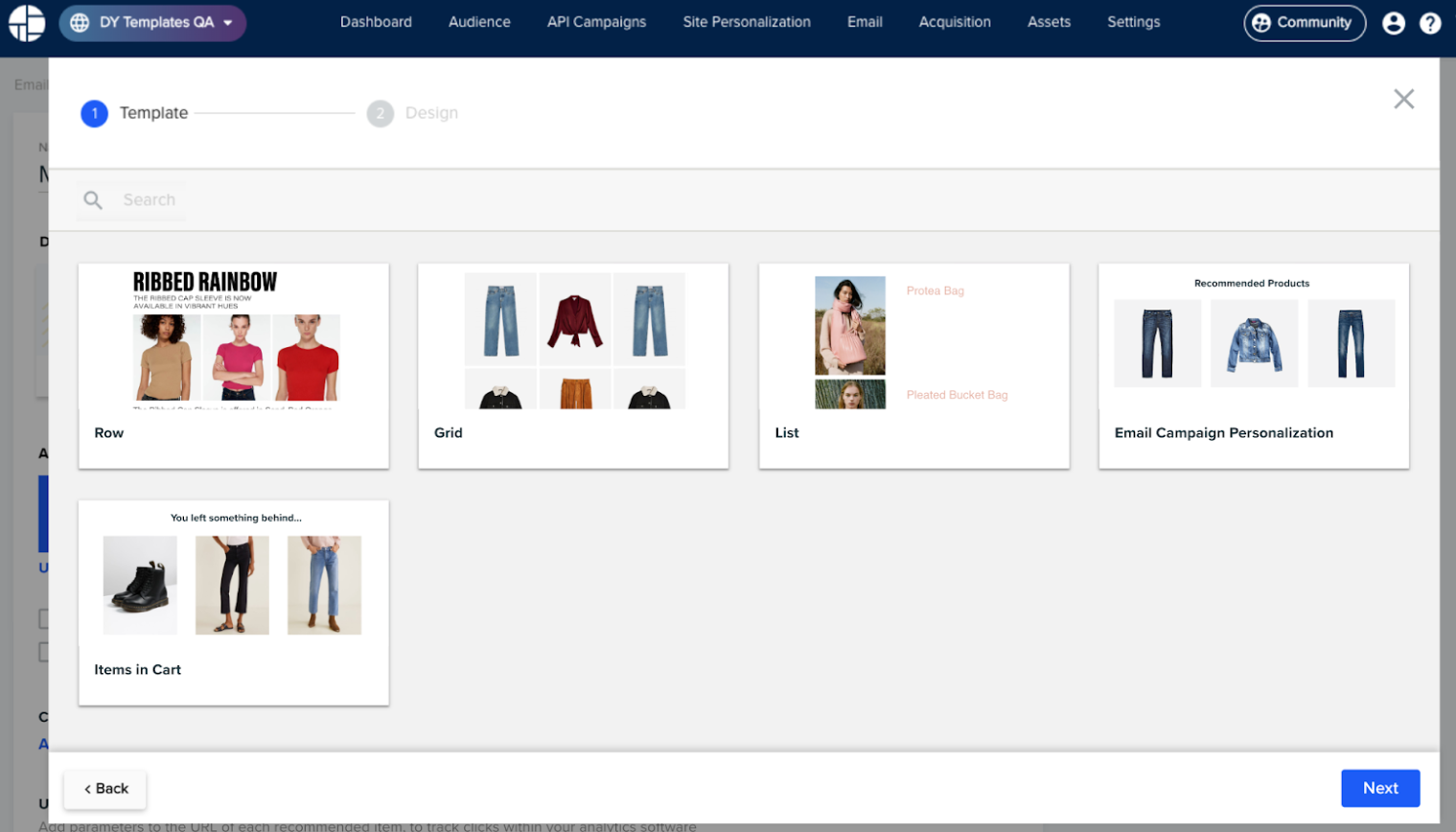 Additional Updates
January 5, 2020
Enhanced Viewer Permissions
Users with "viewer" roles can now see settings of feeds, integration, and most of the General Settings screen. They can still not make any changes.
December 8, 2019
Target Users Based on In-Store Purchases
You can now leverage information about offline purchases to enhance targeting and recommendations for identified users. Purchases data will enable new algorithms of that allow dynamic yield to recommend products bought together on or offline. If you include the user's identify in the purchase data, you can use a dedicated targeting condition to create audiences based on offline interactions. For example: users that purchase products from a specific categories offline.
Other News
November 6, 2019
New "Inspiration" section in the Dashboard to spark your imagination with successful personalization use cases from other Dynamic Yield users.
Preconnect tags were added to the Dynamic Yield script's get code. These tags decrease loading time by allowing your browser to setup early connections before an HTTP request is actually sent to the server, thus eliminates roundtrip latency.
You can now see indication if a campaign is archived in editing mode and in the campaign reports.  
November 3, 2019
You can now copy evaluators to other sites in your account, and view a list of campaigns using each evaluator.
We did it for Site Personalization, and now we've done it for App Personalization: All of the app personalization campaigns are now managed in one window so you can search, filter, view and more!  
Implement Dynamic Yield in an SFRA (Salesforce's Storefront Reference Architecture) website with a new Salesforce Commerce Cloud cartridge.
You can now edit all out-of-the-box audiences that are included when you install Dynamic Yield.
October 7, 2019
Enhanced QA and Preview Mode
Preview and QA are critical steps for checking new experiences on your site before they are published. We completely rebuilt these workflows to make them simpler, more intuitive, and 100% reliable. There is no more need for URL parameters and other technical workarounds! We also made the following enhancements:
You can now preview variations on site while creating or editing variations so you can work much faster.
When previewing a campaign, you can now "force" any variation to appear directly in the preview mode.
If a campaign does not appear in preview mode you will be shown exactly why when the cause is due to frequency limit, a missing trigger condition, or the targeting conditions.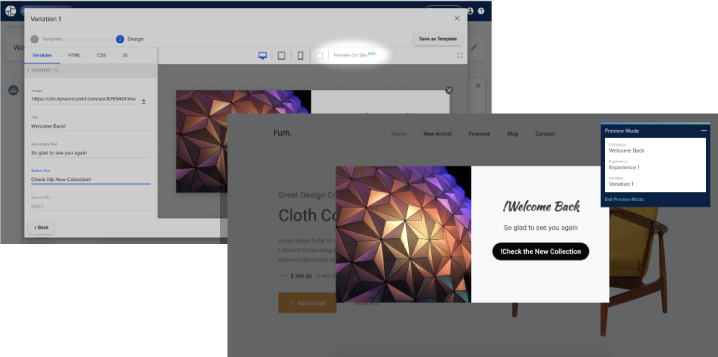 Other News
September 15, 2019
Customize Item List Layout
Item List campaigns allows you to serve multiple variations, in the best order. You can now customize the layout of the variations to be vertical, horizontal, or custom. You can also add CSS at the campaign level that will apply to all variations, add titles, and more.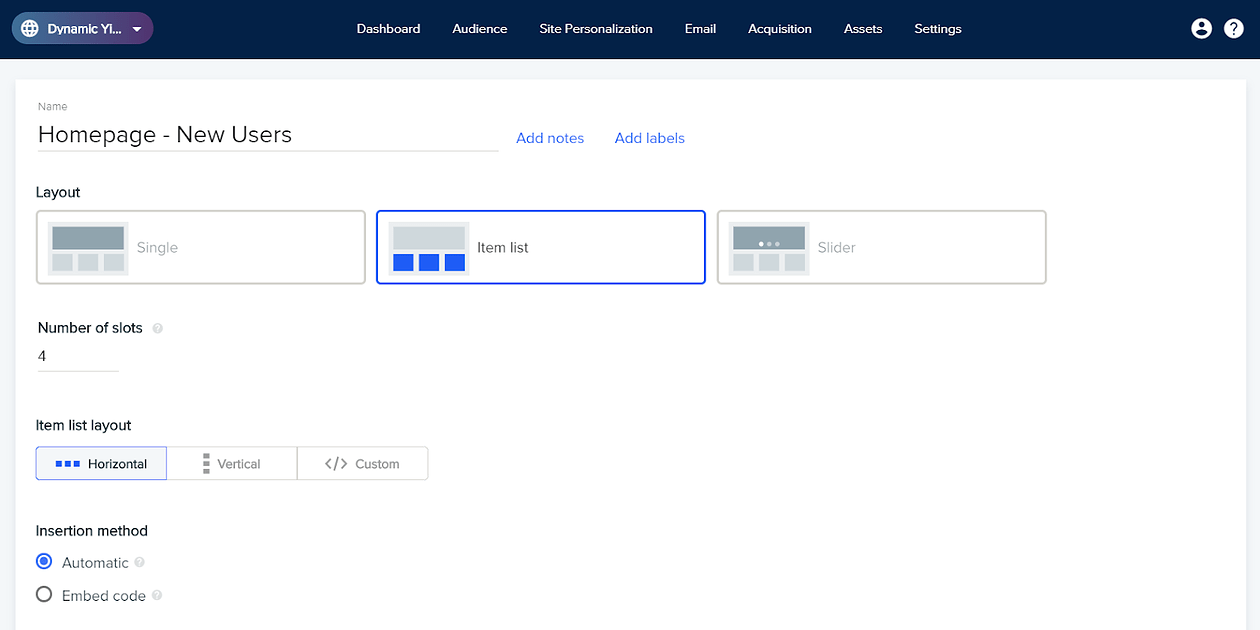 Other News
Dynamic Allocation recalculates allocations more than 5 times faster! (every 45 minutes vs. 4 hours in the past)
No more resetting A/B tests by mistake. When updating a template we will no longer create a new test version.
August 4, 2019
Sync Your Feed Securely
Product feeds can now be synced from an S3 bucket using SFTP and not just from a public link. This is important if you have sensitive information in your product catalog.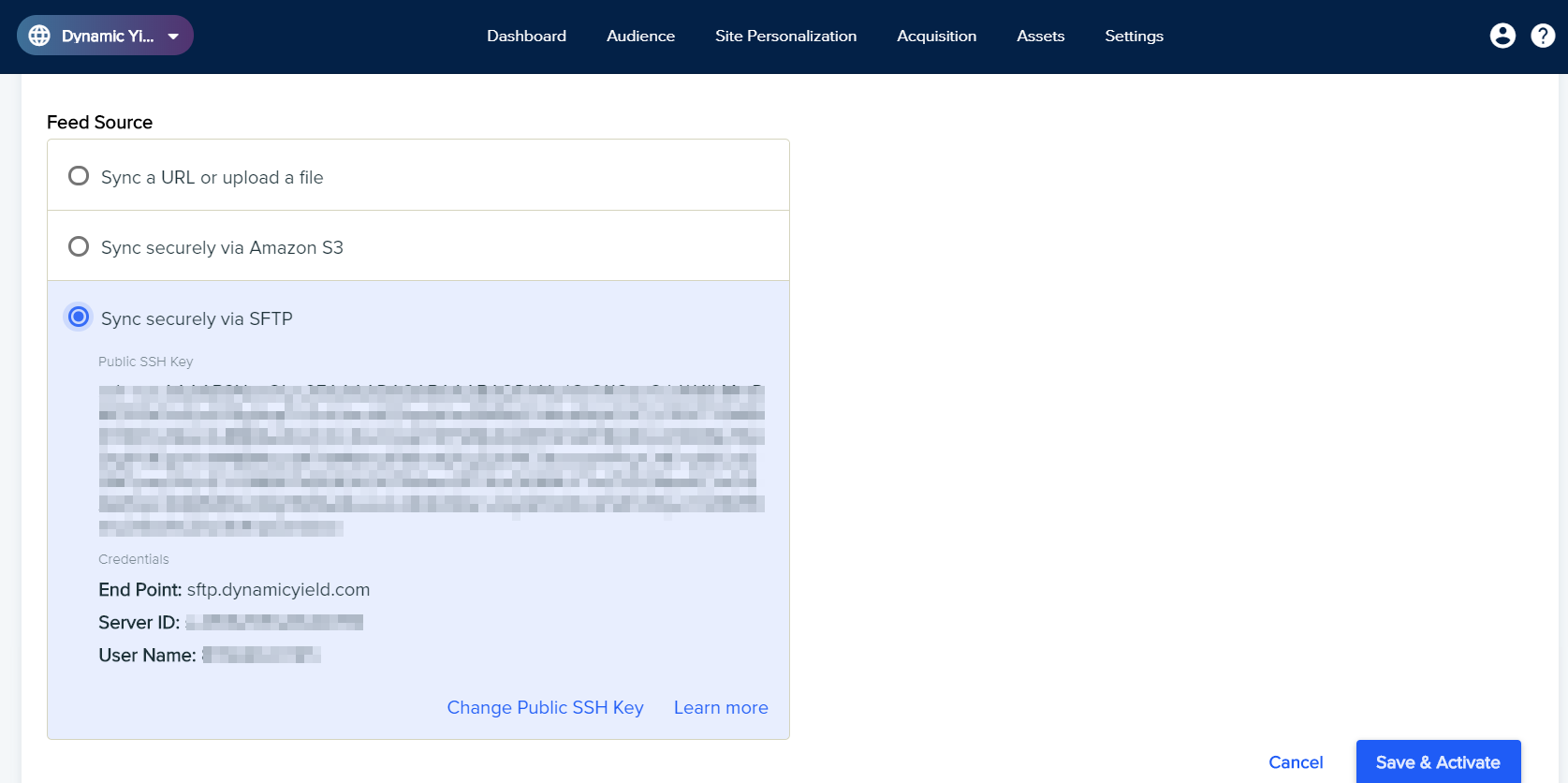 Export Dynamic Yield User Activity Data to your BI Platform
You can perform a daily export of user interactions such as pageviews and events and import the file to your BI platform.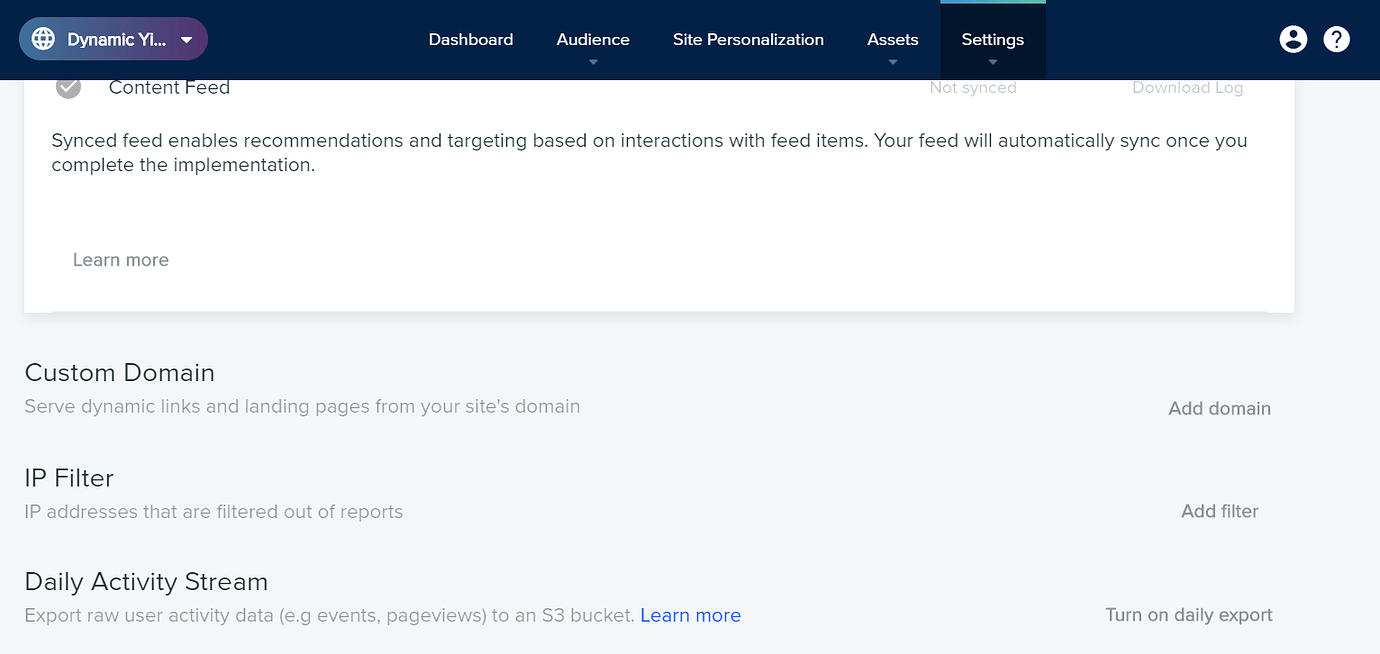 Other News
Made changes to a template and want to rollback? You can now download a log of all changes that were made to your templates.
Users with viewer permission can now see the setup of recommendations strategy (don't worry, they can't make any changes).
You can now define how URL based audience and targeting conditions are evaluated - based on the URL on the browser, or a page URL defined in your <head> tag. 
July 7, 2019
Partner User Management Enhancements
Managing multiple Dynamic Yield accounts just got much easier for our partners. Partners can create users that have permissions across all of your Dynamic Yield accounts in one user interface. 
More News
We rebuilt our Knowledge Base site from the ground up! Look forward to a robust search tool, intuitive navigation and your own dashboard to manage and track support tickets and requests.
Out of the Box Recommendation Strategies - when you sync your product feed for the first time. You can now start using product recommendations
There is a New Mobile SDK that includes support for push notifications in iOS 13, Russian language push notification buttons, and more.
June 2, 2019
New Affinity Based Targeting Conditions
You can now target users based on their personal preferences without having to build an audience.
More News 
Custom Code campaigns allows you to inject CSS to the page without writing JavaScript.
Multiple recommendation widget will no longer recommend the same products on the same page. This is done automatically.
You can now sync product feeds with up to 5M items!
New out of the box templates: Shop the Look for landing pages and several clean and more "generic" overlay and notification templates.
May 5, 2019
Export Revenue Event Log for A/B Test
You can now export a log of all revenue events that were fired in an A/B test, by clicking the Export button at the top-right of your experience report, and select "Revenue event log". A downloadable link will be sent to your choice of email. The report includes all revenue type events, the attributed variation as well as indicate if these events were considered outliers.
Dynamic Yield Templates got a new home and a fresh look
In case you are looking for our out-of-the-box templates… we combined the two template tabs into a single screen. DY templates got a design uplift and can be found at the top row of your template selection screen.
More News 
Out of the box templates are easier to see, as they appear prominently in the variation creation dialog.
Recommendations got better: we're now recommending the most relevant products after filters are applied. 
April 7, 2019
You can segment your audience based on individual preferences to product brand, color, category and other product attributes and create highly targeted personalized experiences.
New and Improved Recommendations in Dashboard
Total assisted and direct revenue is now available in the dashboard (for eCommerce sites).
More News 
We've made room for important items like reports, tables, and content by moving our navigation to the top. We're also tidied up and gave all of our resources, such as templates, strategies, goals, and evaluators their own home under the 'Assets' menu.
All of your site personalization campaigns are now in a single view! You can now track, search and manage each and every site campaign from a single place, no matter the type.
The platform is now much, much faster! Screen loading time has decreased by 50%!!!
March 3, 2019
New Algorithms for Email Recommendations
A few month ago we introduced purchased & engagement based strategies. Now we are now rolling them for our Email Recommendations as well - Recent Purchases, Purchased with Last Purchases, Viewed with Recently Viewed.
More News
Audiences. Traffic sources & device type audiences will now be created automatically for every new site and app.

When working on a variation that is linked to a tempalte, you can now quickly jump into its template form by clicking on the template's name.

From now on, Automatic Allocation will be called Dynamic Allocation.

Preview dialogue improvements: It is no longer mandatory to plugin http:// is will for the preview URL; and when a URL is not provided, the preview will pull the site URL from your site settings.

Improve your site performance by adding DNS prefetch calls before the script. We've updated our script code to include the new calls.

Experience scheduled for future date, will not be loaded with the script, ultimately reducing script size and improving performance.
 

New SDK version v3.5:  bug fixes and stability improvements. Mobile release notes 2

When you name any one of your variations "control group" (or small variants of this name) we automatically consider that variation as your baseline and measure uplift against it.
February 3, 2019
Outlier Handling in A/B Tests
A high volume purchase can easily boost the 'revenue per user' of a variation. Consequently, that variation is declared 'winner'. However, there may be no real relationship between the purchase and the variation. Namely it may not reflect the behavior of the rest of the visitors who were exposed to that particular variation. Adopting the winning variation and removing all others, could potentially create a downlift affect.
Filtering such 'outliers' is therefore critical in gaining our customer's trust when running revenue based A/B test experiments. This release, we begin filtering outliers from A/B test and Predictive Targeting by default.

More News
Recommendation algorithm improvements: Popularity score is now calculated by the total score of the SKUs in the group, and not just by the leading SKU of the group.
January 6, 2019
Dashboard Recommendation Report
We've added a recommendation report to our new dashboard. If you are running Dynamic Yield on an eCommerce site and have at least one Active recommendation widget, you will now see an aggregated view of your recommendation performance across your entire site.
More News
Our mobile app customers will be happy to know that we've launched an in-app validation layer allowing developers and marketers to view the mobile implementation status in real time to quickly detect and fix issues.
New Unified Customer Profile API: Dynamic Yield collects and derives many insightful user attributes such as 'days since last purchase' or 'average order value'. This release we are exposing these attributes via a server side API, enabling you to leverage advanced user data in custom experiences anywhere (e.g. call centers, kiosks).